From financials and telecommunications to energy and consumer goods sectors, these most valuable and profitable public companies in Nigeria represent the vibrancy and resilience of Nigeria's corporate landscape, the capital market, and wealth-creation opportunities.
In the dynamic landscape of Nigeria's business ecosystem, where opportunities abound and entrepreneurship thrives, some companies have managed to stand out as beacons of success, consistently generating impressive profits year after year.
These enterprises serve as the backbone of the nation's economy, driving growth, providing employment, and attracting investors from far and wide.
These key players and economic powerhouses within Nigeria's entrepreneurial sphere not only shed light on their impressive corporate performance but also gives a glimpse into the sectors that constitute this list and the future of the Nigerian capital market.
In this article, you will explore the companies based on three (3) key metrics: market cap, revenue, and profit margin.
(i.) The top 20 public companies in Nigeria in terms of market capitalization.
(ii.) The top 10 public companies in Nigeria in terms of revenue generation.
(iii.) The top 10 public companies in Nigeria in terms of profit margin.
Through meticulous research and analysis, we have curated this list to showcase the companies that have demonstrated exceptional financial strength, innovative strategies, and astute management.
At this point, you may be thinking about this:
Should you invest in a company with a higher market cap, higher revenue, the highest profit margins, or the highest dividend yield?
When considering investment options, it's essential to align your decisions with your specific investment objectives.
Before determining whether to invest in a company based on its market cap, revenue, profit margins, or dividend yield, it's crucial to understand your investment goals.
Once you have a clear understanding of your objectives, you can prioritize accordingly.
Also Read: How to Determine the Right Metric to Use For Investment Decision
The Top 20 Most Valuable Public Companies in Nigeria
S/N
Company
Sector
Market Cap
(NGN Billion)
Revenue
(NGN Billion)
Profit Margin
(%)
1.
MTN
Telecomm.
4,732
2,000
17.94
2.
DANGCEM
Industrials
4,950
1,620
23.60
3.
ACCESS
Financials
394.47
1,330
11.44
4.
ZENITH
Financials
847.71
921.13
24.31
5.
UBA
Financials
318.06
748.28
22.76
6.
GTCO
Financials
809.15
480.13
34.52
7.
BUAFOODS
Consumer Goods
2,106
418.35
21.83
8.
SEPLAT
Oil & Gas
706.00
403.9
11.00
9.
BUACEM
Industrials
2,980
360.99
27.98
10.
STANBIC
Financials
512.45
287.53
28.10
11.
AIRTEL
Telecomm.
4,420
12.
NESTLE
Consumer Goods
909.97
13.
NIG.BREW.
Consumer Goods
395.63
14.
FIRSTBANK
Financials
497.15
15.
GEREGU
Utilities
759.75
16.
WAPCO
(LARFAGE AFRICA)
Industrials
407.53
17.
DANGSUGAR
Consumer Goods
242.94
18.
ETI
Financials
218.54
18.
UBN
Financials
215.49
20.
FIDELITYBK
Financials
167.76
As you can see, leading the way in the Nigerian stock market are giants like MTN, Airtel, Nestle, and Dangote Cement—companies synonymous with building the physical and technological infrastructure of the nation.
Just like in 1917 and 1967 in America, Nigeria is currently focused on laying the foundations of both food and core digital infrastructures.

From Steel to Silicon: The Evolution of the World's Leading Companies
Throughout history, the landscape of US largest public companies has undergone remarkable transformations.
In 1917, the formidable US Steel claimed the throne as the nation's preeminent corporate giant. Fast forward half a century to 1967, and the crown had passed to IBM, heralding a new era of technological prowess.
From Construction to Knowledge-Economy
What propelled this shift was the gradual metamorphosis of the US economy from building and construction infrastructure companies to digital infrastructure pioneers.
But before these advancements took hold, another sector held sway: food companies dominated the business landscape.
Today, the landscape has transformed yet again, with the most valuable public companies in the United States being knowledge companies.
The likes of Apple, Google, and Microsoft now reign supreme, harnessing the power of intellectual capital to shape the world we live in.
Top 10 Most Profitable Public Companies in Nigeria
As we look at the Nigerian market today, we find ourselves in a stage reminiscent of the early 20th century in the United States.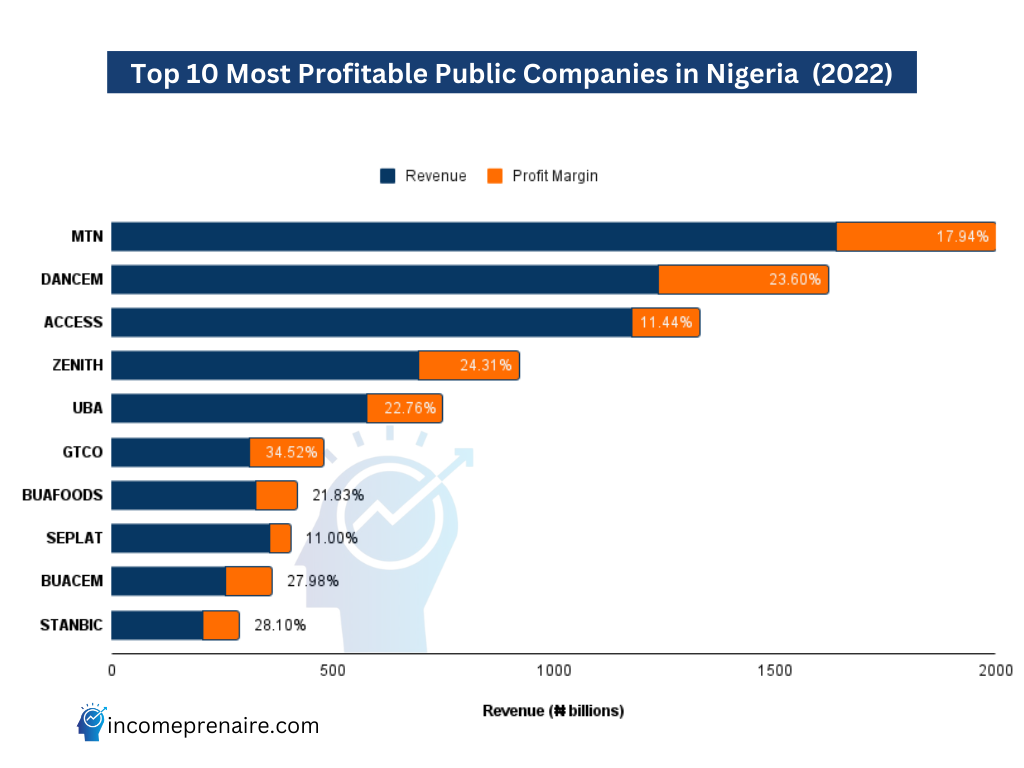 However, the future promises a remarkable shift.
In the next decade, Nigeria has the potential to witness the rise of its own knowledge startups, much like the US.
Companies such as Interswitch, Flutterwave (the most valued financial institution in West Africa), and others, if they choose to list in Nigeria, could potentially become the dominant players in the Nigerian stock market.
This would signify the emergence of Nigerian knowledge companies as a driving force in the economy.
This projected shift underscores the tremendous potential for growth and prosperity that lies within Nigeria's burgeoning tech industry and the capital market.
The implications of this shift are far-reaching.
It represents an opportunity for Nigeria to harness the power of knowledge and innovation to bridge the gap between its current state and a more advanced, technology-driven future.
By nurturing and supporting its homegrown knowledge companies, Nigeria can position itself as a regional and global hub of tech excellence, driving economic growth, job creation, and social advancement.
As an individual, an employee, and a consumer, it also means that you are sitting on a gold mine.
You need to pitch your tent early to capitalize on the vast opportunities in the stock market and create multigenerational wealth.
As Nigeria embarks on this transformative journey, it stands on the cusp of a new era, one that holds the promise of technological innovation, economic prosperity, and social progress.
Read also:
13 Benefits of Investing in the Stock Market
Market Cap. vs. Revenue vs. Profit Margin: How to Know the Right Metric to Use For Your Investment Decisions
What is Insurance and Its Benefits? A Beginners Guide


Founder, The Incomeprenaire.
Connect with
Ini-Amah Lambert
via e-Mail; on LinkedIn,
Facebook,
Twitter,
Instagram
About the Author

Ini-Amah Lambert is a leading authority on personal finance and equity investment intelligence.

A sagacious speaker, trainer, erudite teacher, coach, consultant, and author.

Lambert works with busy professionals and small business owners to help them gain clarity about their finances, and capitalize on the immense opportunities in equity investment and the capital markets to create a residual passive income stream and multi-generational family wealth.

His mantra is "Buy income today, own a piece of the global economy, and earn-joy your leisure tomorrow."

Lambert is a financial modelling and business valuation analyst with a degree in engineering.

He also trains teens and young adults to help them start building wealth early. He is the author of Cracking the Stock Market Code, The Art of Investing, and Sell the Sizzle.