The Nigerian stock market last week closed on a positive note as the All Share Index and Market Capitalisation appreciated by 0.68% to settle at 38,810.75 points and N20.221 trillion respectively.
NGX Banking closed last week at 379.15 points, down by 0.58% from 381.35 points the previous week. NGX Insurance closed last week at 194.50 points, down by 1.65% from 197.77 points the previous week.
NGX Consumer Goods last week was down by 0.48% to 594.79 points from 597.66 points the previous week. NGX Industrial closed last week 1,971.04, down by 0.22% from the previous close of 1,975.31 points.
NGX Oil & Gas declined by 0.61% week on week to close at 374.64 points from 376.95 points. NGX Pension closed at 1,520.87 points, down by 0.33% 1,525.88 points.
An aggregate of 989.59 million units of shares were traded in 19,617 deals, valued at N8.183 billion.
The Market Breadth closed negative as 23 equities appreciated in their share prices against 36 equities that declined in their share prices.
Top 10 Gainers
Cutix Plc led other gainers with 17.95% growth week on week closing at N5.65 from the previous close of N4.79.
Regency Assurance, Conoil, Transcorp Hotel and Julius Berger grew their share prices by 14.29%, 10%, 9.80% and 8.89% respectively.
Other top 10 gainers include: Courtville (8.70%), NPF Microfinance Bank (7.43%), Linkage Assurance (6.67%), Wema Bank (6.10%) and Airtel (5.69%) respectively.
Top 10 Losers
Neimeth led other price decliners in the course of last week as it shed 14.29% of its share price, closing at N1.5 from the previous close of N1.75.
AIICO, Eterna, Juli and Caverton shed their share prices by 12.04%, 10.56%, 9.76% and 7.69% respectively.
Other top 10 price decliners include: Coronation Insurance (-7.27%), Livestock Feeds (-6.98%), Transcorp (-6.86%), LASACO (-6.25%) and FTN Cocoa (-6.25%) respectively.



GAINERS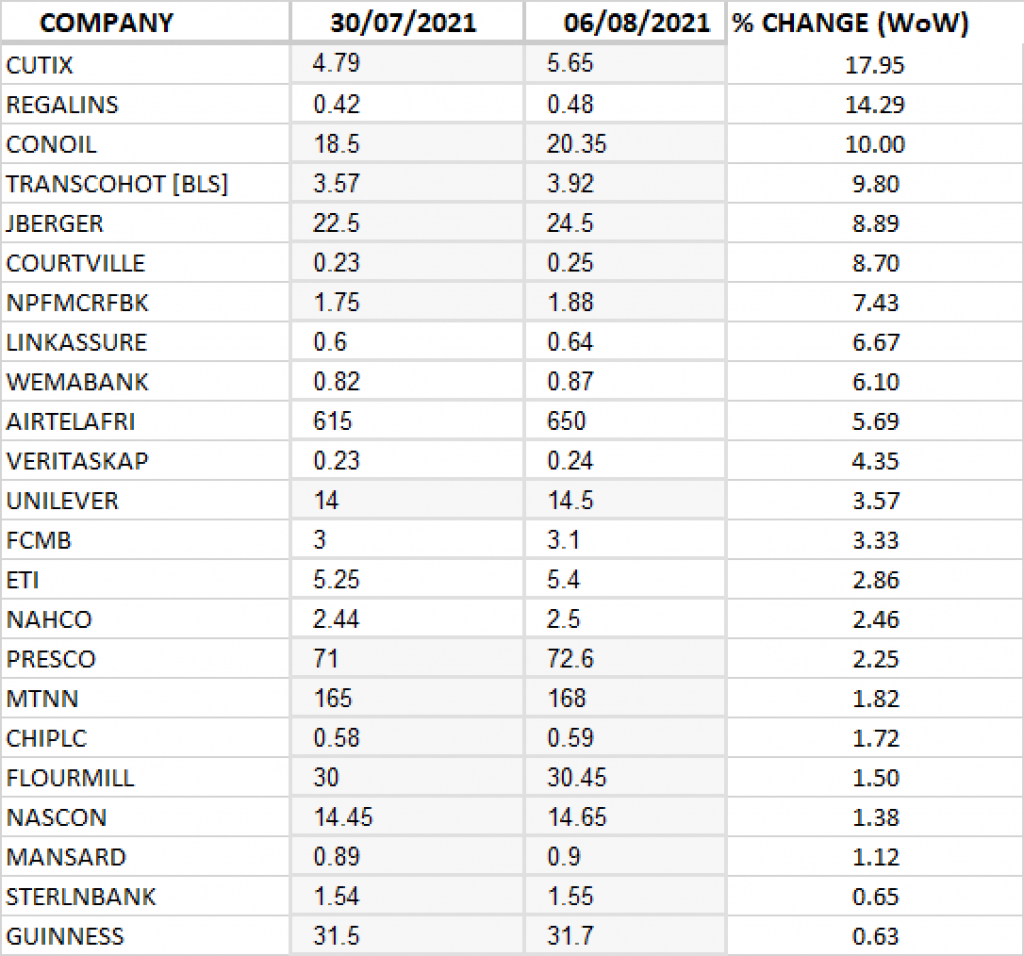 LOSERS