By Oye Chukwujekwu.
The state government of Dr.Ifeanyi Okowa has embarked on massive drainage construction in Asaba metropolis to checkmate the menace caused by flood in the capital city. Last year, the capital city was flooded each time it rains, and the previous administration of Dr.Emmanuel Uduaghan despite its effort could not completely eradicate the menace caused by flood in Asaba.
Irrespective of the challenges faced by Okowa led government which include paucity of fund among others, as a prudent manager, Okowa has worked out strategies to manage the limited fund available to the ultimate best of  the state, including servicing of debts which he stated he inherited.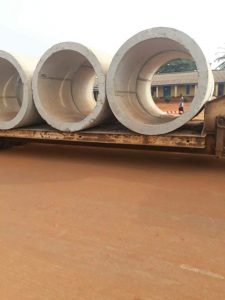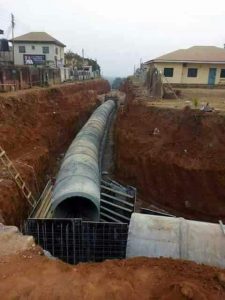 The flood challenge however had nearly brought bad impression on this government but in her swift response and  effort to elevate delta state, Okpanam/Anwai road by FMC through Nnebisi road is undergoing a storm underground drainage that will convey the volume of flood coming from Okpanam road down to the River Niger.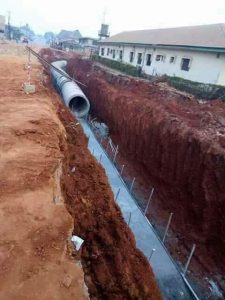 The state government did not stop there; he embarked on massive road constructions and rehabilitations across the state. Recently in an executive meeting, he approved reconstruction and resourcing of Old Umunede/Emuhu road and a touch to the Asaba/Benin express way in Ika south local government area of delta state.
The governor further approved the construction of Obiaruku/Umuebu road phase one of the first five kilometers from Obiaruku in Ukwuani local government area,adding that Ekete main road,off DSC expressway Ekete inland in Udu local government area including construction of Okwuomowa road to link Etakpo lane/mac nero and the construction of Bethel Oborovwori crescent/iyamu street to link maroko in okwokoko at Osubi.
Dr.Ifeanyi Okowa also approved the reconstruction
of Awai/Ezionum/Abbi roads to complete the phase three of the project which is about 3.7kilometers length between Ezionum and Abbi road in Ukwuani and Ndokwa west local government area,and the construction of access road to ugbuwagwe road in warri south west local government of delta state.
Hon.Moses Abeh stated that the state government embarked on drainage construction as a result of constructive criticisms from the opposition party,and when he came on board there was little money to work with,not until late last year when things began to get better he made sure that Asaba is free from flood,the project at hand will bring light to Okowa returning to power in 2019 because he had done what other government could not do.