The Nigerian equity market on Wednesday bounced back from the loss of 0.13% recorded in Tuesday's sessions buoyed by gains in Dangote Cement and other 10 stocks in green table, led by TRIPPLEG.
The All Share Index rose by 0.23% to stand at 54,427.05 points against the previous close of 54,299.76 points on Tuesday.
The market capitalisation closed at N29.645 trillion, grew by N69 billion or 0.23% from the previous close of N29.576 trillion.


Aggregate volume closed at 151.6 million units, valued at N1.8 billion in 2,974 deals.
Market Breadth
The market breadth closed negative as 11 stocks gained against 23 stocks that declined in their share prices.
Percentage Gainers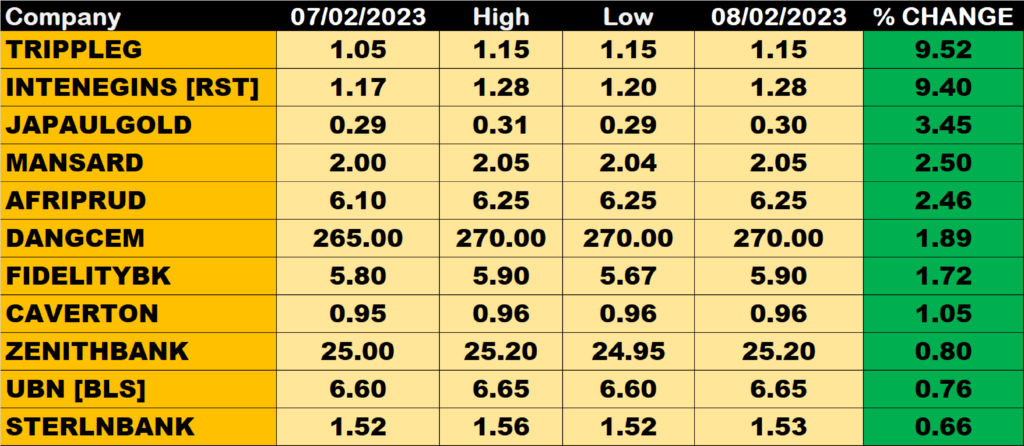 TRIPPLEG with 9.52% growth led the green table to close at N1.15 from the previous close of N1.05.
International Energy Insurance, JAPAUGOLD and MANSARD among other gainers also grew their share prices by 9.40%, 3.45% and 2.50% respectively.
Percentage Losers

Transnational Express, TRANSCORP and COURTVILLE among others losers shed their share prices by 7.35%, 6.00% and 4.76% respectively.
Volume Drivers


TRANSCORP traded about 18.7 million units of its shares in 139 deals, valued at N24.6 million.
GTCO traded about 17 million units of its shares in 146 deals, valued at N427.7 million.
UBA traded about 7.7 million units of its shares in 119 deals, valued at N64.7 million.QAZ