The Nigerian stock market last week closed on a positive note as the All Share Index and Market Capitalisation appreciated by 1.83% to close at 39,522.34 points and N20.592 trillion respectively
NGX Banking closed last week at 381.01 points, up by 0.49% from 379.15 points the previous week. NGX Insurance closed last week at 189.89 points, down by 2.37% from 194.50 points the previous week.
NGX Consumer Goods last week was up by 0.30% to 596.60 points from 594.79 points the previous week. NGX Industrial closed last week 1,944.40 points, down by 1.35% from the previous close of 1,971.04 points.
NGX Oil & Gas grew by 0.43% week on week to close at 376.24 points from 374.64 points. NGX Pension closed at 1,525.76 points, up by 0.32% 1,520.87 points.
An aggregate of 1.61 billion units of shares were traded in 18,621 deals, valued at N12.586 billion.
The Market Breadth last week closed firm as 29 equities appreciated in their share prices against 29 equities that declined in their share prices.
Top 10 Gainers
Honeywell Flour led other gainers with 28.13% growth week on week, closing at N2.05 from the previous close of N1.60.
Northern Nigeria Flour Mills and Airtel grew their share prices 22.76% and 15.38% respectively,
Other top ten gainers include: Conoil (9.83%), Neimeth (9.83%), Skyway Avation (9.18%), Pharmadeko (9.17%), Academy Press (7.89%), Ikeja Hotel (7.69%) and Unilever (7.24%) respectively.
Top 10 Losers
Juli Plc led other price decliners, week on week, shedding 18.02% of its share price, closing at N0.91 from the previous close of N1.11.
Regency Assurance, Cutix, Consolidated Hallmark Insurance and SFS Real Estate Investment Trust Plc shed their share prices by 12.50%, 11.50%, 10.17% and 9.99% respectively.
Other top ten price decliners include: University Press (-9.79%), Wema Bank (-9.20%), Veritas Kapital Assurance (-8.33%), Mutual Benefit Assurance (-8.11%) and Sovereign Trust Insurance (-7.14%) respectively.




GAINERS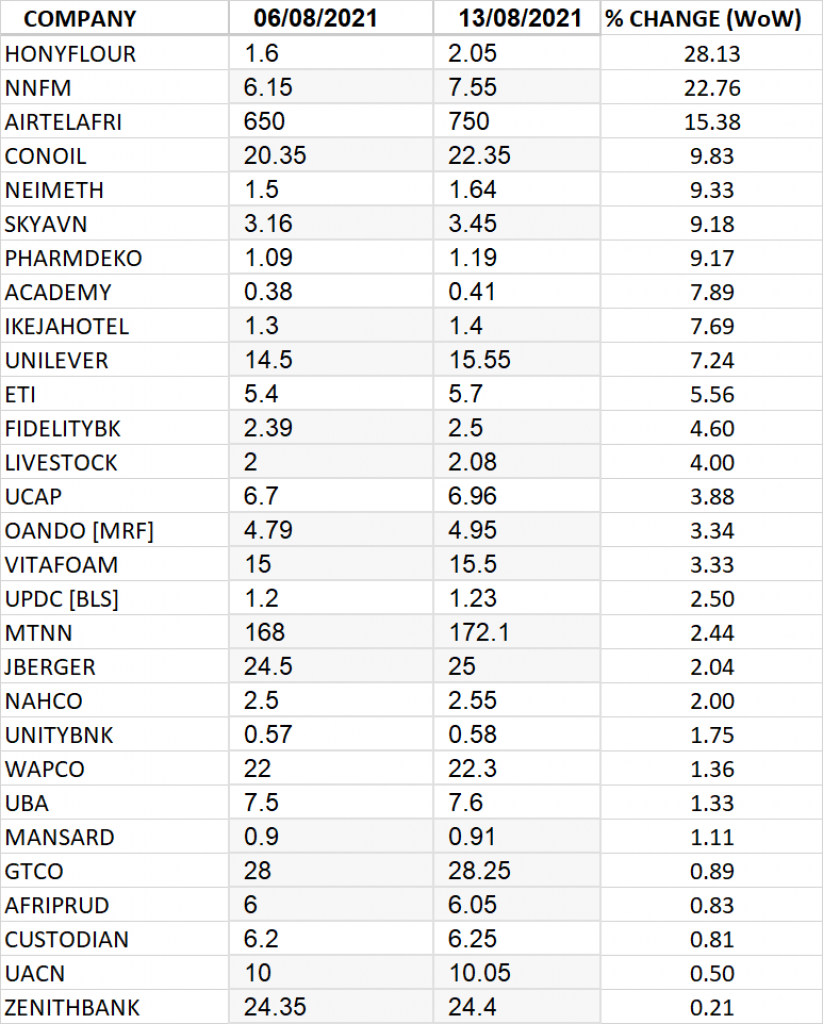 LOSERS