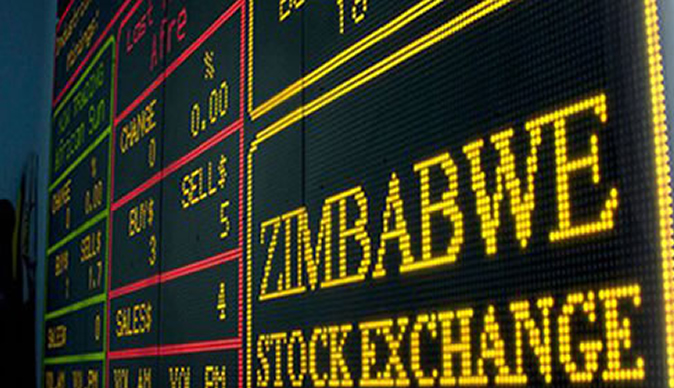 Zimbabwean ZSE Industrial lost a whopping 18.59% in the week ended Friday November 17, 2017 to emerge highest loser among other tracked African stock markets. Month to date, the market was down about 16%. It however remains the best market in Africa year to date with a growth of 197.71%.
The ZSE Industrial which closed the previous week at 531.55 on November 10 was marginally up at 532.17 or a growth of 0.11% on the first trading day of last week. The performance on Tuesday November 14, 2017 also showed a strong growth pattern as it closed at 534.13 or an increase of 0.37%.  It should be recalled that the country's military began the plot that ultimately led to a distortion in the country's governance on Tuesday evening. Consequently, the ZSE on Wednesday lost 1.30% to close at 527.27. Thursday and Friday of the week under review were not palatable to investors in the market as it shed 7.46% to close at 487.93 on Thursday and another 11.32% Friday to close the week at 432.27. On the whole, it was damnable week Zimbabwean stocks which eventually showed a WoW loss of 18.59% to emerge the highest loser in Africa last week.
Losses in the week under review are traceable to the mass shedding of stocks by foreign investors in the market amounting to US$1,922,828.78 as against a paltry purchase of stocks worth US$213,162.06.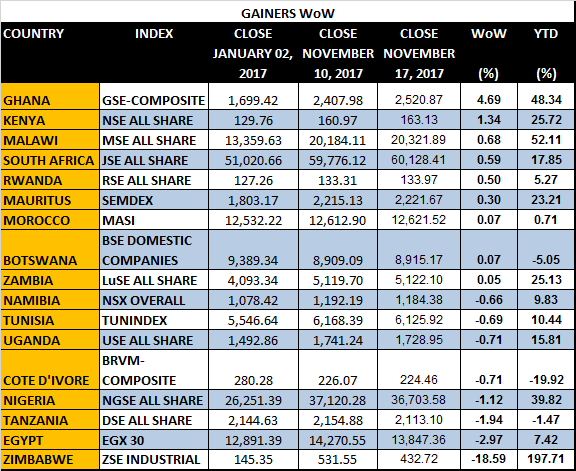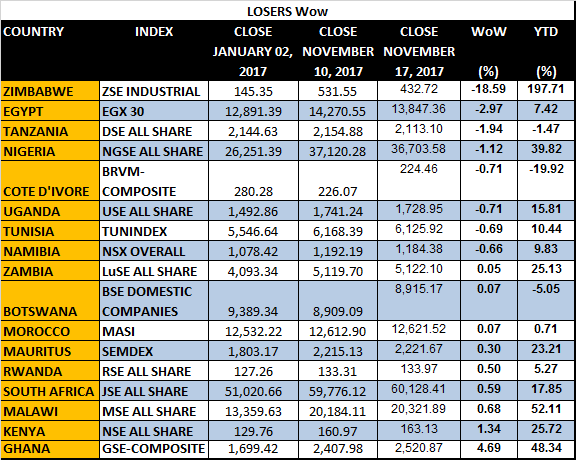 Meanwhile, Ghana's GSE Composite recorded a 4.69% growth last week to emerge the most profitable market in Africa in the week under review. The market grew for the entire five days of the week from a close of 2,407.98 on Friday November 10, 2017 to 2,409.16 Monday, 2,458.19 Tuesday and 2,494.91 Wednesday. Thursday and Friday also moved in same direction as the index closed at 2,517.17 Thursday and 2,520.87 Friday. Year to date, Ghana's GSE Composite had grown 48.34%.
Another major performer in the week under review was Kenya' NSE All Share with a growth of 1.34. year to date, it has grown 25.72% despite the political instability in the course of the year in the East African country.
On the flip side, Egypt's EGX 30 lost 2.97%, Tanzania DSE All share lost 1.94 and Nigeria' NSEASI was also down 1.12%.
Annualised performance till the close of business on November 17, 2017 shows impressive performances across the continent sake for the Cote D'ivore, Bostwana and Tanzania with 19.92%, 5.05% and 1.47% losses respectively. While Malawian, Ghanaian and Nigerian stock markets led all others in the continent with growths of 52.11%, 48.34% and 39.82% respectively in the year 2017.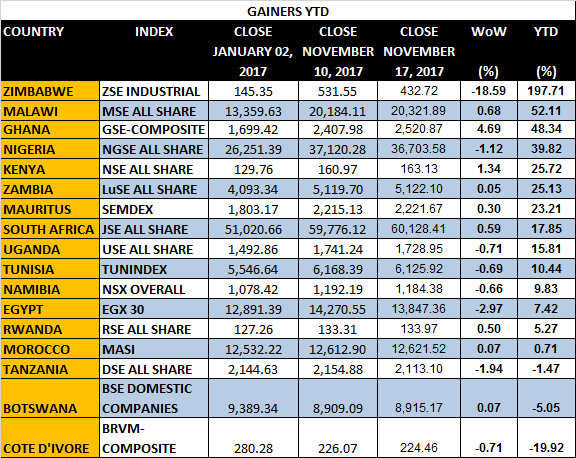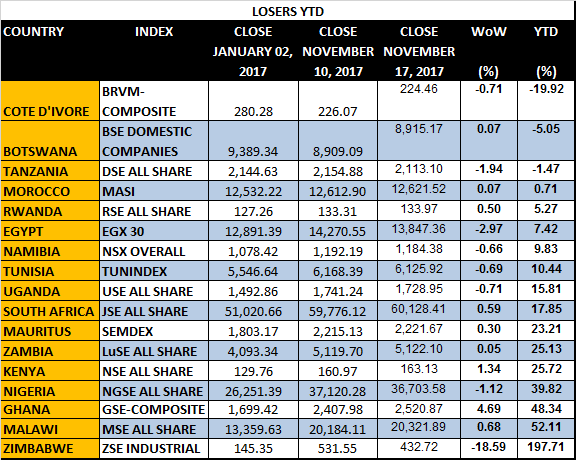 COTE D'IVORE:
The U.S. Government's Millennium Challenge Corporation (MCC) and the Government of the Republic of Côte d'Ivoire on November 7, 2017 signed a five-year, $524.7 million compact to spur economic growth and reduce poverty in Côte d'Ivoire, supporting regional stability and new business opportunities.
MCC's compact with Côte d'Ivoire is designed to support growth and private investment by building workforce capacity, reducing transportation costs, and opening new markets. The Government of Côte d'Ivoire is expected to contribute an additional $22 million to support the compact program.