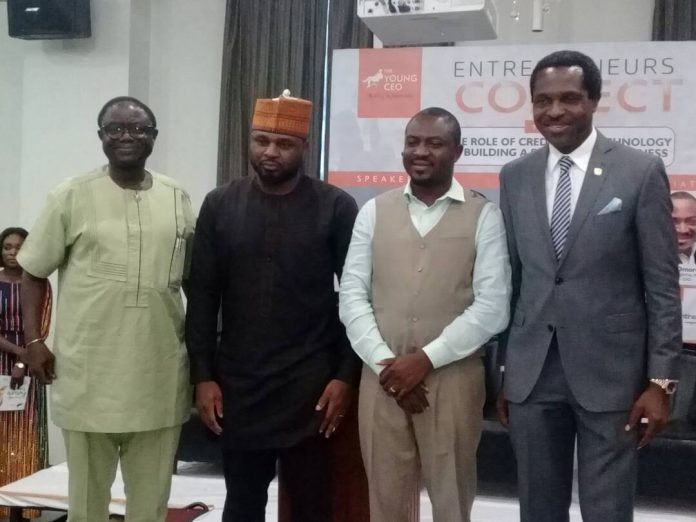 WOLE OLAJIDE
It was an exciting, and as well an enlightening moment on Saturday 25th November, as Young potential and existing CEOs gather at the prestigious Oriental Hotel for the 2017 edition of Entrepreneurs Connect. This is an initiative of the Young CEO himself, Aigbe Omoreige, that aims at providing grant and mentorship platforms to young men and women between the ages of 15 and 30, who are aspiring and active business owners with the aim of helping them scale their businesses and command authority in their niche.
The Entrepreneurs Connect 2017 is one of The Young CEO's programs, a platform for select budding entrepreneurs to meet with business leaders across sectors and disciplines, providing access to high level mentorship, grants and incredible networking opportunities.
The event featured Speakers of high reputes and notable leaders of various Industries, where Tonye Cole, Executive director and Co- founder, Sahara Group, Mr Yinka Amosun, who represented Alhaji Lai Mohammed, Minister of Information and Culture, and Micheal Adidani, a representative from the Bank of Industry took their time to impact the young protégé in an encounter that can only be described as extraordinary.
Mr Tonye Cole who is the Keynote Speaker engaged the audience in an interactive session on how to be successful as an entrepreneur. He gave the audience live experiences of his success story which include the ups and down he faced as an entrepreneur.  Tonye Cole made it clear to the audience that initial funding for startups mostly come from friends, family and folks. He advised entrepreneur to start small and grow with sense. He further encouraged the audience to keep good relationships and also keep business records intact.
Mr Micheal Adidani, a representative of the Bank of Industry enlightened the audience about various opportunities and packages the Bank has for entrepreneurs. In his words the Bank of industry is set to facilitate loans to entrepreneurs at a very low interest rate. He further explained that the YES program is established for Youth between 18- 35 years to access the loan to the maximum of 5 million naira at 9% interest rate.
He also mentioned the BOI/Dangote Foundation Partnership. The Dangote Foundation/BOI Fund is a N5bn matching fund, which could be accessed by Enterprises and Limited Liability Companies engaged in the Manufacturing, Agro-Processing and Merchandising sectors for made in Nigeria goods, with single obligor limit of N50.0 Million with an interest rate of 5%.
The last speaker at the event, Mr Yinka Amosun, spoke extensively on how technological advancement of information could aid business practices among the young generation and potential entrepreneurs.
Two cheques of N100,000 each were presented to the winners of the young entrepreneurs grant. The two beneficiaries are, Winifred Onoja and Nosakhare Imasuen.
The meeting ended with enthusiasm and stern optimism from young entrepreneurs who have been fired up by series of inspiring sessions from the program.
Interacting with the Media at the venue, Mr Tonye Cole encouraged that everyone, particularly the youths should be stakeholders in the Nation building project. That opportunities abound in our nation and everyone should look within and harness the dangling prospects.
Other beneficiaries of grants were secondary school students which include Kings college students among others. This was a surprise that came in the course of the event when Tonye Cole challenged the students to also develop viable business ideas.