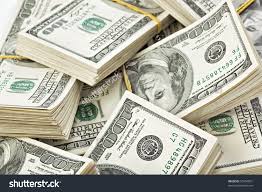 The richest people on earth became $1 trillion richer in 2017, more than four times last year's gain, as stock markets shrugged off economic, social and political divisions to reach record highs.
The 23 percent increase on the Bloomberg Billionaire Index, a daily ranking of the world's 500 richest people, compares with an almost 20 percent increase for both the MSCI World Index and Standard & Poor's 500 Index.
Amazon.com Inc. founder Jeff Bezos added the most in 2017, a $34.2 billion gain that knocked Microsoft Corp. co-founder Bill Gate out of his spot as the world's richest person in October. Gates, 62, had held the spot since May 2013, and has been donating much of his fortune to charity, including a $4.6 billion pledge he made to the Bill & Melinda Gates Foundation in August.
Bezos, whose net worth topped $100billion at the end of November, currently has a net worth of $99.6 billion compared with $91.3 billion for Gates.
George Soros also gave away a substantial part of his fortune, revealing in October that his family office had given $18 billion to his Open Society Foundations over the past several years, dropping the billionaire investor to No. 195 on the Bloomberg ranking, with a net worth of $8 billion.
By the end of trading Tuesday, December 26, 2017, the 500 billionaires controlled $5.3 trillion, up from $4.4 trillion on Dec. 27, 2016.
"It's part of the second-most robust and second-longest bull market in history," said Mike Ryan, chief investment officer for the Americas at UBS Wealth Management, on Dec. 18. "Of all the guidance we gave people over the course of this year, the most important advice was staying invested."
The 38 Chinese billionaires on the Bloomberg index added $177 billion in 2017, a 65 percent gain that was the biggest of the 49 countries represented.
Hui Ka Yan, founder of developer China Evergrande Group, added $25.9 billion, a 350 percent jump from last year, and the second-biggest U.S. dollar gain on the index, after Bezos.
Technology billionaire Ma Huateng, co-founder of messaging service Tencent Holdings, became Asia's second-richest person when his fortune nearly doubled to $41 billion.
The number of Asian billionaires surpassed the U.S. for the first time, according to a UBS Group AG and PricewaterhouseCoopers report.