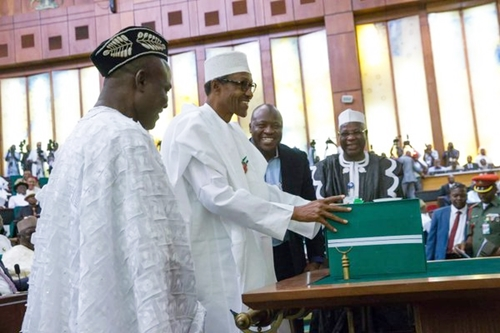 In accordance with section 81 of the Constitution of the Federal Republic of Nigeria 1999, as amended, President Muhammadu Buhari made the presentation of the 2018 Federal Budget proposal of N8.612 trillion to a joint session of the National Assembly (Senate and House of Representatives) on the 7th of November 2017.
Comparatively, this 2018 "Budget of Consolidation' 'presentation is faster than the previous, clearly a month and a week earlier than the 2017 budget, presented on 14th December, 2016.
The President had said the budget is expected to consolidate on the gains of the 2017 budgets; asserting that it will help to actualise the economic growth recovery plan of his administration as "2018 is expected to be a year of positive and better outcomes."
Government plans to finance the deficit partly by new borrowings estimated at N1.699 trillion; 50 per cent of the borrowing to be sourced externally and the balance from domestic financial market. The balance of the deficit of N306 billion will come from proceeds of privatisation of some non-oil assets.
The N8.612 trillion has a 16% increase over the 2017 figure of N7.298 trillion, nicknamed 'budget of recovery and growth', was 20.4% in excess of 2016 budget.
Incidentally, the 2018 budget is coming on the heels of 2017 Q3 report by the National Bureau of Statistics (NBS) which certified the nation free from recession spanning five successive quarters.
Major assumptions
The major assumptions in the 2018 budget includes the benchmark price of $45 per barrel of crude oil at a daily production of 2.3 million barrels per day (mbpd) and an average exchange rate of N305 to 1USD for 2018. The real GDP growth is pegged at 3.5% and inflation rate of 12.4%. Recurrent Costs is put at N3.494 trillion, while Debt Service stands at N2.014 trillion.
The budget proposal puts Statutory Transfers at about N456 billion and Sinking Fund at N220 billion (to retire maturing bond to local contractors). Capital Expenditure takes N2.428 trillion (excluding the capital component of statutory transfers).
Mr. President had said, "This year, we have worked very hard to achieve an earlier submission of the Medium-term Expenditure Framework and Fiscal Strategy Paper (MTEF/FSP), and the 2018 Appropriation Bill. Our efforts were to avail the National Assembly with sufficient time to perform its important duty of passing the Appropriation Bill into law, hopefully by the 1st of January, 2018."
The government pledged to continue with the implementation of the Sovereign Wealth Fund, which was established in 2011 with US$1 billion, which has added another US$500 million recently.
The World Ease of Doing Business Index reform had moved 24 places to the 145th position in 2017 by global rating. This was from 169th position Nigeria occupied in 2015.
The nation's Tax-GDP ratio currently 6% which is one of the lowest in the world, the government has introduced the Voluntary Assets and Income Declaration Scheme (VAIDS) in July this year. The Scheme provides non-compliant taxpayers with a nine-month window to regularise their tax status.
Government has taken steps for improvements in the productivity of Agriculture and reduction of the food import bill which is one of the major drains in the nation's foreign exchange demands. Recall that the sector remains the largest employer of labour and holds significant potential to realise the nation's vision of repositioning.
But there are challenges!
Challenges of budgeting in Nigeria have become rhetoric; the poor implementation of the capital component budgets since 2014, 2015 and 2016 financial years.
For example, only a paltry 20.70% of the capital vote for 2017, that is N450 billion has been made available out of N2.174 trillion – less than eight weeks before the close of the financial year ending December 31, 2017. Just as 2017 will rollover to 2018, so was 2015 rolled over to 2016 and 2016 rolled over to 2017, and the beat goes on.
Genesis of rollover anomy
Sincerely, was this an innovation or a 'bastard' child of necessity? The Minister of Budget and Planning, Udo Udoma had declared that the decision to roll over was imperative given that the fiscal year was very short. He disclosed that about N1.7trillion capital budget for the 2017 fiscal year may likely not be released, stating that the government was still implementing the 2016 budget up to June 2017.
According to him, "Ministries, Departments and Agencies (MDAs) had been instructed to roll over between 50 – 60 per cent of the 2017 projects to 2018, so that all projects that would not be executed before the end of this year would be implemented in the coming budget year."
Kemi Adeosun, Minister of Finance, confirmed in parliament that at least 60 per cent of 2017 capital projects to 2018 budget, moving with its N2.3 trillion deficit to be aligned and synchronized with current realities and speed to achieve the borrowing process.
Conversely, the Finance Minister told the Senate that cumulative releases on current expenditure was N1.5 trillion, Statutory Transfers was N128.8 billion; Funds for Pensions, N37.8 billion; Overheads, N92.4 billion; Service Wide, N223.6 billion.
Mixing the Oil and Water of Executive and Legislature
While receiving the budget proposal, Speaker the House of Representatives, Yakubu Dogara had expressed displeasure among his colleagues over the 2017 budget. The Speaker said members of the parliament displayed high sense of patriotism by ignoring their hazy relationship with the Executive arm to receive the 2018 budget estimates presented by President Muhammadu Buhari.
He warned against abandoning 2017 budget. He said, "Mr. President, as legislators, what agitates us is the prospects of totally abandoning the 2017 Budget and the dire consequences of doing so. The questions that must be answered include whether we have effectively enforced 2017 fiscal targets and whether managers have complied with the budget as authorized by the legislature.
"Our experience with the implementation of the 2016 Budget amply demonstrates that obeying our Appropriation Laws maximises the release of our potentials while violating the Appropriation Laws caps the release of our national potentials."
Continuing, Dogara urged, "This means that we have to redouble our efforts in implementing the 2017 Budget, if we must retire it in January or, at the very least, roll over most of the projects in 2017 budget to 2018. No need to remind us that fiscal indiscipline is as grievous as corruption which this government is busy eliminating."
If government had borrowed to finance part of the 2017 budget and it planned to continue to borrow and has only released N450 billion out of a N2. 174 trillion, what happens if the legislatures failed to approve the presidency request to seek additional $5.5 billion (according to his letter to the senate in early October, the executive said while $3 billion loan will be sourced through Euro bond, the remaining $2.5 will come from other sources in the international capital market)?
The introduction of the Treasury Single Account (TSA) and Biometric Verification Number (BVN) have helped to block some gapping holes in the government revenue generation flow and experts are of the opinion that the policy stifles deposit money banks capacity to create money, and a lot financial impropriety is still ongoing even as admitted by Mr. President.
For instance, the Joint Admission and Matriculation Board (JAMB), under Prof. Ishaq Oloyode, for the first time in history remitted about N7.4 billion to the government coffers as against the government aggregate projection of N51 million that JAMB had turned over in the past.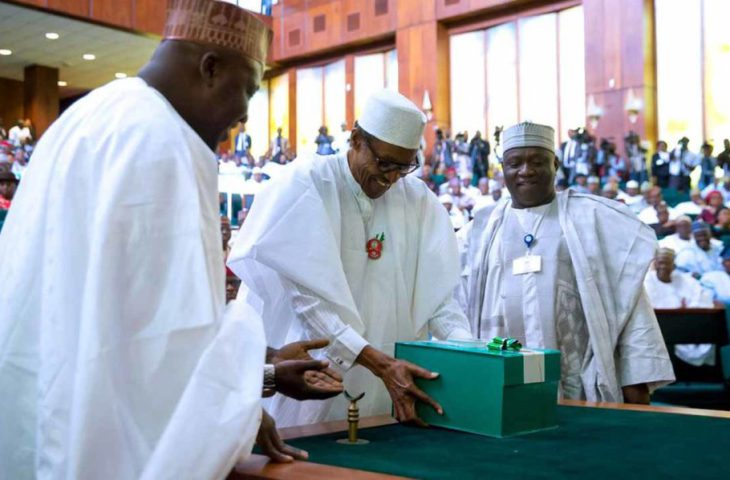 Experts mixed reactions                                               
Will government summon the political will which both the legislature and executive will not want to claim (the bastard) in order to rein in financial abuse and recklessness to stop the rollover syndrome that breeds inefficiencies and ineffectiveness of budgeting.
According to Mrs Kemi Adeosun, current policies have gotten positive response from Nigerians. "I had discussions with some high net-worth individuals asking me to speak to the state governors to allow them time to pay. They needed to pay to the state governments. I have discussed with the governors that anyone that comes to them voluntarily for tax payment, should be given time to pay. We don't want a situation where people willing to pay their taxes are stifling economic activities. We have told the governors, if someone comes willingly, quickly allow them plan to pay," she said.
In a telephone chat with Stockswatch, Dr. Austin Nweze of Pan African University, Lagos Business School, said government inconsistencies and corruption are the bane of the Nigerian economy and of government implementation of budget. He also put forward the proposition that, rather than the yearly jamboree being witnessed as budget proposal presentation and the attendant melo-drama, government should make a four-year budget plan, at least to last the life of a democratically elected government.
Nweze says "corruption in government business is what we see manifested in the budget imbroglio, since government is unable to raise funds to meet budget projection. I proposed that a four-year budget plan is the best, something that could fit into our peculiar economic situation."
He concluded by reminding policy makers that since most capital projects are not fully executed in a life of an administration; and since they are long-term, it should equally make sense to make long-term plans for same.
According to Adewale Emmanuel, an Abuja-based chartered accountant, who queries; "What amount of money is contained in that 50 or 60% expenditures they want to roll over? It is only the capital projects or there are other hidden expenditures? Can the economy absorb that level of spending without negative impact on the economy?"
He also asked what efforts government is making in order to cut cost, especially the overhead cost embedded in political patronage.
In his opinion, Ogunleye Rotimi William, a chartered accountant and financial analyst, queried the economic advantage to the nation's economy on this policy and its negative effects.
He said, "If the roll over is for example N1.8 billion from the 2017 budget for a particular capital project and 2018 budget has earmarked N3 billion in the same sector, you are now adding over 50% additional weigh to the budget. Number one, how are you going to generate the revenue, considering the fact that the nation is borrowing in order to service the 2017 budget. Secondly, can our economy accommodate this volume of expenditure?"
"If you pump too much money into an economy, can it support that kind of cash inflow? It's like you taking Nicon Noga Hotels to one remote town in Akoko area of Ondo State where economic activity is low… The volume of economy cannot support that kind of business.
"Will this rollover help the direction of credit in such a way that will resort to critical growth, like manufacturing and small scale business? What are the project lines they are spending the money on; is it power, energy, health, education?
"If you are building the second Niger Bridge, that project will have a kind of effect on states across the Niger and the oil producing areas. These are the analytical questions we should be putting forward."
Kasimu Garba Kurfi of Apt Securities and Funds Limited, Lagos took a positive perspective on the roll over policy. In his view, he posited that the policy is the best way to ensure Nigeria does not witness another bout of recession in the near future. "Capital expenditure is all about development and therefore should keep us moving.  Remember despite early submission of the budget 2018 on time, only God know when NASS will see it through.
"Therefore rolling over unexecuted capital projects of 2017 budget to 2018 is the best alternative.  Remember either budget or no budget, they almost fully spent the recurrent expenditure. Why should the capital expenditure be left behind?"
He rounded off by observing that most of the capital expenditure takes more than a year to complete, so why should the projects be stopped?
Dr. John Ayoola of the Department of Accounting, Obafemi Awolowo University, Ile-Ife, in his reaction said, "In Nigeria our system of budgeting is disheartening. The way we treat budgets is only to fulfill some righteousness, something we do without having recourse to its importance or implementation. It is mostly to fulfill a constitutional responsibility and pretending to budget, knowing fully well that the budget will not be executed to full capacity. "
In his analysis, the budget rollover is caused by inefficiency. And according to him, if at all there is going to be variance between plan and budget, the variance should not be too wide. But in our case, he concluded, the reverse is always the case. "So some of this policy summersaults is only a ploy to cover up some inefficiency and ineffectiveness of governance in Nigeria." he said.
Ayoola submitted that when you look at government revenue projection, you would see that most times government isn't realistic with such projection. "The truth is that we all know there are too many loopholes in government revenue generation pipelines. So it becomes impossible for government to reach its target as far as revenue projection is concerned. So going forward from there, you can see that there would be a deficit budget already."
He urged the government to look inward and cut cost, especially overhead. "If government is borrowing money and it is strictly for capital projects and it would be expended on it, then it is acceptable. But if you are borrowing to pay salary and meet short-term expenditures, then we are in for it." He concluded.
Senator Mao Ohuabunwa, PDP-Abia, said his concern was the implementation of the 2017 budget. He stressed it was the implementation of the budget that would impact positively on the people.
"I am speaking on behalf of Nigerians as a senator that we should talk more about implementation than applauding the presentation of the budget proposal. That is why I am insisting that we should know the level of implementation of the 2017 budget before we talk of 2018." He said.
Going political, Senator Peter Nwaboshi, PDP Delta, commended the President, but said he expected the president in his speech to dwell on achievements in the Niger Delta. "This is where principally the revenue for this budget is coming from. He should have specific achievements in those areas."