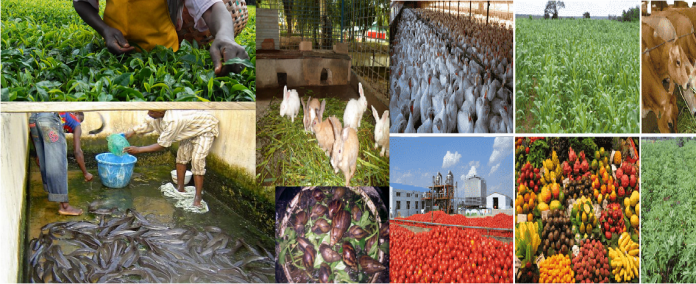 Ogun State Government says its investment in the agric sector has culminated into aggressive agricultural production in the State in the last eight months towards becoming food-sufficient.
The State Commissioner for Agriculture, Mrs. Adepeju Adebajo said this while receiving members of the State House of Assembly Committee on Agriculture and Forestry led by Hon. Harrison Adeyemi in continuation of the Assembly's oversight visit to Ministries, Department and Agencies of government in the State.
Adebajo said in its bid to boost food production, the Ministry within the period among other things, purchased implements for cultivation of 1,000 Hectares of cassava plantation at Awowo Model Farm Estate, embarked on the construction of 70 units of fish cages for tilapia production and established Poultry Demonstration Farm at Odeda, which received over 60,000 day old point of lays to point of sales, adding that 550 Hectares of rice had been cultivated at Eggua just as it was processing 2,450 metric tonnes of grains branded MITROS rice.
She noted that the present administration in the state would unveil more programmes at enhancing the production capacity of farmers in crops which the State has comparative advantage over others, emphasizing that crops like cassava, rice, cashew, cocoa and cotton among others were being cultivated for human and industrial consumptions.
In his remarks, the Chairman of the Committee, Hon. Adeyemi urged the Ministry to step up efforts at increasing its revenue base and food production for the benefits of the teeming population of the State.
In a related development, the State Commissioner for Forestry, Chief Kola Lawal, revealed that the ministry had supervised the raising of about 120,000 seedlings by Omo Wood in preparation for the establishment of a 250 Hectare Forestry Plantation within Area J3 of the Omo Forestry reserve.
Lawal added that plans were on-going to increase the size of Forested land in the State through the creation of additional 175 Hectares of fresh plantation within the Omo Forestry reserve as the ministry had tackled illegal tree felling and outlawed conveyance of ''round logs'' from the State to other States, adding that the Ministry had achieved about 55 percent reduction rate in 'flitches' operation.
In his submissions, the Chairman of the House Committee, Hon. Adeyemi charged the Ministry to redouble its efforts at curbing deforestation and expanding the state forest reserves.