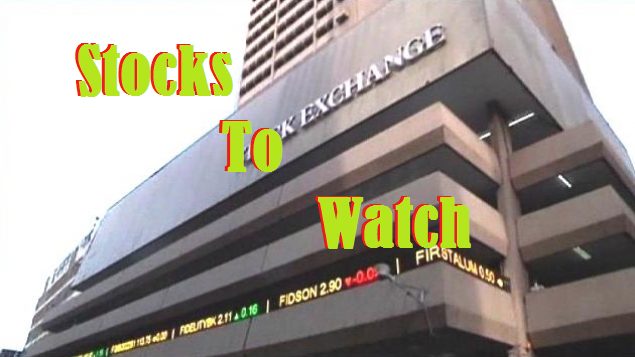 Afuwape Gbolabo
THURSDAY' MARKET OUTLOOK:
Cautious trading is expected to persist Thursday, all things being equal. Seeing that a number of equities closed with encouraging bid size Wednesday, declines might not be sharp as mood remains positive across board. Below are few stocks to watch.
AIICO:

By far the biggest listed insurance firm by volume of business and the second biggest in the industry, price had not been on the green lane until recently. Consequently, YtD performance is -12.7%. the stock is still trending around its lowest price ever. If the bid size of 1.180 million units at 55kobo is sustained, price range between current level and 60kobo is possible in the near term. Most likely, the open looks strong.
C & I LEASING:

Closing with a bid size of 319,840 against an offer size of 50,000 make the stock looks strong for Thursday' open. Indicators make the stock look set for a mild growth Thursday. The stock has generated 170% in 2017 alone.
ZENITH: 
Indicators are mixed thus suggesting that there are possibilities of an upward price movement, whether it will be sustained during the trading session is the question as pressure abounds. Closing with 700,000 bid size against roughly 54,000 offer size make Zenith stock looks strong at open. Current price of N25 with PER of 6.08 is by far a great opportunity to accumulate the stock and buy more if sighted lower.
FCMB: 
There was 1.980 million units bid size at market close Wednesday. Thursday looks bright for FCMB at current price of N1.28. Indicators are looking up though with much selling pressure too in view as Money Flow index slows down. It has underperformed so well in 2017 with a mild growth of 16.36 YtD. Current low PE Ratio of 3.71 is good if the NNPC funds issues are settled.
Fidelity Bank: 
The stock gained 4.42 percent to close at N2.36 Thursday yet with an unsatisfied bid size of 2.783million units without an offer. Thursday seems another bright day for fidelity. Its184.34% YtD is sweet. Current PE Ratio of 3.52 is comparably good despite price surge so far. It is however dwelling at the overbought level. Any additional price gain might pull the price down.
UBN: 
The stock price grew by 1.14 percent to close at N8.00 after touching N8.30 on Wednesday. There were also 597,777 unsatisfied bids thus suggesting a strong open Thursday. Its current P.E. Ratio at 10.25 is however comparably high going by industry performance. It has generated 45.72% YtD. Indicators are mixed. Keep a tab.
Nascon: 
Closing bid size was not much after the stock price gained 2.56% Wednesday to close at N20. Though current 11.26 PER could be said to be growing to incorporate future earnings after its 135.29% YtD return. Indicators are yet not looking bad for further growth.
PLEASE DO HAVE A BULLISH DAY