United Bank for Africa (UBA) Plc has announced its 2017 unaudited third quarter (Q32017) financial results for the period ended September 30, 2017, displaying considerable gestures across key financial sections.
In the period, the Pan African bank's Topline (Gross Earnings) gained N68.378 billion growing by 25.75 percent to N333.905 billion, as against N265.527 billion reported in September 2016.
According to the company's third quarter result released by the Nigerian Stock Exchange (NSE), the group's operating income stood at N236.9 billion, compared to N183.3 billion recorded in the corresponding period of 2016, representing a 29.3 percent growth.  The group also delivered an impressive profit before tax (PBT) of N78.3 billion, marking a significant growth of 33.2% as against N58.8 billion recorded in the same period of 2016.
In the same vein, Profit after Tax (PAT) grew to N60.9 billion representing an impressive 23 percent growth over the N49.5 billion recorded in the third quarter of 2016. While the group closed the third quarter with Total Assets of N3.77 trillion, a YTD growth of 7.6 percent. It prudently grew net loans to N1.6 trillion, a 6.0 percent YTD growth in the loan book.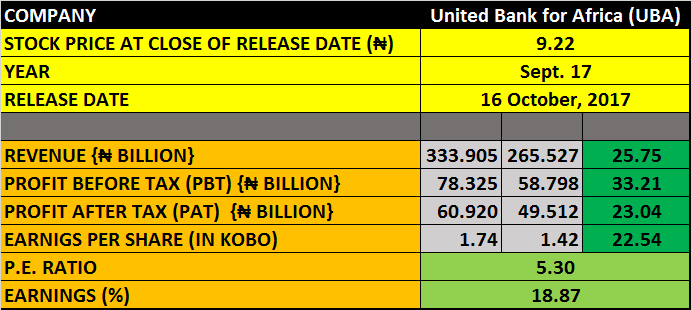 Stockswatch' further analysis showed that the Earnings per share for the period stood at N1.74, a 22.54 percent growth from N1.42 recorded in the corresponding period last year. With this feat, the Price Earnings came to 5.30 while the Earnings came to 18.87 percent.
It also showed that net interest income stood at N152.29 billion from N112.07 billion achieved in the preceding period of 2016.
Its interest income declined to N238.09 billion compared to N265.53 billion in 2016, while interest expenses stood at N85.79 billion from N70.92 billion in 2016.
However, the non-interest income rose to N84.60 billion from N71.19 billion, while fees and commission surged to N57.89 billion from N56.22 billion recorded in the corresponding period.
Similarly, total assets increased to N3.77 trillion from N3.50 trillion in 2016, while total liabilities rose to N3.26 trillion from N3.06 trillion in comparative period of 2016.
Loans and advances to customers grew to N1.08 trillion from N970.39 billion reported in the preceding period.
Commenting on the result, the Group Managing Director/CEO, Kennedy Uzoka said, "These extremely positive third quarter results are an attestation of our ability to sustainably grow earnings and market share, notwithstanding the challenging operating environment. They are a tribute to our enhanced customer engagement and focus on continuous improvement in service quality."
He said, "Our Africa operations (ex-Nigeria) again grew strongly in the period, contributing a third of top-line and approximately 40% of earnings."
He further noted that the bank's nine-month top-line grew by 26.3%, to an unprecedented N334 billion, driven particularly by the strong performance of its recurring core revenue lines.
See the full UBA financial reports for the third quarter of 2017