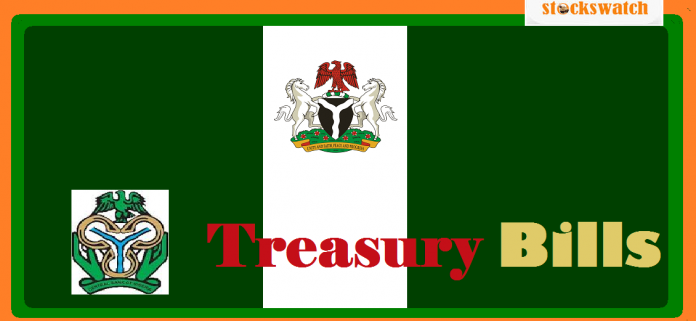 The treasury bills (T-bills) segment of the fixed income market continued its dominance in the market in the month of May 2017 accounting for 88.67% of total turnover of N4.36 trillion, according to the latest FMDQ OTC monthly report made available to Stockswatch.
The report shows that turnover in the fixed income market in the month under review settled at ₦4.36trn, 0.36% (0.15trn) above the previous month's value, with transactions in treasury bills rising from 85.46% the previous month to 88.67%.
"Outstanding T-bills at the end of the month stood at ₦8.87 trillion, a decrease of 0.13% month-on-month (₦8.88 trillion in April), whilst FGN bonds' outstanding value increased by 1.62% (₦0.11trillion) month-on-month to close at ₦6.93 trillion in the period under review," the report stated.
Equally, trading intensity in the fixed income market for the month under review settled at 0.43 and 0.07 for T-bills and FGN bonds respectively, from 0.42 and 0.09 recorded for the previous month.
Maturities of between six and 12 months were the most actively traded in the month, accounting for a turnover of ₦1.2 trillion.
Short-term yields on the sovereign yield curve gained an average of 0.03%, yields in the medium-term spectrum remained relatively stable, while long-term yields declined by an average of 0.96%
The spread between the 10-year and 3-month benchmark yields closed negative at -3.31% points for May (-3.14% in April) as the sovereign yield curve continues its downward sloping trend.
Analysts say the impressive performance of the treasury bills segment may have to do with the high yield and the relative risk in the investments.
In the world of debt securities, T-bills represent the greatest liquidity and the lowest risk to invested principal. They act as the closest thing to a risk-free return in the market.
Therefore all other investments must offer a risk premium in the form of higher returns to entice money away from treasuries. In the current circumstance, the high yield and risk-free nature of treasury bills have lured many investors from the more risky deposit market".