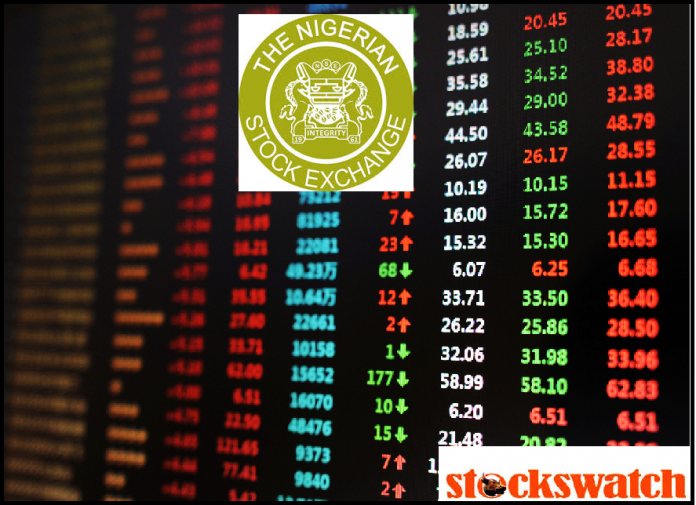 Stocks of Nigerian banks dropped 2.3 percent, Tuesday after regulators said they had intervened to save the country's fourth largest telecoms firm from collapse as talks with local lenders to renegotiate a $1.2 billion loan failed.
Etisalat Nigeria had been negotiating with its lenders for more than five months to restructure a $1.2 billion loan it took out four years ago after missing several payments.
For the second straight session, Nigeria equities market relapsed due to profit taking by short term investors.
Investors plunged into the market to pick-up profits that have being made on various section of stocks in H12017.
REDSTAREX gained 49 kobo to close at N5.32 having grown by 10.14 percent to lead the percentage gainers in the day.
Similar to last session's performance HONYFLOUR grew by 9.84 percent having gained 19kobo in the day.
The Nigeria Stock Exchange All Share Index (NSEASI) and Market Capitalization (MKT CAP) relapsed by 1.10 percent and 1.43 percent respectively having declined by 359.60points and ₦162 billion respectively in the day.
The main market indexes closed mixed as total deals grew by 23.11 percent, Aggregate volume turnover grew by 27 percent and aggregate value turnover grew by 12.19 percent.
The market measured by market breadth was also ill as the number of stocks that declined in prices, 32, out-numbered the stocks that grew in prices, 11.
Penny stocks dominated the day's trading as highly capitalized stocks like NB, SEPLAT and GUINNESS declined while TOTAL, MOBIL, 7UP, DANGCEM, and NESTLE retained their prices.
The Nigeria Stock Exchange' All Share Index (NSEASI) and Market Capitalization (MKT CAP) closed positive, keeping the Year-to-Date at 20.60%.
Market Snapshot
The Nigerian Stock Exchange' All Share Index (NSEASI) for Tuesday July 4, 2017 closed at 32,410.20 which is 1.10% lower than the previous session's 32,769.80.
Market Capitalization closed at ₦11.170 trillion against previous session of ₦11.322 trillion, representing 1.43 % a decrease.
4,294 deals recorded in the day represent an increase of 23.11% against previous session's 3.488 deals.
The 206 million units of equities traded for the day was 27.00% more than the previous session's 162 million units.
Value of equities traded for the day decreased by 12.19% less than previous session's ₦1.517 billion to ₦1.701 billion which was recorded for the day.

Gainers for the day (11)
REDSTAREX, HONYFLOUR and SKYEBANK led other eight percentage price gainers for the day.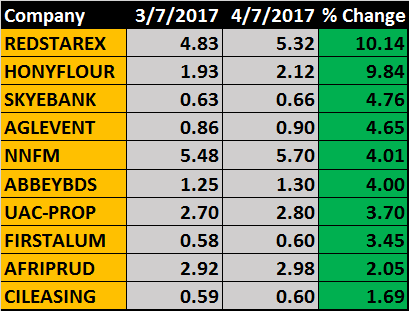 Losers for the day (32)
NEIMETH, UBA and FLOURMILL led other twenty-nine percentage price losers for the day.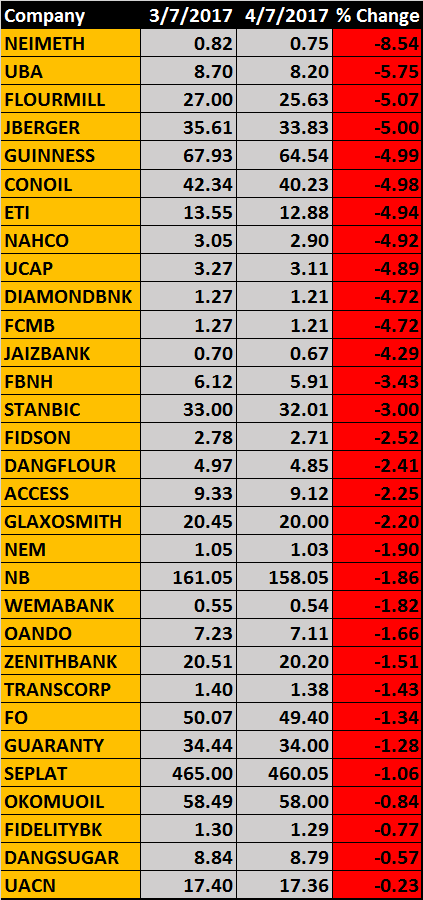 Ten Best Stocks:
FBNH, ZENITHBANK and GUARANTY recorded the most deals of the day.
FIDELITYBK, TRANSCORP and ACCESS recorded the most volume in the day.
GUARANTY, ZENITHBANK and STANBIC recorded the most value in the day.
OTHER Indexes:
The Financial Services industry was the most active industry for the day with 154.916 million shares exchanged for ₦1,196 billion Tuesday.
Conglomerates industry was next with 25.145 million share traded for ₦0.044 billion.
Consumer Goods industry, Construction/Real Estate industry and Agriculture Industry followed respectively.
MARKET Breadth:
Market breadth closed negative as with 11 gainers against 32 losers.
The Nigeria Stock Exchange Market data for Tuesday 3rd July 2017: