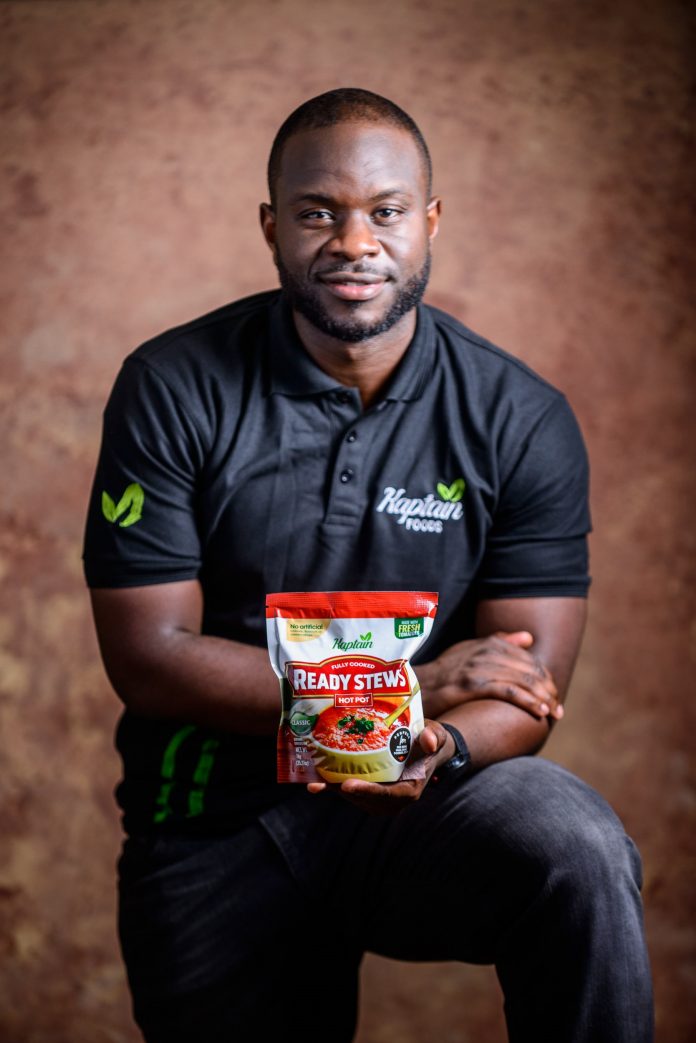 Wole Olajide
Onyekachi Ekezie is an industrious and daring entrepreneur who left a blue collar job in Oil & Gas from the United States of America; relocated to Nigeria to startup a food processing company. He is the founder of Kaptain Foods, a Nigerian food processing company based in Lagos. Onyekachi is a graduate of Computer Science from the Bowie State University U.S.A. He got a fantastic job with an Oil and Gas company in Houston, USA where he worked for eight years; and afterwards took a bold step to become an employer of labour in Nigeria. He is one of the five Nigerians on Forbes' 2017 List of 30 Most Promising Young African Entrepreneurs.
Kaptain Foods Limited is a food processing company established in 2015 to produce a blend of pre-cooked and packaged food products to serve the needs of families around the world. The company produces a range of pre-cooked and packaged ready to eat tomato stews using locally grown fresh produce and spices. Other product variants include ready-to-eat, blend of fresh tomatoes, red peppers and onions prepared with state-of-art equipment in compliance with internationally recognized hygiene standards. The product is said to have a secret condiment which gives it the delicious, fresh, unique taste. There are no chemical additives or artificial preservatives as the natural ingredients serve as preservatives. The vision of the brand is to provide value to her customers.
According to Onyekachi, food processing, manufacturing, packaging and distribution is a commercial venture that is not tied to gender. "As a matter of fact, this business space is male dominated due to the end-to-end value chain; and believe me it's tedious, it requires time and high level of dedication. Kaptain Ready Stews is our first product that we launched into the Nigerian market. Cooking in the kitchen is culturally perceived as a role that should be led by women in our society, but as an innovative company, we are positioned to continuously thinking of better ways to support life-styles, reduce stress, and provide healthy food options in a scalable way that can cater for all the various segments of the economy".
Onyekachi could boldly say that his experience as an entrepreneur has been good so far, the business is growing, and he is proud to see how far the brand has gone from inception. The team is growing and they are expanding the market for the products not just domestically but exports as well. This intelligent industrialist described entrepreneurship as risk taking and posited that "the first thing an entrepreneur should learn is to overcome fear; then create a plan and start small". According to him, skills needed to become a successful entrepreneur include innovation, risk taking and management.
Kaptain Foods have brought innovation into its packaging in order to be competitive internationally. Kaptain Ready Stews provides consumers with a healthy option because it does not contain any artificial colours, additives or preservatives. The company has opened up markets in Ghana, and it is exploring markets across sub-Sahara Africa, the U.K. and U.S.
Onyekachi has a strong philosophy that entrepreneurship is critical for the economic growth in Nigeria. According to him, unemployment level is really high, so we need more youth to go into business and not rely on white-collar jobs. "I believe more young people need to go into agriculture because this will help the nation move away from overdependence in Oil & Gas".
He further made a submission that the government needs to create an enabling environment for entrepreneurs to be inspired to go into business and grow. "I think it's the lack of infrastructure and policies that prevents young entrepreneurs from taking risk that could facilitate growth in their businesses"
In ten years' time Onyekachi's goal is to build up a reputable company that operates on a global scale, invest in other entrepreneurs and ultimately contribute his quota to move Nigeria forward as a nation.
Onyekachi Ekezie can be reached via Instagram, Facebook and Twitter (@kaptainfoods)