Trading activities on the floor of the Nigerian Stock Exchange closed in an all red session as the All Share Index dropped further by 0.39% to settle at 27,755.87 points against the previous close of 27,864.84 points of Thursday.
Market Capitalisation dipped by 0.39% also to close at N14.456 trillion against the previous close of N14.514 trillion, shedding N57 billion.

Aggregate volume of traded stocks settled at 132.6 million units, down by 12.01% from the previous day's record of 150.7 million units while the traded value fell by 53.99% to stand at N1.279 billion away from N2.781 billion of Thursday.
The total traded stocks exchange in 3,189 hands, depreciated by 0.28% from 3,198 deals of the last trading session.
Market Breadth
Market Breadth closed negative as 9 stocks gained while 19 stocks lost.
Percentage Gainers

CAVERTON led other percentage gainers with 9.60% growth to close at N2.74 from the previous close of N2.50
Other gainers include: LASACO, Livestock feeds, Lawunion and University press, all gaining above 4.00% of their share prices ahead of other stocks in the green table.
Percentage Losers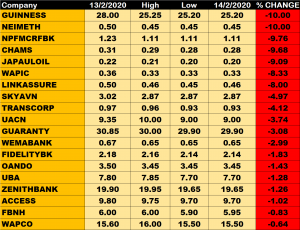 GUINESS and NEIMETH top the percentage price decliners' list shedding 10.00% each of their share prices to settle at N25.20 and N0.45 respectively.
Still on the red table are NPF Micro-finance, CHAMS and Japaul Oil, shedding 9.76%, 9.68% and 9.09% respectively.
Volume Drivers

Zenith traded about 21 million units of its shares in 469 deals, valued at about N429 million.