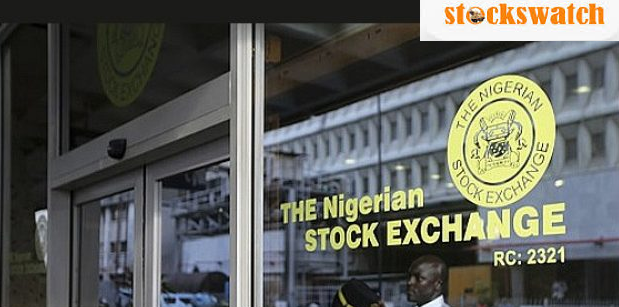 Afuwape  Gbolabo
The Nigeria equities market gained 155.43 points to continue its rally for the third consecutive session, Monday. The growth represents 0.48 percent growth against Friday's 32,459.17.
Investors' in flock for stocks of financial services providers raised the market's performance on the first trading day of the week, as there were 16 bank stocks out of the 26 price gainers for the day.
Although the number of deals struck grew by 493 deals, there was decline in the Volume and Value turnover as the declined by 14.27 percent and 18.06 percent respectively.
Investors' optimism when measured by market breadth was positive as the stocks that grew in price, 26, out-numbered the stocks that declined, 15, in the week.
Penny stocks dominated the day's trading as highly capitalized stocks like NB and SEPLAT declined in the day while  7UP, DANGCEM,GUINNESS, NESTLE, MOBIL and TOTAL retained their prices.
The Nigeria Stock Exchange' All Share Index (NSEASI) and Market Capitalization (MKT CAP) closed positive, keeping the Year-to-Date at 21.38%.
Market Snapshot

The Nigerian Stock Exchange' All Share Index (NSEASI) for Monday July 10, 2017 closed at 32,614.60 which is 0.48% higher than the previous session's 32,459.17.
Market Capitalization closed at ₦11.241 trillion against previous session of ₦11.187 trillion, representing 0.48 % increase.
3,710 deals recorded in the day represent an increase of 15.32% against previous session's 3,217 deals.
The 182.070 million units of equities traded for the day was 45.88% less than the previous session's 212.384 million units.
Value of equities traded for the day increased by 18.06% more than previous session's ₦2.474 billion to ₦2.027 billion which was recorded for the day.
Gainers for the day (26)
FLOURMILL, CILEASING and REDSTAR led other Twenty-three percentage price gainers for the day.
Losers for the day (15)
UBN, SKYEBANK and UPL led other twelve percentage price losers for the day.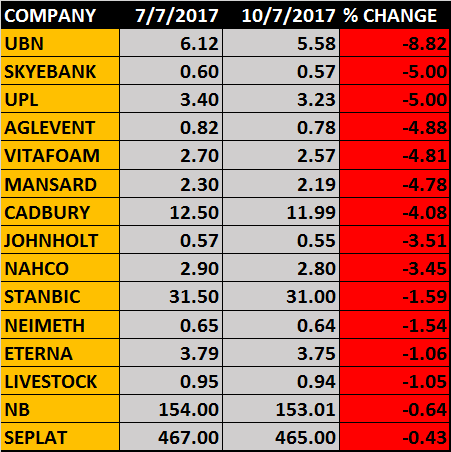 Ten Best Stocks:
FBNH, ZENITHBANK and UBA recorded the most deals of the day.
GUARANTY, FCMB and ZENITHBANK recorded the most volume in the day.
GUARANTY, ZENITHBANK and 7UP recorded the most value in the day.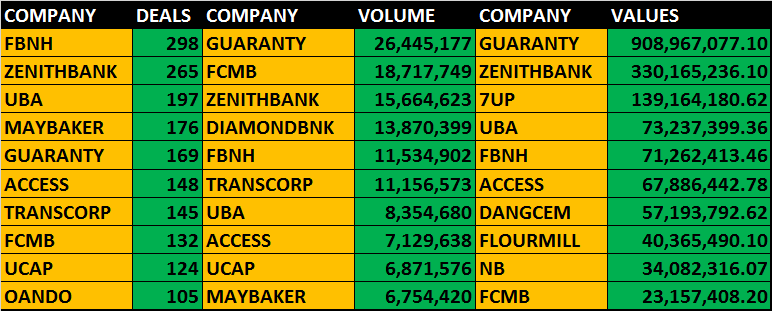 Other Indexes:
The Financial Services industry was the most active industry for the day with 135.265 million shares exchanged for ₦1,556 billion Monday.
Consumer Goods industry was next with 12.831 million share traded for ₦0..268 billion.
Conglomerates industry, Healthcare industry and Construction/ Real Estate Industry followed respectively.
MARKET Breadth:
Market breadth closed negative as with 26 gainers against 15 losers.
The Nigeria Stock Exchange Market data for Monday 10th July 2017: