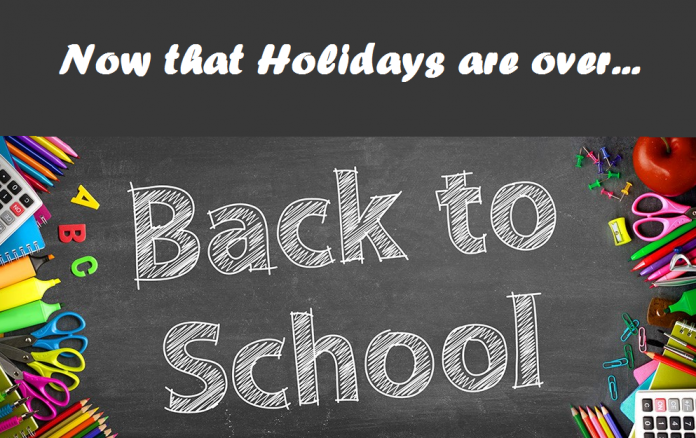 Hi kids.
The fact that the long holiday is over should suggest to you the nature of life; how that nothing lasts forever. You sure enjoyed the travelling and the site-seeing with shopping that came along with it. The free long hours allowed for television viewing late into the night without the strong order from mum to switch off the television to either go read your books or sleep are such that you wished continued for a few more weeks. The reading of novels and story books during the holidays as against textbooks particularly on seeming 'boring' subjects like Mathematics sure relaxed your brain while visits to places of leisure and such other frivolities you so enjoyed during the holidays. The reality as we speak is that the holidays are over; schools and lectures are back in full force. Accept these realities and make the best use of the few months of rigorous academic activities. The long hours of sleep on weekdays whereby you stretched on the bed only to wake up for 'brunch- breakfast/lunch' are over till June/July of next year. Let me show you a few guides to help settle you down in earnest as the new session begins.
URGENT PURGING: It is a known fact that the body system becomes used to whatsoever it does continuously. In true terms, some habits are easily formed and they stick. Such is television, games, sleep and other such frivolities. You will need to of necessity purge your system- body and mind of these habits without more ado. Realistically, academic activities might be boring within the first week of school because you sure had left such for a couple of months; it is time to get off the holiday-induced laziness by talking realities to yourself. Communing with self is a secret of living. The earlier you learn and live by this simple principle the better for you in the future. Tell yourself the holidays are over. Talk to yourself that the school is reopened and rigorous academic activities have commenced. Say to your system that you have enjoyed the best of the holiday season; the time for serious work is here. If you do this well and in earnest, adaptation to academic activities again will be sharp and fast enough. Talk realities to by purging yourself of the holiday-induced laziness.
NEW RESPONSIBILITIES:You are sure resuming in a new class, at that, new challenges and responsibilities obtain. A new and higher class will require a new thinking, maturity, hard work and discipline to excel. Some of the subjects and topics might be somewhat strange particularly if you didn't attend a summer school during the holiday. Being attentive in the class, making friends with your textbooks and ensuring that your home and class works are excellently attended to are the antidotes to lower performance in a new and higher class.
LOVE YOUR NEW TEACHERS:It is most likely that you will have new set of teachers. Waoww! You sure fell in love with your previous teachers as much as used to them. You will need to as a matter of urgency believe in the abilities of your new teachers, love them and make yourself relevant in the classroom. When you hate a teacher, you can't get the best of him or her. Guess what? These new teachers are just going to be added to the profiles of those that will be contributing to your life and destiny. See and take as helpers and co-partners in the process of your emergence.
HELP YOUR PARENTS:Fingers are not equal, though recession is said to have abated in Nigeria but impact is yet to reflect. You will have to manage with the much mum and dad will have left to offer after the payments of your school fees. Never bother to look or compare yourself with those classmates that seem to have everything. Always remember the son of who you are and live within your means.
NEW FRIENDS:I did touch on this last week. It is important I also that it is mentioned this week. You don't need to hate anyone but everybody can't be your friend, pick your friend carefully. Be guided by academic excellence, discipline and prudence in money management among others. Is there a classmate that is fond of wasting resources and showing off, you don't need to hate him but you should not be close to him to avoid negative influence. You are in school to learn and not to show how wealthy your parents are. Form reading partners and move higher in academic excellence.
Welcome back to school. I wish you luck.