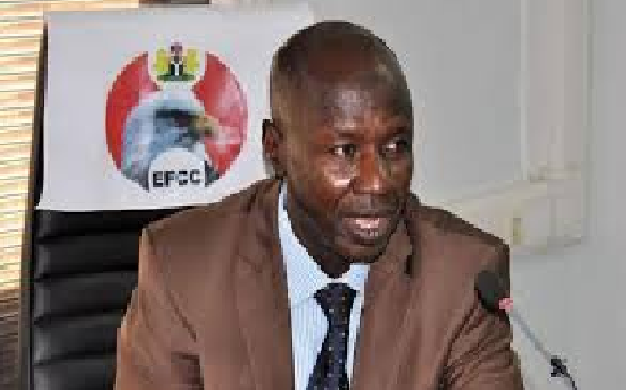 Even with the way Nigerians celebrate corruption, Acting Chairman Economic and financial Crimes Commission (EFCC), Ibrahim Magu, has called on stakeholders of anti – graft not to be discouraged with the way it is done.
Also, Magu called for a grassroots mobilisation and sensitisation of Nigerians, especially youths on the dangers of corrupt practices on their future.
Speaking at the Project on Support to Anti-Corruption in Nigeria, organised by the National Orientation Agency (NOA), Magu said in Nigeria, some people do not believe that corruption is bad.
"So we should not be discouraged by corruption being celebrated, this is the only country where they said stealing and bribery should not be punished. We should have the will to win, and I'm telling you that if we maintain the tempo, we will win.
"Two months ago we were at a similar stakeholders' summit where we called (on) all our friends to join in the fight against corruption and we gave them room to criticise what we are doing and later we analysed the criticisms and then forged ahead. This was done because we realised that in fighting corruption, you need the support of everybody, and we also realised that we do not have the monopoly of knowledge in the fight against corruption.
"We need to emphasise on the preventive aspect, we need to create awareness among the people because some people don't believe that corruption is wrong, so it is very necessary for us to put our hands together to come out and fight corruption.
"We have the appropriate political goodwill that is the most important ingredient we need to fight corruption, there is no doubt about the political will, there is no doubt about the commitment of the leadership of this country to fight.
Furthermore, Magu said "we have passed the level of trying to see the cause of corruption, we should find the solution to corruption, we must fight corruption, I think we should emphasise on fighting corruption, and there is no best one strategy of fighting corruption. I can assure that whatever took you find, you fight corruption, but the most important thing is to mobilise the people both inside and outside, in the villages, anywhere you find yourself, sensitise the people, target the youths in particular because they are more in number; we are doing this to give them a better life in the next generation.
"We have to key in to expose the corrupt practices and in exposing all sorts of corruption still in smuggling, let's fight and kick corruption out, we should not be discouraged, because that is the only thing that can guarantee a better life for the next generation."
In his address, the Director General of NOA, Dr Garba Abari, said "Nigeria is facing the real danger of becoming a country where persons who have acquired ill-gotten wealth become role models for the younger generation.
"Most of our youths today want to drive exotic cars, build exotic houses, wear expensive designer clothes and perfumes without necessarily working hard to legitimately acquire the resources to make these dreams come true.
"With its massive structure of offices in the 36 states, Abuja and 774 local governments in Nigeria, NOA is eminently positioned to lead this attitudinal change campaign on the issue of corruption aimed at getting our youths to again begin to appreciate the virtues of hard work, integrity, industry, education, nation building and excellence."