The Nigerian Stocks Exchange' All Share Index (NSEASI) on Wednesday
27 th of December 2017 edged lower, ending the first post-holiday session in
the red. Although other major indexes closed positive but NSEASI and
market capitalization fell by 1.64% to close at 37,889.57 and N13.483trillion
respectively as against the corresponding 38,522.14 and N13.708trillion
recorded in the pre-Christmas last trading session.
Index decline might not necessarily be as a result of a weak market but decline in highly capitalized stocks which include Dangote Cement and
Nigerian Breweries Plc.

Volumes of shares traded were up by a significant 108% in about 2,937
deals, bringing the total volumes of share traded on Wednesday to about
425.96million, against the 204.48million traded in 2,889 deals of the
previous trading session. Worth of shares traded was N2.12billion against
the previous N1.53billion recorded in the last trading session.
Market Breadth
A gauge of the overall performance for the day revealed that the
market is nevertheless not under any severe pressure, though the
losses overweigh the gains, but it is believed that a number of stock
prices that remain unchanged could be a better decider of the
prospective price direction.
Gainers for the day (14)
Cadbury led gainers squad adding N1.42 to arrive at N15.75, away from
N14.33 it closed on 22 nd of December 2017. Stocks like 11 plc. (Mobil),
Fidelity, Law Union, NEM and others also feature on the gainers list.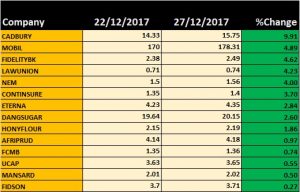 Losers for the day (23)
On the flip side are 23 stocks led by Okomu oil, Presco and Livestock feeds
with Dangote Cement as well as other financial services stocks.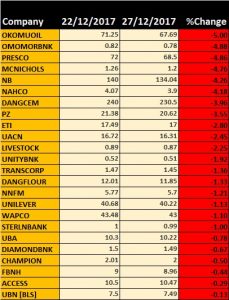 Ten Best Stocks:
Banking stocks featured most in this category, while Transcorp
and Dangote flour crept in to make up the list of the best stocks
for the day.
In terms of deals, volumes and value, FBNH recorded 288 deals
to lead other. TRANSCORP traded highest volumes with
107.1million while GTB recorded the highest value of trade of
N396.02million.