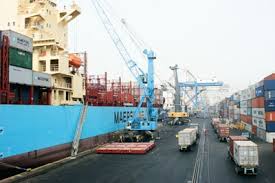 Mr. Olusegun Awolowo, Chief Executive Officer of the Nigerian Export Promotion Council, NEPC, has said that the capital market has the capacity to boost export through the instrument of Foreign Direct Investment.
He made this disclosure on Monday at the Nigerian Stock Exchange (NSE) while presenting a Zero Oil Plan Proposal to capital market stakeholders and performing the Closing Gong ceremony, that the government in its Economic Recovery and Growth Plan (ERGP), emphasized the need for diversification.
He stated that the country needed to generate more foreign exchange in view of the decline in revenue from the oil sector, noting that agriculture was the solution to getting more earnings into the country, and that to drive exports, the capital market was key in shoring Foreign Direct Investment in the manufacturing sector.
"The idea is to move businesses into export and we need the capital market to drive this kind of investment. Foreign Direct Investment (FDI) that has come to Nigeria has only been, in the financial sector, oil and gas sector. Now we are calling for FDI and of course local investment in manufacturing and industry sector," he said.
He noted that the Federal Government was getting the environment ready with ease of doing business while appealing to the capital market that the country was ready to revive export.
Responding to the appeal, the Doyen of the Nigerian Stock Exchange, Sam Ndata noted that the Nigerian Stockbroking community was ready to promote FDI in manufacturing sector as there was the urgent need to earn foreign exchange in the country.