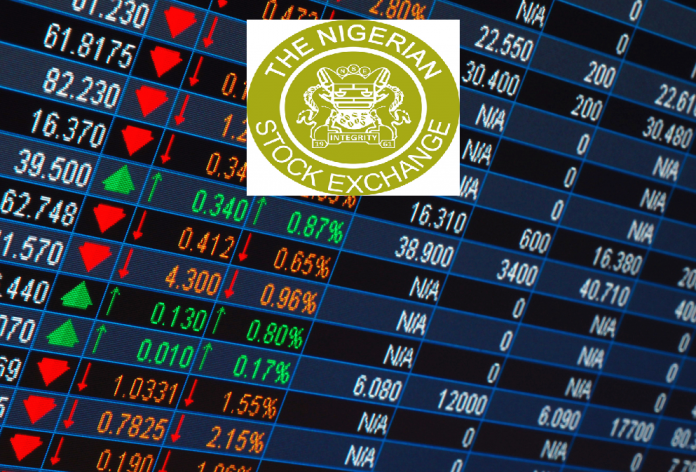 Afuwape Gbolabo
The Nigerian equities' market was at a time up 0.48% when NSEASI touched 39,104.10 before being pulled down by bargain hunting to close with a marginal growth 0.03% Tuesday. It had earlier opened at 38,914.00 and touched a low of 38,836.30. The closing figure was 38,924.63. Market Capitalization (MKT CAP) at the close of Tuesday's session was N13.556Trillion.
Union Bank Plc led the highest percentage gainers' chart with 10.01% at a price of N7.91 while Diamond Bank (DIAMONDBNK) also grew 7.14% at a closing price of N1.50
OTHER MARKET INDICATORS:
Government Bond (BOND CAP) closed flat while Exchange Traded Funds (ETF CAP) grew by 0.25 percent, Aggregate Value grew by 445.40 percent, Aggregate volume turnover by 31.97 percent and Total Deals grew by 4.22 percent in the day.
Despite growth recorded by UBN and DIAMOND BANK, banking Index declined by 0.13%, Insurance index declined by 0.27 percent while Consumer Goods industry grew by 0.27 percent being supported by Nestle, Dangote Sugar, Dangote flour and NASCON among others.
Highly capitalised stocks which include Nestle Nigeria, Dangote Cement, Nigerian Breweries and Guinness advanced in price to support the NSEASI.
Significantly, trading in the stock of Dangote Cement was 20.64% of the bourse' Aggregate volume turnover and 86.95% of Aggregate value turnover for the day.
ALSO READ: Despite possible profit taking, bank stocks dominate profitable investment outlook this week
Market Snapshot:
The Nigerian Stock Exchange All Share Index (NSEASI) for Tuesday 12 December, 2017 closed at 38,924.63 points which is 0.03 percent higher than the previous session's 38,913.99 points.
Market Capitalization closed at ₦13.557 trillion against previous session of ₦13.553 trillion, representing 0.03 percent increase.
5,090 deals recorded in the day represent an increase of 4.22 percent against previous session's 4,884 deals.
The 462.670 million units of equities traded for the day was 31.97 percent higher than previous session's 350.595 million.
Value of equities traded for the day increased by 445.40 percent more than previous session's ₦4.916 billion to ₦26.810 billion which was recorded for the day

Gainers for the day (21):
UBN, DIAMONDBNK and BERGER led other nineteen percentage price gainers for the day.
Losers for the day (23):
FCMB, FIDELITYBK and NAHCO led other twenty percentage price losers for the day.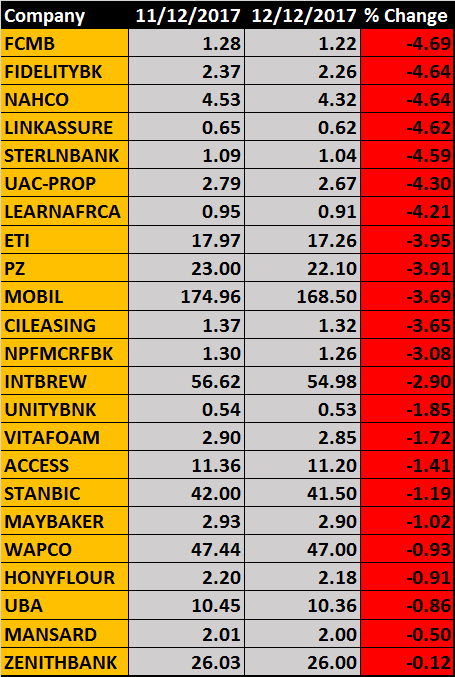 Ten Best Stocks:
FBNH, ZENITHBANK and UBA recorded the most deals of the day.
DANGCEM, DIAMONDBNK and FBNH recorded the most volume in the day.
DANGCEM, ZENITHBANK and FBNH recorded the most value in the day.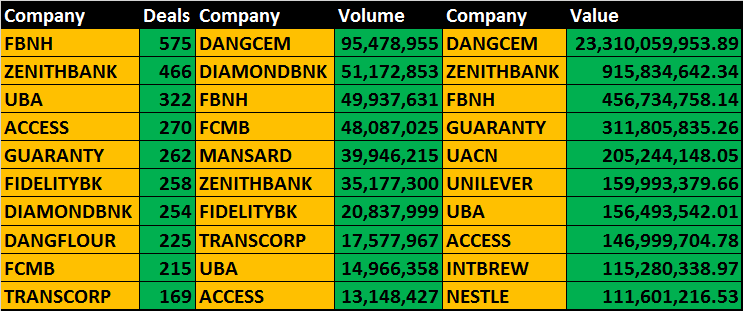 Other Indexes:
Financial services industry was the most active industry for the day with 305.57 million shares exchanged for ₦2.396 billion Tuesday.
Industrial Goods industry was next with 98.581 million shares traded for ₦23.417 billion.
Conglomerates Industry, Consumer Goods Industry and Services industry followed respectively.
Market Breadth:
Market breadth closed negative as number of price losers outweighed number of price gainers with 21 gainers against 23 losers.
The Nigeria Stock Exchange Market data for Tuesday 12th November, 2017: