Just like we projected a comeback for the market yesterday, the bull actually came back again on Wednesday, November 18, 2020, halting 3 straight days of downtrend due to profit taking. The move of market recovery began on Tuesday as a few stocks rallied, but eventually closed negative due to losses in Dangote Cement and Nestle.  
All the banking stocks that we projected would rally all grew their share prices today; and this is just the beginning. We perceive the market is going to experience another phase of rally, pushing the prices of stocks far above where they were before.
At the close of trade on Wednesday, the All Share Index appreciated by 1.68% to settle at 34,818.01 points from the previous close of 34,242.83 points.
Investors gain N300 billion as market capitalization grew by 1.68% to close at N18.193 trillion from the previous close of N17.893 trillion.
An aggregate of 661 million units of shares were traded in 7,324 deals, valued at N8.298 billion.

Market Breadth
The market breadth closed positive as 38 equities gained while 8 equities declined in their share prices.
Percentage Gainers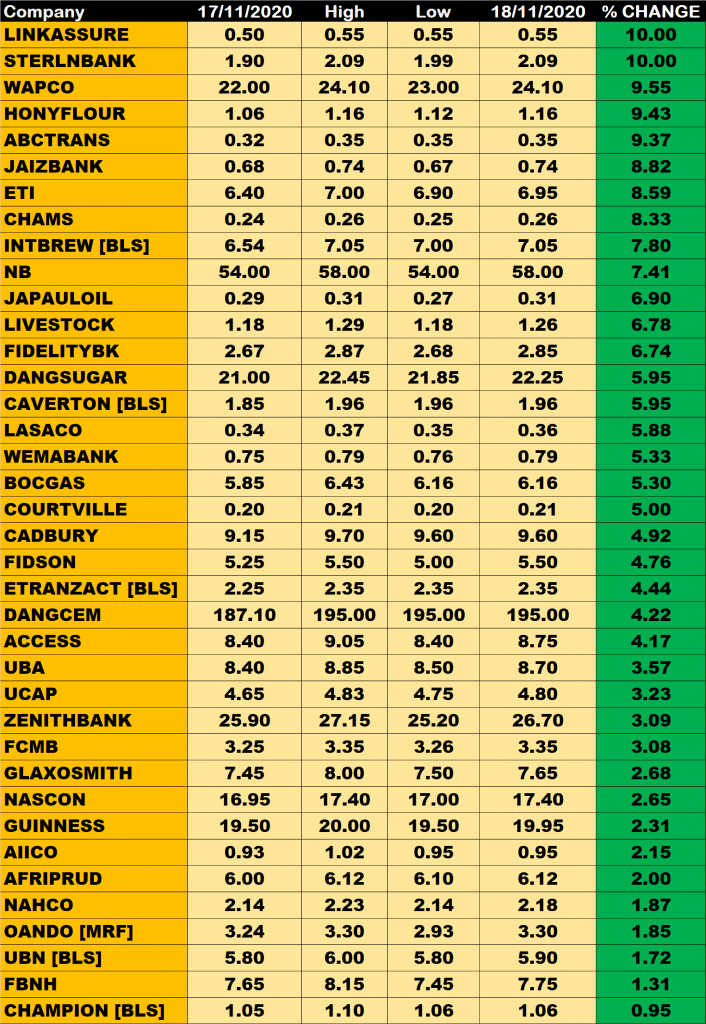 Linkage Assurance and Sterling Bank both led other gainers with 10% growth to close at N0.55 and N2.09 respectively.
WAPCO, Honeywell Flour and ABC Transport among other gainers also grew their share prices by 9.55%, 9.43% and 9.37% respectively.
Percentage Losers

Cornerstone Insurance led other price decliners as it shed 8.62% of its share price to close at N0.53 from the previous close of N0.58.
Regency Assurance declined by 8.33%, while Mutual Benefit Assurance and Union Diagnostics among others both shed 7.14% of their share prices respectively.
Volume Drivers

Transcorp Plc traded about 160.58 million units of its shares in 341 deals, valued at N172.16 million.
Guaranty Trust Bank traded about 70.68 million units of its shares in 405 deals, valued at N2.62 billion.
Zenith Bank traded about 57.3 million units of its shares in 716 deals, valued at N1.54 billion.
Stocks to watch
Investors should watch First Bank, Access Bank, UBA, Fidelity and FCMB. They all rallied today just as projected but they have not actually moved so much. There is growth potential in them.