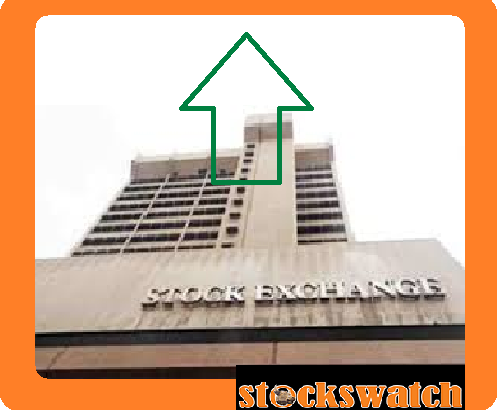 Afuwape Gbolabo
Unsettled by expected sell pressures from Bargain Hunters, the All Share Index of the Nigerian Stock Exchange declined for the second trading sessions in the week on Wednesday. Thursday however looks mixed going by Wednesday's closing bid and offer depths. In other words, declines are not expected to be sharp with a number of equities attempting to find winning rhymes.
Notably, tempo around the market generally remains positive even with the declines as funds realised from sales are largely still within but seeking best prices in cautious trading, not necessarily to fear but not in being reckless enough to be carefree.
The bourse' main indexes closed largely in red Wednesday as only Total deals grew by 1.53 percent. Aggregate volume was down 29.98% and value turnover by 83.58%. Government bond (BOND CAP) and Exchange Traded Funds (ETF CAP) remained flat.
In all, NSEASI shed 1% to close at 38,534.64. Market capitalisation too was down 1% to close at N13.420 trillion. Year-to-date, NSEASI is up 43.4%.
Highly capitalized stocks which include Dangote Cement (DANGCEM), First bank of Nigeria Holdings (FBNH), Zenith bank (ZENITHBANK) and Nigerian Breweries (NB) were all hit by Bargain Hunters thus leading to negative market breadth with only 19 stocks on the price gainers' chart and 26 on the flip side.
Market Snapshot:
The Nigerian Stock Exchange All Share Index (NSEASI) for Wednesday 13 December, 2017 closed at 38.534.64 points which is 1.00 percent lower than the previous session's 38,924.63 points.
Market Capitalization closed at ₦13.420 trillion against previous session of ₦13.557 trillion, representing 1.00 percent decrease.
5,168 deals recorded in the day represent a decrease of 1.53 percent against previous session's 5,090 deals.
The 323.947 million units of equities traded for the day was 29.98 percent lower than previous session's 462.671 million.
Value of equities traded for the day decreased by 83.58 percent less than previous session's ₦26.810 billion to ₦4.102 billion which was recorded for the day

Gainers for the day (19):
BERGER, FCMB and DANGFLOUR led other sixteen percentage price gainers for the day.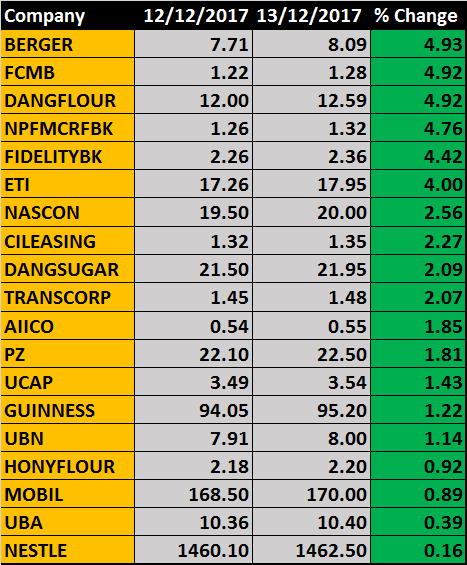 Losers for the day (26):
PRESCO, CADBURY and GAURANTY led other twenty-three percentage price losers for the day.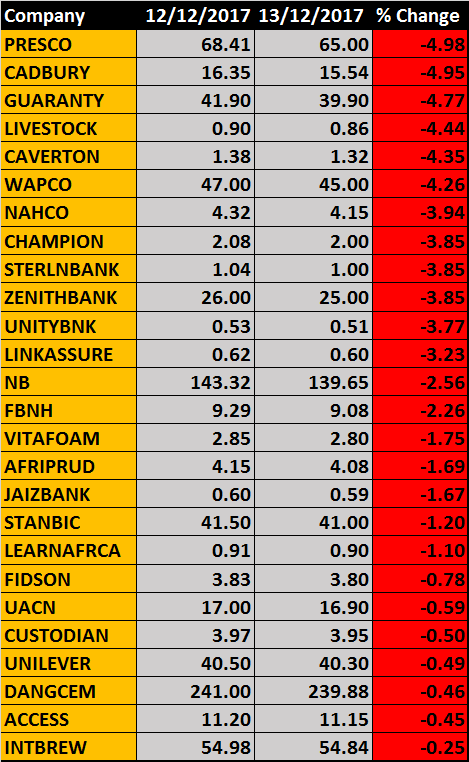 Ten Best Stocks:
FBNH, GUARANTY and ZENITHBANK recorded the most deals of the day.
STERLNBANK, DIAMONDBNK and FBNH recorded the most volume in the day.
GUARANTY, ZENITHBANK and NESTLE recorded the most value in the day.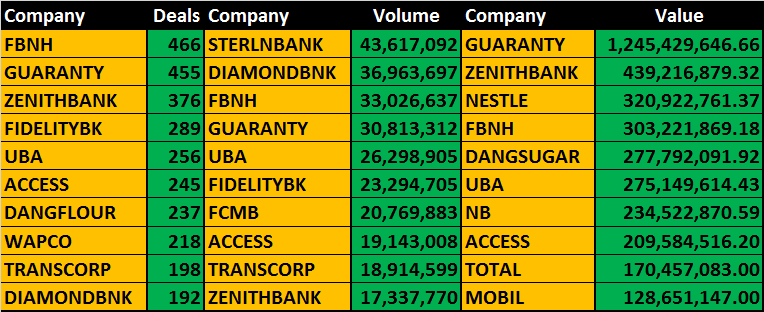 Other Indexes:
Financial services industry was the most active industry for the day with 268.37 million shares exchanged for ₦2.752 billion Wednesday.
Consumer Goods industry was next with 24.479 million shares traded for ₦1.079 billion.
Conglomerates Industry, Oil and Gas Industry and Industrial Goods industry followed respectively.
Market Breadth:
Market breadth closed negative as number of price gainers outweighed number of price loser with 19 gainers against 26 losers.
The Nigeria Stock Exchange Market data for Wednesday 13th November, 2017: