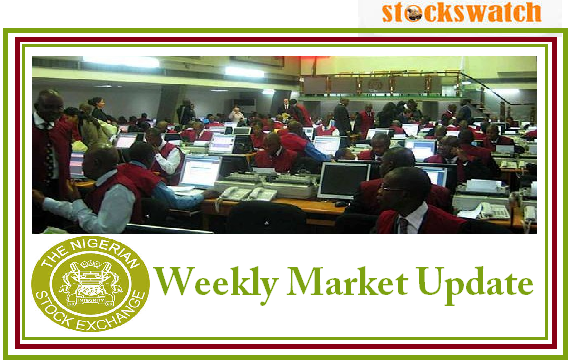 Afuwape Gbolabo
Cheery news in the Nigerian macro-economic environment last week as inflation drops for the seventh successive months and the first quarter of 0.55 percent positive GDP growth after five successive quarters of negatives was not enough to push sentiment up for a bullish run last week; rather, the bears had a 2.65 percent week.
Trading activities in the Nigerian equities market for the week ended 15 September, 2017 was quite volatile leading it to close in the red; shedding 951.67 points and N326billion bringing the bourse's YtD to 30.26.
Details of the positive fundamentals rolled out the previous week as-well-as in the week by the National Bureau of Statistics (NBS) showing positive growth in Gross Domestic Product (GDP) for the second quarter (Q2) of 2017, as-well-as a 0.25 percent drop in the country's inflation from 16.05 percent recorded in July to 16.01 percent recorded in August 2017 wasn't enough to inspire the bourse to grow as the Nigerian market showed great level of weakness in the week with main industries index all looking down, save Oil and Gas that recorded 0.17 percent growth.
The outcome of the week's trading data vis-à-vis the information released to the public domain shows that there is heightened skepticism by investors on the sustainability of the growing economy by the Federal Government and its aiding economic and financial agencies.
Nigerian Stock Exchange (NSE) Premium Board stocks all declined with Dangote Cement (which had its bid of acquiring PPC of South Africa confirmed within the week) leading with 4.28 percent having shed N9.20, Zenith Bank was next with 4.25 percent decline having shed N 0.98 while First Bank of Nigeria Holdings declined by 2.61percent having shed N0.15.
Stocks of the financial services industry rescinded in the week as banking stocks sector had its index lose 10.01 points which represents 2.30 percent decline while Insurance sector had its index lose 0.45 points which represents 0.33 percent.
There was high volatility during the trading sessions of the week as investors cued for more of penny stocks than bluechip stocks which brought about 0.55 percent growth in the Total deals, 1.08 percent in Aggregate Volume turnover while Aggregate Value turnover relapsed by 11.93 percent. However on the average, 3409 deals where an average of 179.324 million shares were traded and average of N3.074 billion exchanged hands.
NEM insurance Plc which grew its profit before tax by 290.8 percent to N2.19billion for the year ended December 31st 2016, got investors' applause as the stock gained 19kobo to record a 19 percent growth in the week. Similarly, the stock of C&I Leasing gaining 13kobo recorded a 12.26 percent growth. On the flipside, the stocks of Neimeth Pharmaceuticals, Skye bank and May&Baker declined above 10percent aw the stocks shed 15.66 percent, 11.86 percent and 10.67 percent respectively.
No thanks to heightened skepticism displayed by investors in the week, market breadth closed negative as the stocks that grew in prices were outnumbered by the stocks that declined in prices.
INTRA WEEK:
MONDAY:
Resuming from a week the Nigeria' stock market showed marginal recovery, growing by 1.27 percent, trading activities on the floor of the exchange, NSE, shrank by 0.81 percent on the first trading day of the week. The bourse lost 292.3 points which represents N101 billion in the day which saw the All Share Index (NSEASI) close at 35,664.94 points and N12.293 trillion.
The day's decline was inspired by the poor performance of most industries; Insurance index dropped by 0.13 percent, banking by 0.40 percent, Consumer Goods by 0.37 percent Industrial Goods by 1.01 percent, only Oil & Gas Industry grew by 0.68 percent.
Considering the skepticism of how substantial the recent NBS report indicating that Nigeria is out of recession, among other variables, sizable investors may have stayed on the sideline in the day bringing about 20.76 percent decline in deals to close at 3,232, 24.73 percent in Volume turnover to close at 114.769 million and 29.51 percent decline in value turnover at N2.173 billion.
The bourse showed great weakness in the day as market breadth was negative at the close of the day's trading with the stocks that declined in prices outnumbering the stocks that grew in prices to bring the bourse's year to date (YtD) to 32.99.
TUESDAY:
A total of 373.49 million shares valued at N5.77 billion were traded in 4,193 deals on the Nigerian Stock Exchange (NSE) on Tuesday.
These were against the 114.77 million shares worth N2.17 billion traded in 3,232 deals on Monday.
Market capitalisation depreciated by N92 billion or 0.75 per cent to close at N12.200 trillion from N12.292 trillion recorded on Tuesday.
The All-Share Index, which opened at 35,664.94 lost 267.42 basis points to close at 35,397.52.
Nestle led the losers' chart with a loss of N59.8 to close at N1150.2 per share.
Nigerian Breweries followed, depreciating by N4.45 to close at N180.05, while Lafarge Wapco dropped N2.01 to close at N50.99 per share.
FlourMill dipped by N1.45 to close at N27.55, while Dangote Cement depreciated by N1 to close at N209 per share.
Conversely, Seplat topped the gainers' table with N22.89 to close at N480.79 per share.
It was trailed by Okomu Oil, which gained N2.99 to close at N62.89 per share.
International Breweries gained N2.43 to close at N38, while Unilever appreciated by N2 to close at N42 and Stanbic IBTC rose by N1.95 to close at N41.2 per share.
Diamond Bank was the toast of investors, trading 130.73 million shares worth N150.59 million.
GTbank came second, trading 50.15 million shares worth N1.89 billion, while Zenith Bank sold 39.30 million shares valued at N900.70 million.
FBNH traded 23.03 million shares worth N132.82 million, while Mayer sold 15.00 million valued at N10.5 million.
WEDNESDAY: 
After closing red in the  three trading session, the market moved into the green zone on Wednesday  as the All Share Index (NSEASI) and Market Capitalization (MKT CAP) advanced by 0.19 per cent to settle the year-to-date return at 31.96 per cent.
Consumer Goods stocks inspired by Nestle's N39.80 gain soared by 1.14 per cent, thus emerged the top performing industry as capitalisation appreciated by N23bn.
The NSE capitalisation rose to N12.223tn from N12.2tn and the All-Share Index closed at 35,464.34 basis points from 35,397.52 basis points.
"Mixed sentiments pervaded the market on Wednesday as bullish activities on certain market heavyweights offset the sell-offs witnessed on a number of tickers. We expect to see stronger positive momentum in the market as the week draws to a close," analysts at Meristem Securities said in a post.
Financial services stocks inspired the bourse's growth in the day as banking and insurance indices appreciated by 0.22 per cent and 0.46 per cent, respectively. While industrial goods and oil/gas sectors declines of 0.39 per cent and 0.88 per cent, accordingly.
A total of 119.898 million shares worth N1.744bn were traded in 3,015 deals at the close of trading on the floor of the bourse.
Volume of transactions and market turnover however declined by 67.90 per cent and 69.74 per cent respectively at the close of the day. Market breadth reflected 16 gainers and 21 losers.
NEM Insurance Company (Nigeria) Plc and Unilever Nigeria Plc topped the gainers' chart, appreciating by 4.76 per cent apiece to close at N1.10 and N 44, respectively.
Those stocks were closely followed by C & I Leasing Plc, Aiico Insurance Plc and Nestle Nigeria Plc, which appreciated by 4.55 per cent, 3.64 per cent and 3.46 per cent, respectively.
On the converse, Presco Plc topped the losers' list depreciating by 4.99 per cent to close at N60.80 at the end of trading activities.
THURSDAY:
Nigeria's equity market on Thursday closed in the green by 0.55 percent to record the second consecutive growth in the week.
Thursday saw the stock of Nestle record the highest price growth, gaining N15 that is 1.26percent to close at N1, 205.00 to inspire the Consumer Goods Industry's index to grow by 0.18 percent.
The bourse which started its recuperation from three straight sessions of decline when it lost 714.85 points, that is N25 billion on Wednesday by 0.19 percent.
The market waxed stronger in the day and had all its main indexes grow to close in the green.
In the market activities today, it is noteworthy that investors'  anticipation of the release of August 2017 Inflation report from the National Bureau of Statistics (NBS), may have increased volatility which saw the total deals grow by 7.50 percent, Aggregate volume by 7.02 percent and Aggregate value by 56.34 percent.
Banking stocks performed below par as the Industry's index dropped by 0.63 percent, however, that of Insurance industry grew by 0.43 percent. Oil and Gas index also looked down by 1.02percent while Industrial Goods industry index grew by 1.08 percent.
FRIDAY:
Trading activities on the floor of the Nigerian Stock Exchange (NSE) closed 1.84 percent lower on Friday due to profit taking by investors, reversing the two-day gain.
Dangote Cement led the losers today with N8.19k drop in the share value to settle at N205.80k per share.
It was closely followed by Total Plc, which lost M7.10k to finish at N225 per share, and Nigerian Breweries, which depreciated by N5.55k to close at N175 per share.
In the same vein, PZ Cussons fell by 99k to end at N25 per share, while Forte Oil went down by 90k to wrap the day at N47.90k per share.
Aggregate volume of transactions and the Aggregate value closed slightly higher today.
At the close of trade on Friday, investors staked N3 billion on 160 million shares transacted in 3,367 deals, compared with N2.7 billion staked on 128.3 million shares on Thursday exchanged in 3,241 deals.
However, market breadth still remained negative as the NSE closed with 29 losers and 11 gainers.
The gainers' table was led by International Breweries, which grew by N1.42k to close at N38.95k per share.
It was trailed by Guinness Nigeria, which advanced by N1.25k to finish at N96.65k per share, and Flour Mills of Nigeria, which progressed by 40k to end at N27.40k per share.
Transcorp Hotel gained 34k today to rise to N7.21k per share, while Access Bank moved up by 20k to settle at N9.90k per share.
A look at the major market indicators showed that the All-Share Index (ASI) depreciated by 654.47 points to close at 35,005.57 points, while the market capitalisation declined by N225.6 billion to settle at N12 trillion, and the year-to-date return trimmed to 30.26 percent.
But financial stocks still remained investors' toast at the market on Friday with Fidelity Bank selling the highest volume of shares, exchanging 24.6 million units worth N32 million.
FBN Holdings traded 14.3 million shares valued at N79.6 million, while Access Bank transacted 13.7 million shares for N132.9 million.
In addition, Zenith Bank moved 12.6 million shares worth N280.4 million, and Africa Prudential traded 11.6 million shares at N36.7 million.
INDEX MOVEMENT: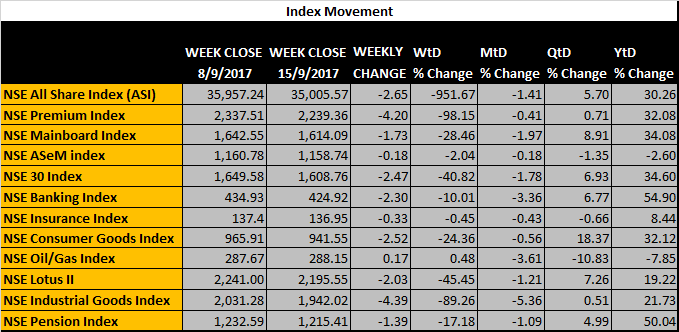 The NSE All-Share Index and Market Capitalization depreciated by 2.65% and 2.63% to close the week at 35,005.57 and N12.068 trillion respectively.
Similarly, all other Indices finished lower during the week with the exception of NSE Oil/Gas index that rose by 0.17%.
MARKET STATISTICS:
A total turnover of 896.618 million share worth N15.368 billion in 17,048 deals were traded this week by investors on the floor of the Exchange in contrast to a total of 887.024 million shares valued at N17.450 billion that exchanged hands last week in 16,955 deals.
The Financial Services Industry (measured by volume) led the activity chart with 708.046 million shares valued at N7.793 billion traded in 9,164 deals; thus contributing 78.97 % and 50.71 % to the total equity turnover volume and value respectively.
The Consumer Goods Industry followed with 56.502 million shares worth N5.509 billion in 3,414 deals.
The third place was occupied by Conglomerates Industry with a turnover of 32.439 million shares worth N106.687 million in 744 deals.
Trading in the Top Three Equities namely – Diamond Bank Plc, Zenith International Bank Plc, Guaranty Trust Bank Plc, (measured by volume) accounted for 336.181 million shares worth N5.680 billion in 2,936deals, contributing 37.49% and 36.96% to the total equity turnover volume and value respectively.
GAINERS AND LOSERS:
Twenty-three (23) equities appreciated in price during the week, lower than twenty-eight (28) of the previous week. Forty-five (45) equities depreciated in price, higher than thirty-eight (38) equities of the previous week, while one hundred and four (104) equities remained unchanged lower than one hundred and five (105) equities recorded in the preceding week.
DEALS, VOLUME AND VALUE:
The stock of Zenith Bank Plc recorded the most deals that of Diamond Bank Plc recorded the most volume turnover while the stock of Guaranty Trust Bank which accounted for 20.37 of the Aggregate value turnover recorded the most value in the week.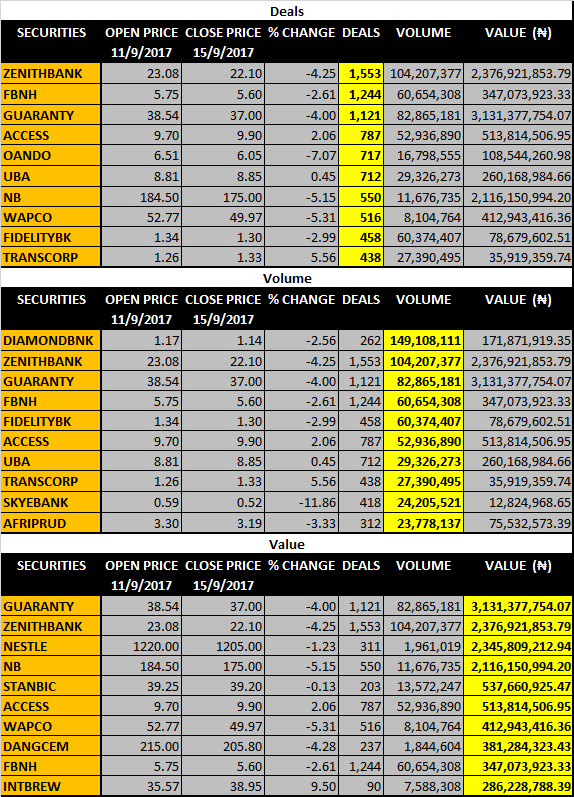 BONDS:
A total of 5,290 units of Federal Government Bonds valued at N5.030 million were traded this week in 15deals, compared with a total of 8,535 units valued at N8.660 million transacted last week in 11deals.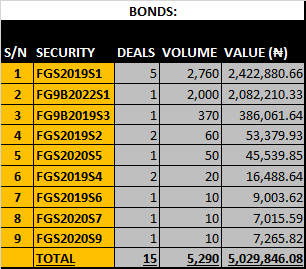 ETPs:
Also traded during the week were a total of 1,265 units of Exchange Traded Products (ETPs) valued at N145,720.20 executed in 8deals compared with a total of 3,000 units valued at N31,590.00 transacted last week in 1deal.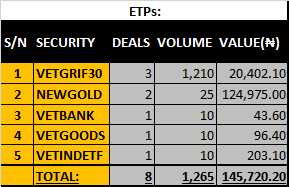 PRICE ADJUSTMENT:
In the price adjustment box, are securities adjusted in the week for dividend as recommended by their board of directors.

DISCLOSURES WITHIN THE WEEK:
Guinness Nigeria Plc announced to the public that the Board at its meeting of 30 August 2017 approved the appointment of Mr. Mark Sandys as a Non-Executive Director of Guinness Nigeria Plc with effect from 30 August 2017.
In a statement signed by Rotimi Odusola, Company Secretary/ Legal Adviser, the brewing firm stated that Sandys is a highly experienced Senior Marketing Executive with over 2 decades cognate experience. He has worked for Diageo Plc for over 19 years in different capacities including as Global Marketing Strategy & Innovation Director Baileys, Marketing & Innovation Director, Diageo Russia & Eastern Europe (based in Moscow); Category Director, Whisky & Reserve, Asia Pacific. He is currently the Global Head of Beer, Baileys & Smirnoff for Diageo Plc. He was appointed to the Board as a Non-Executive Director with effect from 30 August 2017. He resides in Ireland.
Oando Plc issued a report on its 40th Annual General Meeting that was recently held in Uyo. The leading indigenous energy group in a statement signed by Ayotola Jagun, Chief Compliance Officer & Company Secretary, stated that "at the AGM, shareholders' expressed confidence in the current management team led by the Group Chief Executive Officer, Wale Tinubu. The following resolutions proposed in the notice to shareholders, were unanimously passed:
Re-appointment of Auditors: The Company re- appointed Ernst and Young (Nigeria) as its auditors.
Fixing of Auditors' Remuneration: The Directors were authorised to fix the auditors' remuneration.
Re-election of Directors: The following directors who retired by rotation, were re-elected as Directors of the Company: Mr. Mobolaji Osunsanya Mr. Oghogho Akpata Mr. Tanimu Yakubu
Election of Members of the Audit Committee The following persons were elected as members of the Audit Committee for the 2017 Accounts: Mr. Ike Osakwe Chief Sena Anthony Mr. Tanimu Yakubu Dr. Joseph Ashaolu Mr. Olusegun David Oguntoye Mr. Jackson Erinevere Edah.
Approval of the remuneration of non-executive directors: The remuneration of the non-executive directors of the Company was fixed at N5,000,000 per annum for the Chairman and N4,000,000 each per annum for all other non-executive directors with effect from 1 January 2017; which fees are payable quarterly in arrears.
Dangote Cement Plc, most capitalised company listed on the Nigerian Stock Exchange (NSE), Wednesday confirmed it is holding talks with the board of directors of PPC Limited of South Africa over acquiring its entire shares.
This was made known in a notification by the board of directors of Dangote Cement to the NSE, where the board indicated its interest to acquire the entire share capital of PPC to the board of directors of the South Africa's firm.
However, the Dangote Cement explained that the acquisition talks are still at the preliminary stage and the transaction remains a potential transaction.
"Further details will be published subsequently, as appropriate," Dangote Cement stated.
Stanbic IBTC Plc has advised its shareholders that in line with the authority granted to Directors by Shareholders at the 06 August 2015 Extra Ordinary General Meeting, Shareholders have a choice of receiving dividends declared by the Company, up to year 2020, either in cash or may elect to receive their dividends as new ordinary shares in the Company ("scrip dividend").
In a statement signed by Chidi Okezie, Company Secretary, stated "where a shareholder elects to receive his or her dividends by way of new ordinary shares, then such scrip dividend shall only be allotted after receipt of any required regulatory approval and shall apply to shareholders whose names were on the Register of Members as at the qualification dates for the payment of such dividends ("Qualifying shareholders"). In order to be valid, any scrip dividend election by shareholders must be made to the Company's Registrars, not later than seven working days prior to any dividend payment date.
With respect to the sixty (60) kobo Interim Dividend approved by the Board for distribution to Shareholders on 27 September 2017, the qualification date as previously published was Wednesday 06 September 2017.
The reference price to be used in determining any scrip dividend allotment shall be the volume weighted average price (VWAP) of the Company's shares on The Nigeria Stock Exchange (The NSE) for the five business days commencing on the day the ordinary shares are first quoted ex-dividend. Thus with respect to the sixty (60) kobo Interim Dividend indicated above, the reference price for determining the scrip dividend allotment is N39.45 (Thirty Nine Naira Forty Five kobo).
Shareholders, who wish to receive their Sixty (60) kobo dividend by way of new ordinary shares, can either download the Scrip Dividend Election form ("the form") from our website.
Shareholders who however elect to receive their dividends in cash, are not required to take any action as they will have their dividend warrants or bank accounts (in the case of shareholders with the appropriate e-dividend mandate) sent/credited on the dividend payment date."