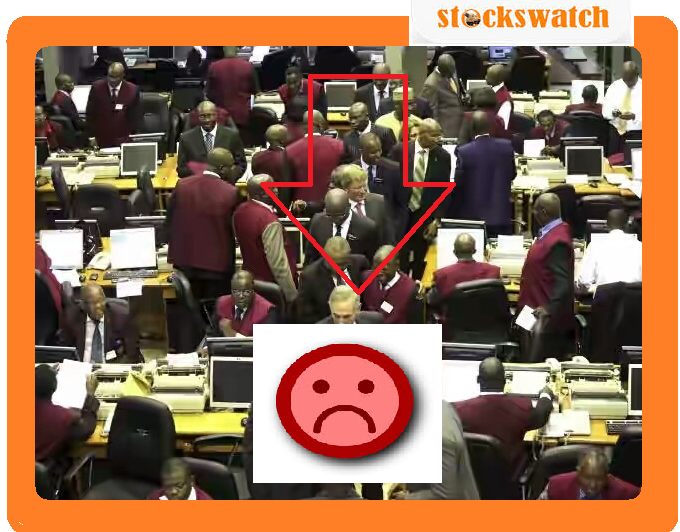 Afuwape Gbolabo
The Nigerian stock Market closed Thursday looking down with the All share Index (NSEASI) declining by 1.56 percent to close at 37,933.70 while Market Capitalization (MKT CAP) grew by 0.57% to close at N13.497 trillion. The converse movement in NSEASI and Market Capitalisation infers a mixed market.
At close of trading session Thursday, only few stocks were left with excess bid against offer sizes. Significantly, huge offer sizes were sighted across board. In addition, bid prices were relatively lower than closing figures for the day even in stocks where bid sizes were relatively positive. This infers a strategic market play where willing buyers are positioning for maximised future growth by investing at competitively low prices. This scenario indicates a probable weak session on Friday.
NSEASI' Thursday's decline is traceable to performances of the bourse' premium stocks which include Dangote Cement (DANGCEM) with a decline of 4.12%, First Bank of Nigeria Holdings (FBNH) with a drop of 3.41% and Zenith Bank (ZENITHBANK) with 0.04% decline. Nigerian Breweries (NB) was down 0.47%. NB also accounted for 44.36% of the bourse' aggregate value turnover for the day.
Market breadth closed low with 32 stocks in red, leaving only 10 on the gainers' chart.
Consequently, total deals and aggregate volume declined by 10.66% and 10.69% respectively while aggregate value turnover grew by 41.36 percent. Government bond (BOND CAP) closed flat while Exchange Traded Fund (ETF) declined by 0.42.
Oil and Gas index grew by 3.76% to lead all other sectoral indexes while Industrial Good index shed 3.08% to lead sectoral indexes on the flip side.
Market Snapshot:
The Nigerian Stock Exchange All Share Index (NSEASI) for Thurday 14 December, 2017 closed at 37,933.70 points which is 1.56 percent lower than the previous session's 38,534.64 points.
Market Capitalization closed at ₦13.497 trillion against previous session of ₦13.420 trillion, representing 0.57 percent increase.
4,617 deals recorded in the day represent a decrease of 10.66 percent against previous session's 5,168 deals.
The 289.303 million units of equities traded for the day was 10.69 percent lower than previous session's 323.947 million.
Value of equities traded for the day increased by 41.36 percent more than previous session's ₦4.102 billion to ₦6.223 billion which was recorded for the day

Gainers for the day (10):
SEPLAT, CAVERTON and JBERGER led other seven percentage price gainers for the day.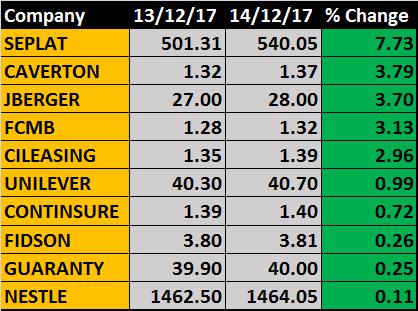 Losers for the day (32):
FLOURMILL, UBN and CUSTODYINS led other twenty-nine percentage price losers for the day.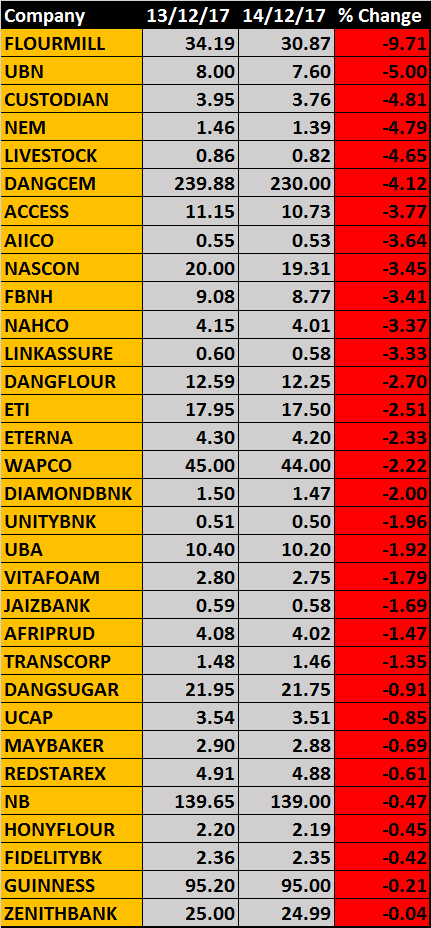 Ten Best Stocks:
FBNH, ZENITHBANK and GUARANTY recorded the most deals of the day.
FBNH, FCMB and ZENITHBANK recorded the most volume in the day.
NB, ZENITHBANK and GUARANTY recorded the most value in the day.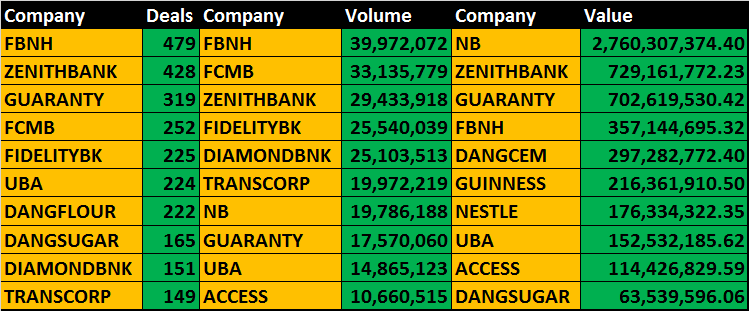 Other Indexes:
Financial services industry was the most active industry for the day with 218.702 million shares exchanged for ₦2.317 billion Thursday.
Consumer Goods industry was next with 31.689 million shares traded for ₦3.313 billion.
Conglomerates Industry, Natural Resources Industry and Industrial Goods industry followed respectively.
Market Breadth:
Market breadth closed negative as number of price gainers outweighed number of price loser with 10 gainers against 32 losers.
The Nigeria Stock Exchange Market data for Thursday 14th November, 2017: