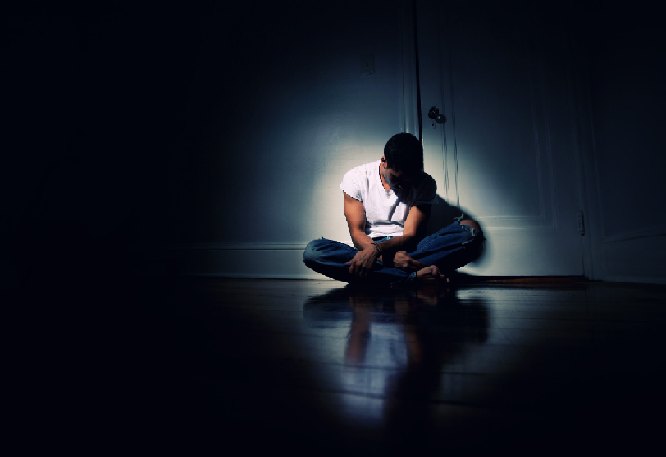 Dear Ogbo,
Ah, the sin of making God too small in your eyes! … You woke up this morning and looked into the mirror. The same old face stared back at you. And the hymn writer said to you:
"Judge not the LORD with feeble sense
But trust Him for His grace
Behind the frowning Providence
He hides a smiling face."
Feeble sense, Sir Ogbo …. Feeble sense…. Because you focus on your challenges rather than on His promises, your challenges have grown fatter than your faith. Don't you remember that whatever you focus on grows?
Last week, I counted how many times you grew your fears versus how many you grew your faith. Your report card wasn't good. Listen, you can either grow your faith or grow your fear. Never, the two at the same time. But why you would ever choose to grow your fears beats me.
Why feed that insatiable killer? Why feed a monster that would creep up against you in the dead of the night and splatter your blood on the walls?
That's what you do when you look at your circumstances and judge the LORD by them.
Have you heard about the power switch? When you stop judging the LORD by your circumstances and start judging your circumstances by the LORD! That's power switch. That's power switch, sir.
"Say to the righteous, 'It is well!'" But you read the scary and annoying headlines of The Sun, Vanguard and Punch and panic. Fulani herdsmen slaughter 1000 villagers; Governor pays them. Buhari and IPOB flex muscles of war. Arewa youths give quit notice and arm for the slaughter. Kidnappings, Inept government, Warrior rats, Inflation, Low buyer power, Unpredictable forex. Etc
"I have not given you the spirit of fear," says the LORD "but the spirit of power, love and sound mind." That's what you have, sir. Power,  Love, Sound mind. Not fear. That's what you've got.
You stopped paying attention to the newspapers three years ago. But some busy body, unsolicited, started sending you WhatsApp headlines of all the Nigerian newspapers. Like house rats that gnaw at the heels of your foot, newspaper headlines gnaw at your faith,especially when you make the unpardonable mistake of reading them first thing in the morning.
Nevertheless, behind the frowning providence, your Heavenly Father hides a smiling face. Give me one reason to complain, Ogbo, just one reason … and I will drown you with 10,000 reasons for your heart to sing! I dare you complain!
"When I think of the goodness of Jesus
And all He has done for me
My very soul shall shout, 'Hallelujah!'
Praise God for saving me!"
Depression is luxury, Ogbo the Great! It's luxury!
Where do you begin to fit it in? Take a look at your calendar and show me where to schedule depression.
Is it in the morning? How could you when, "The steadfast love of our God never ceases – – His mercies are new every morning!" So mornings are out!
Is it in the noon or evening? How could you when, "Evening, morning and noon I cry out in distress, and he hears my voice!" Psalm 55:17
How can I be depressed when the LORD is good and His mercies endure forever? How could I be depressed when I know that the grass may wither and the flowers fade but the word of the LORD stands firm forever?
How could I be depressed when I am filled with the Holy Spirit who teaches comforts and guides me every minute? How could I be depressed after reading Hebrews 11 Hall of Faith? Am I insane?
How can I be depressed when my name is written in the Lamb's book of life …? When death has been swallowed up in victory and its sting has been removed forever?
How can I be depressed when I know who holds my tomorrow? When I know that His eye is on the sparrow – and that he watches over me?
How can I be depressed when I know that there is no trial I go through in faith, family and finance (Your three Vital F's – as you once called them) that someone else hasn't gone through?
How can I afford the luxury of depression when I know that things aren't always as terrible as CNN paints them?
In the movie, "Up in the Air," that you watched recently, Ryan Bingham (George Clooney) would say to those employees about to be fired, "Anybody who ever built an empire, or changed the world, sat where you are now."
"No temptation has overtaken you except what is common to mankind. And God is faithful' he will not let you be tempted beyond what you can bear, Ogbo!"
If it came your way, it's because the Father knows that you can handle it! Man up, guy! Don't be chicken. Don't be rabbit! This world isn't for chicken and rabbits.
That Scripture doesn't stop there. It continues, "But when you are tempted, he will also provide a way out so can you can endure it!"
See it in black and white in 1 Corinthians 10:13!
Your Father ALWAYS provides a way of escape! Curiously…. Not always from the problem. But so that you can endure it! God doesn't train soldiers who run away from battle.
Stop being Indomie noodles in warm water of temptations and trials. Bad times don't last a lifetime. Waiting them out is wisdom, therefore. Sometimes, the only definition of wisdom that matters is waiting. Just waiting – – working and hoping against hope.
Throughout this week, Ogbo the Great, remember that.  "Anybody who ever built an empire, or changed the world, sat where you are now."
Meantime:
"You're rich in love
And you're slow to anger
Your name is great
And Your heart is kind
For all Your goodness
I will keep on singing
Ten thousand reasons
For my heart to find!"
Bless the LORD O my soul!
I love and accept you. Be healthy, wealthy and wise!