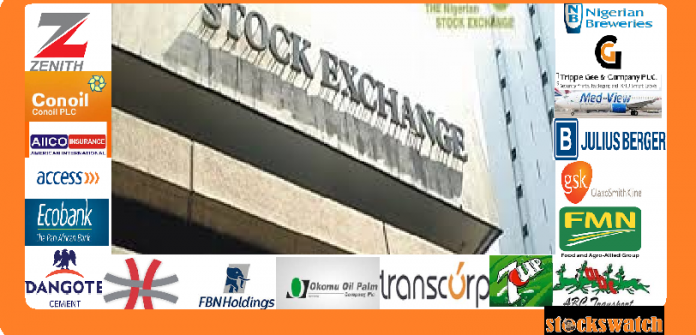 Irrespective of stock market trends, location or structure, it has been proven that the characteristics of investors are somewhat constant. In other words, investors in specific markets often exhibit certain character traits which they, unconsciously but tenaciously hold on to. These sets of characters rarely differ now from what they used to be in the past. As far as I am concerned, this is a fundamental law in the equity investment.
Stocks on the floor of the Nigerian Stock Exchange had become buyable for about one and half years before now. Specifically, since January 2016, when the low of 22,331 index level was tested by the Nigerian Stock Exchange' All Share Index. All that was required was just the patience to buy and hold but alas, not the retail investors. They rarely come in at the appropriate time and wait for time to make them rich but will rather stay off the market when stocks beckon for buyers at rock bottom prices but will all rush in when the market has made tremendous moves, and just ripe for those who had bought at earlier low prices to shed. Investors will never change.
Guess what? The sheer number of calls I received this week pointed to the fact that there is hope for the market, if only the regulators act swiftly well enough to enhance information flow in the right direction among  the people. One question on the lips of virtually everyone was, what can I invest in for the short term? My response was apt, brief as much as it was simple. The market is bound to slow down as earnings to enhance higher prices dry up for the season. Until another earnings season strolls in, prices are bound to fluctuate.
THE MARKET LAST WEEK:
As predicted (please see page 10-11 of  Stockswatch, May 15-21 2017 vol 17 No 327), the market on Monday last week was turbulent but recovered to record three straight days of gains. A level of indecision was reached Friday to close trading activities for the week on a low level as indicated by volume of trades and other market vital statistics. On the whole, for the week, it was a marginal decline of 0.3% as against the performances of the preceding week when the market grew by a whopping 7.5%
IS SHORT TERM STILL A REALITY FOR THE RETAIL INVESTOR AT THIS POINT?
My response is a straight no. Of course, others might tell you to the contrary, but you see, we all are entitled to our opinions. It is a free market. A few actually asked if I am also selling, my response was also in the negative.What do I think should be the strategy at this point? I will respond under the shade of what kind of investors. What does that suggest?
TO THOSE WHO HAPPENED TO HAVE BOUGHT LOW: Of course, many would tell you that the best is to take your profit when you hit some but truth is, with what I can see ahead, of course, short term lower adjustment is imminent but that might not extend beyond one or two weeks, and it will be  apt  to begin to take position against Q2 earnings. In other words, market might struggle this week and next,  but by the middle of the month of June, position taking against Q2 earnings to be released from mid July will just be appropriate. If that assertion is plausible such that I am to re-enter the market again in another two weeks or thereabout, why do I first have to sell off, pay commission, only to re-enter again and pay another set of commission. Like I have said many times, I know that no Stockbroker will align with me on this; commission element in the Nigerian market is major impediment to market growth. Seeing therefore, that current commission elements are not bound to be adjusted soon, the best is to work on paying lower commissions by reducing your entries and exits. My opinion is hinged on the fact that the market looks strong and in the hands of domestic institutional investors, in addition to the fact that Q1 earnings were largely positive and with better outlook than the released results. If you are not very confident about the probable recovery or future performances of any stock you are currently holding and the price is up as we speak, here is an opportunity to bail out. In a nutshell, to my mind, it is such a time to hold and not to panic.
TO THOSE WHO ARE ASPIRING TO INVEST AFRESH: Some times, investment is very much like fishing such that waves and tides that are essentials in the direction of fishes would have to be targeted by fishermen for the best of catches. Your best bet is to wait for another week or two, allow those who will definitely be bailing out now to do so. Follow some directives and key in. As vacillation prevails, you will note some equities that will resist losses. Those are good enough, it suggests that major holders are not touch and go(s) but are there for the long haul. You will also need to follow Q2 earnings projections to pick the best among the rest. May i remind you, that interim dividend will play major role in price performances in the Q2. Noting such companies and looking ahead for the possibilities relative to current price levels are key buy indicators for you without any form of consultations. Keep your eyes on the economy. So long as the forex market remains stable as against the yoyo performances put forth in the recent past, the stock market is bound to yield for you.
IF YOU MUST DO SHORT TERM: You should be such that trade your account yourself and online. Ensure that you negotiate commission to the lowest level possible. I was once speaking with the representative of a Stock brokerage firm for possibilities on their online platform. All I wanted to know was possible negotiated rates and she was adamant, that is what we charge she said and so, I too 'adamantly' moved on but I know brokerage firms that are ready to offer the lowest possible rates. Don't just pitch your tent with any Stockbrokerage firm, consider the commission element. Short term trading is best doable in stocks with high vacillation, vacillation, being a product of outstanding number of shares, daily volume and deals performances among others. If you are able to lay hold on what the big guys are buying into, good for you.
THE MARKET THIS WEEK:
Volume consistently declined throughout last week but prices largely struggled to stay up. Going by the closing performances Friday and the shape of most indicators, the market this week stands to be turbulent at the start. It might be stable going into the week. Vacillation will subsist for short term trading for those who understand the skills.
Because Q1 earnings had dried up, there is not a big catalyst to prompt sharp reactions and stability has returned to the forex market via CBN's interventions, pressure on stocks is expected to be mild. The 2017 budget has been handed over to the Acting President after it was approved by the senate, this might be signed this week. Perhaps, the market might respond to that. Monday of next week is democracy day celebration, the preceding Friday is expected to show mild performance.
OPPORTUNITIES THIS WEEK:
ACCESS BANK stock remains a major  one to watch this week. Existing investors should rather not think of even bailing out as the bid size to close Friday trading is crazy. The volume on Thursday was low even as the stock lost 1.4% for the day. It immediately bounced back Friday to close with unsatisfied bid of 19.08million units at N7.33. For fresh investment, Access is still good enough.
AFRIPRUD recorded two days of decline last week, refused to stay down but bounced back, the day following each decline. The volume for the better part of last week was within same level. The stock will oscillate this week with higher possibility for growth.
DANGOTE FLOUR has seen more of negative days than positive of the last six trading sessions. There are indications of a rebound this week no matter how marginal.
DIAMOND BANK stock price might further slide to its support this week. keep your eyes on the stock but not suitable for purchase until seen around 75kobo
ETERNA lost some points last week. indictors are showing possible reversal this week
ETI has a negative outlook this week
FBNH closed Friday with as much volume of bid and offer within same limit. Offer and bid prices are also within same limit. The stock will most probably range within same price with intermittent marginal loss and gains. Supply might be much; it looks very much that this will be mopped up. The stock has a N7 price target.
FCMB: The week might be tough but at the end, FCMB might survive the onslaught. The market for a long period had looked away from the strong earnings. It closed Friday with bid and offer almost at par.
FIDELITY resisted being pulled down consistently last week. One day down, another up and the last day ended in indecision. The stock will be regarded as being strong if it resists the pressure this week. Closing with unsatisfied offer suggests that Monday might be tough; bid and offer prices within same level are indications that the stock price this week might remain largely flat if all things remain equal.
FIDSON: Profit taking abound this week as it was last week in Fidson. Monday stands to be tough but if the stock can survive the pressure on Monday, the rest of the week might be lot too difficult to cope with. On the whole, WoW performance might lower.
FO is at its regular flat level movement, apparently waiting for the angelic troubling.
GUARANTY at N31.50 closing price is way too high for current Q1 earnings but the stock is strong enough and does not look like on the descent. The bid level exceeding the offer to close trading activities last week suggest an ability to withstand shock as the major holders seem to be telling suppliers to keep supplying. Bid and offer prices are within same level thus suggesting that suppliers are not also frivolous. The price this week might not gallop either up or down. Existing holders need not bother to bail out. Fresh investment might not be too advisable as margin shrinks.
LIVESTOCK attracted positive attentions on Friday after series of bashing earlier in the week. There are indications of enough interested buyers but at lower price than suppliers are willing to shed. With a little rise, except further supply. Monday might be the stock's best day for the week.
MAY AND BAKER seemed to have picked and ready for a measure of slow down after the gap last week. Noting that the Monday last week was turbulent and Tuesday flat, the surge for the last three days was huge enough to have warranted the indicated slow down this week.
NB PLC recorded the highest volume transaction last week since December 2016.  Though it closed with well over 1.4 million unsatisfied offers of about six hundred thousand units and a marginal price difference. The stock will largely remain within same performance level this week.
NEM at the end of Friday recorded four straight weeks of consistent gains. The opening for the week looks positive but further gains for a day or two will most probably attract suppliers and price shed. NEM is best below 90kobo
OANDO: The news of the probable implementation of its agreement with Federal government on the management of the refineries and the need for additional funding prompted a rise in the stock price. Truth is that it is only momentarily suitable for purchase. Oando will always have extremely strong reasons for additional capital requirements and thereafter comes around with other stories of woes as to why they lost monies. At the end, the company's management has got nothing to lose but the investors. The management of the company largely are such that can't be fully trusted. Take your profit as you see in Oando and be wary of entering at prices you feel you are not comfortable with. Please note, current price of the stock is way out beyond the capacity of current earnings.
TRANSCORP was begging to be taken at around 66 kobo and not more than 76 kobo between March and April this year but how many saw it? Is the price good at current N1.20 level for fresh investment? To those who can wait, why not? Seeing what the first two days this week bring might be a better strategy though. As at close of trading of Friday, the unsatisfied bid of over 16 million units stand to marginally depress price in the first day of the week. Transcorp rarely records more than three straight weeks of WoW gains. If this is broken this week.
UBA came back forcefully in the last two trading days of last week after the profit taking that lasted three days of the week. The S&P rating as being better than other financial institutions in the country should impact the price this week. The 24.9 million unsatisfied bid to close trading Friday can't be thrown away just like that. Even if there will be profit taking in UBA, the first two days stand to be up. Existing holders should allow their profits to run while fresh investment should be done cautiously.
UCAP is most suitable for medium to long term investment at the current price level. Of course, the stock had benefitted investors so much in the past months.
ZENITH closed Friday with over 15 million bid size, that would have enhanced an outstanding open but for well over 12 million offers looking for takers too. The offer and bid price levels are indicative of probable flat performance at open. Indicators show no clear direction for the week.