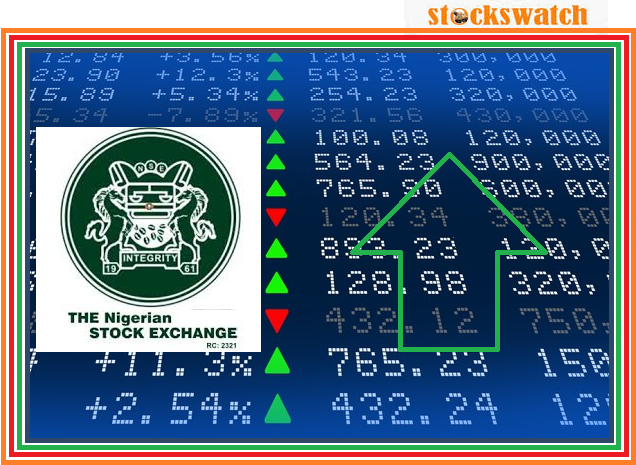 Afuwape Gbolabo

Abayonomic's second law of motion which states that 'market or price of equities may rise and fall but can also recover to beat previous high level' is currently being brought to fore as the Nigerian Equities market continued its rally for the second straight sessions in the week, gaining 519.85 points and N181 billion to see the Nigerian Stock Exchange All Share Index and Market capitalization closing at 38,494.43 and N13.406 trillion respectively.
Buoyed by the rise in the prices of market moving stocks like Dangote which was up 0.3% for the day but 43.7% for the year, Nigerian Breweries Plc 0.9% growth for the day and Nestle with a growth of 1.1% for the day but 64.2% for the year, the bourse in the day under review advanced by 1.37% not to only surpass its 12 months' index and capitalisation high of 38,198.60 and N13.166 trillion recorded on 11 August, 2017 but also wiped off the entire losses of 2015 and 2016. The unstoppable market is yet strong enough to inch past its 2014 record high. This thus infers that in the stock market, patience remains an integral attribute.
To affirm current strength of the market, virtually all major indexes closed positive as Government Bond advanced by 0.05% while Exchange Traded Fund (ETFs) grew by 0.45%. Similarly, Total deals grew by 3.71%, Aggregate volume turnover grew by 4.43% while Aggregate value turnover grew by 18.32%. Market breadth also closed positive as 32 stocks appeared on the gainers' chart against 11 on the flip side.
Cadbury Nigeria took its growth within the week to 18.24 percent as it closed at N15.30 Tuesday. The stocks of Guaranty Trust Bank and Zenith bank accounted for 32.56 percent and 14.29 percent of the bourse' Aggregate value turnover in the day.
Of all the industries on the floor of the Exchange, Consumer goods Industry thanks to the growths of Cadbury and Unilever among others was far more outstanding with 1.67% rise.
It should be noted that foreign participation in the Nigerian market as at September had increased to 65% from 52.5% in August and 31.16% in July of this year.  In other words, forces behind rising equities' prices are foreign participation though October and November 2017 data is being awaited to concretely affirm this. Domestic institutional investors are also not relenting in their patronage of listed equities on the floor of the Nigerian stock exchange.
Market Snapshot:
The Nigerian Stock Exchange All Share Index (NSEASI) for Tuesday 5 December, 2017 closed at 38,494.43 points which is 1.37 percent higher than the previous session's 37,974.58 points.
Market Capitalization closed at ₦13.406 trillion against previous session of ₦13.225 trillion, representing 1.37 percent increase.
5,150 deals recorded in the day represent an increase of 3.71 percent against previous session's 4,966 deals.
The 522.355 million units of equities traded for the day was 4.43 percent higher than previous session's 500.192 billion.
Value of equities traded for the day increased by 18.32 percent more than previous session's ₦6.357 billion to ₦7.522 billion which was recorded for the day

Gainers for the day (32):
LEARNAFRCA, CADBURY and FCMB led other twenty-nine percentage price gainers for the day.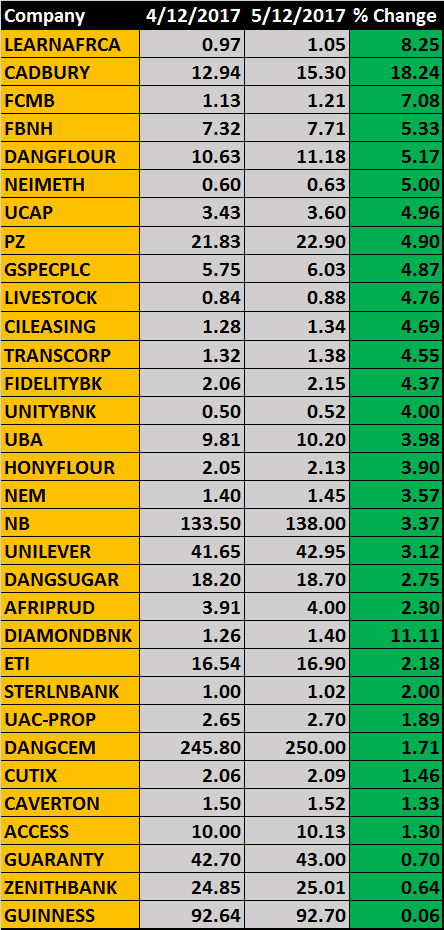 Losers for the day (10):
CONTINSURE, CHELLARAM and FO led other seven percentage price losers for the day.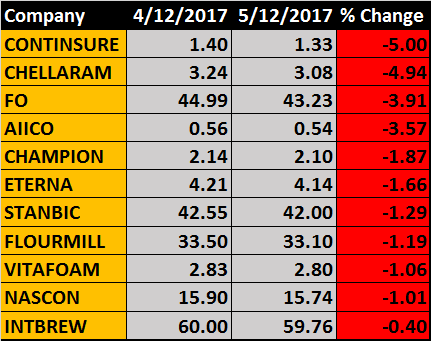 Ten Best Stocks:
FBNH, ZENITHBANK and GUARANTY recorded the most deals of the day.
CUSTODYINS, GUARANTY and FIDELITYBK recorded the most volume in the day.
GUARANTY, ZENITHBANK and DANGCEM recorded the most value in the day.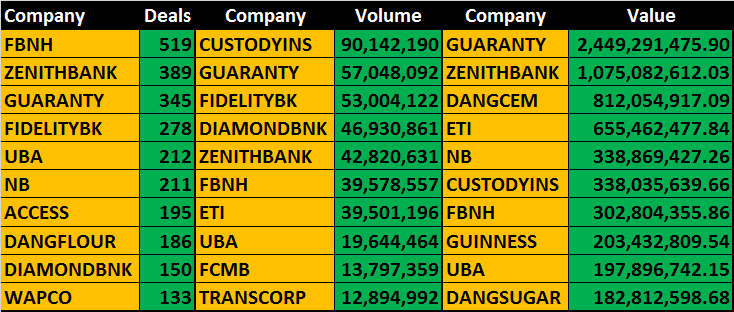 Other Indexes:
Financial services industry was the most active industry for the day with 452.179 million shares exchanged for ₦5.501 billion Tuesday.
Consumer Goods industry was next with 35.677 million shares traded for ₦1.038 billion.
Conglomerates Industry, Services Goods Industry and Industrial Goods industry followed respectively.
Market Breadth:
Market breadth closed positive as number of price gainers outweighed number of price loser with 32 gainers against 10 losers.
The Nigeria Stock Exchange Market data for Tuesday 6th November, 2017: