Afuwape Gbolabo
Price of FBNH, a financial market conglomerate comprising Nigeria's foremost money house, First Bank of Nigeria Ltd grew 10.12% in midweek trading to lead percentage price gainers on the floor of the Nigerian Stock Exchange. Year to Date, FBNH' stock price gas generated 153.43% to patient investors and from the year's low of N2.95 in March 2017, it has recorded about 188% as it closed at N8.49 on Wednesday December 6, 2017.
Bank stocks had been generally low going by 2017 Q3 superior earnings, consequently, low price regime that had subsisted in the sub-sector of the Nigerian stock market was only going to be temporary in conformity with Abayonomic' first law of equities' price movement which states that 'in the long run, the price of a stock and its earnings must move proportionately.'  In other words, improving earnings in the face of declining prices is only a temporary phenomenon so long as the earnings are real. To the discerning and patient investors, geometric returns to pay for the waiting period had often accrued.
Diamond Bank in the day under review was up 9.29% to close at N1.53 or 73.86 YtD while First City Monument Bank inched up 9.09% to close at N1.32 or a 20.00 YtD growth.
Transcorp is back on the radar as it gained 9.42%, Wednesday's trading being its second upward movement for the week and in the process recording 11.0% WoW growth to close midweek trading session at N1.51.
Alhaji Dangote's National Salt advanced by 8.77% to close at N17.12. YTD, Nascon has generated 101.4%.
In all the market closed at 39,075.30 or a growth of 1.51% from Tuesday's 38,494.43. The day's trading saw the market wipe out its 3-year loses to arrive at October 27, 2014 level.
High level volatility led market's main indexes to a mixed close as Aggregate Value turnover declined by 3.01 percent while Government bond (Bond Cap) closed flat. Exchange Traded Funds (ETFs) however advanced by 0.83%, Total Deals grew by 18.93 percent and Aggregate Volume turnover grew by 34.71 in the day.
Sector analysis showed insurance index growing by 0.19% while banking index grew by 2.97 percent.
Market Snapshot:
The Nigerian Stock Exchange All Share Index (NSEASI) for Wednesday 6 December, 2017 closed at 39,075.30 points which is 1.51 percent higher than the previous session's 38,494.43 points.
Market Capitalization closed at ₦13.609 trillion against previous session of ₦13.406 trillion, representing 1.51 percent increase.
6,125 deals recorded in the day represent an increase of 3.71 percent against previous session's 5,150 deals.
The 703.676 million units of equities traded for the day was 4.43 percent higher than previous session's 522.355 million.
Value of equities traded for the day decreased by 3.01 percent more than previous session's ₦7.522 billion to ₦7.295 billion which was recorded for the day
Gainers for the day (40):
FBNH, TRASCORP and DIAMONDBNK led other thirty-seve percentage price gainers for the day.

Losers for the day (13):
GLAXOSMITH, STUDPRESS and LEARNAFRCA led other ten percentage price losers for the day.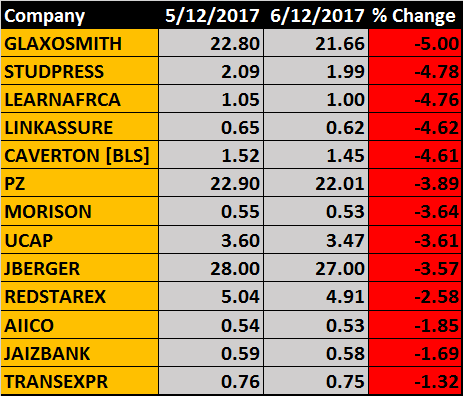 Ten Best Stocks:
ZENITHBANK, UBA and FBNH recorded the most deals of the day.
CUSTODYINS, UBA and FBNH recorded the most volume in the day.
ZENITHBANK, UBA and DANGCEM recorded the most value in the day.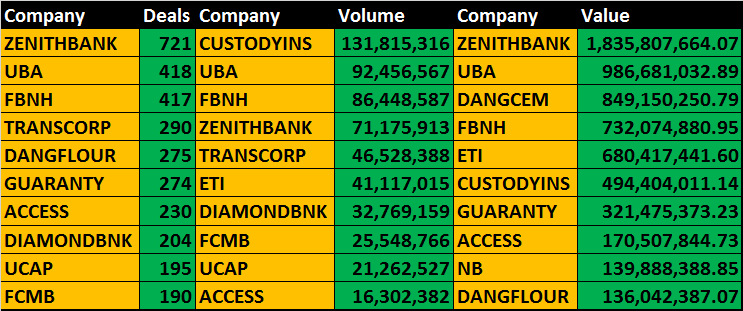 Other Indexes:
Financial services industry was the most active industry for the day with 586.627 million shares exchanged for ₦5.454 billion Wednesday.
Conglomerates industry was next with 48.927 million shares traded for ₦0.111 billion.
Consumer Goods Industry, Services Goods Industry and Industrial Goods industry followed respectively.
Market Breadth:
Market breadth closed positive as number of price gainers outweighed number of price loser with 40 gainers against 13 losers.
The Nigeria Stock Exchange Market data for Wednesday 7th November, 2017: