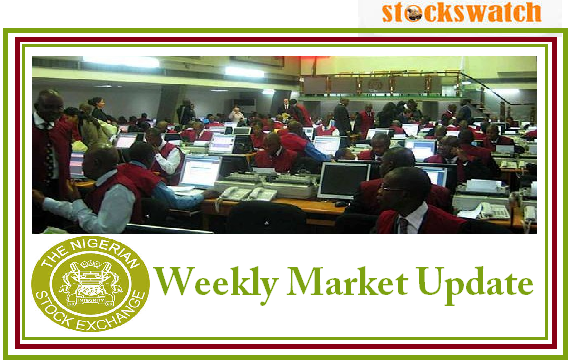 Afuwape Gbolabo
Week on week, the Nigerian Equities market grew 3.46% as the All Share Index of the Nigerian Stock Exchange gained 1,312.93 points to close at 39,257.53. Market capitalization on the other hand increased by N458 billion to close at N13.672 trillion. Year to date, NSEASI Friday returned 46.08%.

MARKET INDICATORS:
Bourse' main indexes closed largely positive in the week under review with Aggregate Value growing by 3.98%, Total Deals- 71.30%, Government Bond- 4.63% and Exchange Traded Fund- 2.64%. Only Aggregate volume declined by 76.74% for the week ended December 8, 2017
Though prices of highly capitalized stocks which include Nigerian Breweries (NB), Nestle Nigeria (NESTLE) and Seplat among others shot up in the week, low capitalized stocks were the toasts of investors thus dominating gainers chat. Guinness and Total in price were down.
Though galloping prices were most visible among bank stocks leading to sector's index growth of 5.34%, consumer goods industry index on the whole, le
d the market with 6.14% growth in the week. ASeM was down 1.04%.
Market breadth closed positive with 47 gainers and 20 losers of the 132 traded stocks. 65 prices remained unchanged. 41 stocks closed the week dormant.
An average of 6,632 million shares valued at N7.209 billion were traded in 5,954 deals daily.
STOCK OF THE WEEK: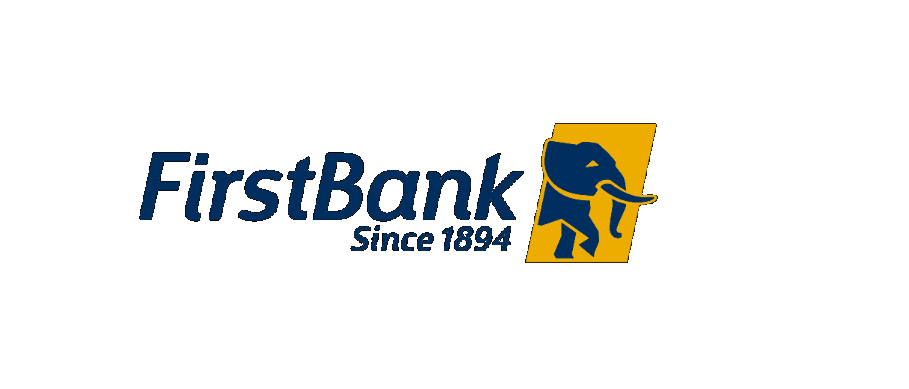 FBNH was the most outstanding stock in the week under review as it emerged highest percentage gainer in price, highest deals, highest volume and the third best in value turnover.
INDEX MOVEMENT:
The Nigerian Stock Exchange All-Share Index and Market Capitalization appreciated by 3.46% to close at 39,257.53 and N13.672 trillion respectively. Similarly, all other indices finished higher during the week with the exception of the NSE ASeM, NSE Oil/Gas and the NSE Industrial Goods Indices that depreciated by 1.04%, 0.47%, and 1.37% respectively.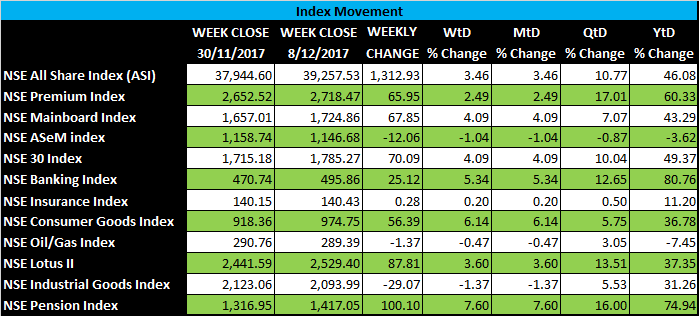 MARKET STATISTICS:
A total turnover of 3.316 billion shares worth N36.451 billion in 29,771 deals were traded in contrast to a total of 14.257 billion shares valued at N35.056 billion that exchanged hands previous week in 17,379 deals.
Financial Services Industry (measured by volume) led the activity chart with 2.785 billion shares valued at N26.075 billion traded in 18,293 deals; thus contributing 83.97% and 71.54% to the total equity turnover volume and value respectively.
The Conglomerates Industry followed with 247.639 million shares worth N1.330 billion in 1,333 deals.
The third place was occupied by Consumer Goods Industry with a turnover of 185.560 million shares worth N5.976 billion in 6,137 deals.
Trading in the Top Three Equities namely – FBN Holdings Plc, Fidelity Bank Plc and Zenith International Bank Plc (measured by volume) accounted for 958.742 million shares worth N11.355 billion in 6,765 deals, contributing 28.91% and 31.15% to the total equity turnover volume and value respectively.
GAINERS AND LOSERS:
Forty-seven (47) equities appreciated in price during the week, higher than thirty-nine (39) of the previous week. Twenty (20) equities depreciated in price, lower than twenty-three (23) equities of the previous week, while one hundred and five (105) equities remained unchanged lower than one hundred and nine (109) equities recorded in the preceding week.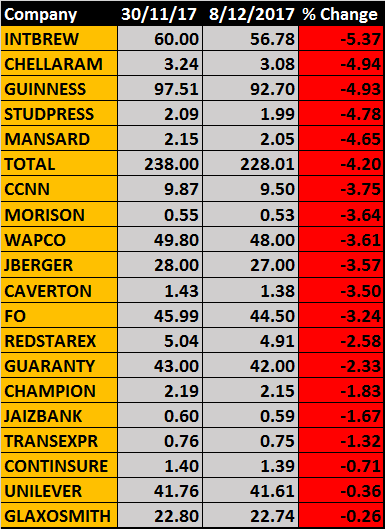 DEALS, VOLUME AND VALUE:
The stocks of First bank of Nigeria Holdings, Zenith Bank of Nigeria and Sterling Bank recorded highest deals in the week. Those of FBNH, Fidelity and Zenith were highest volume drivers while Zenith, Guaranty and FBNH led in value turnover.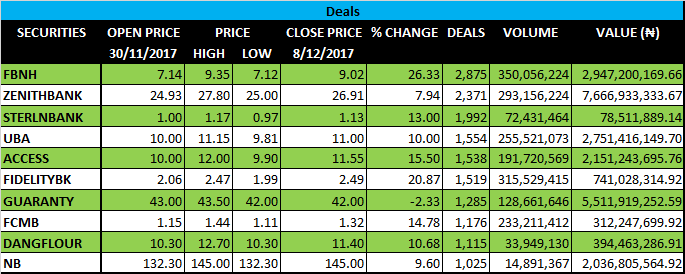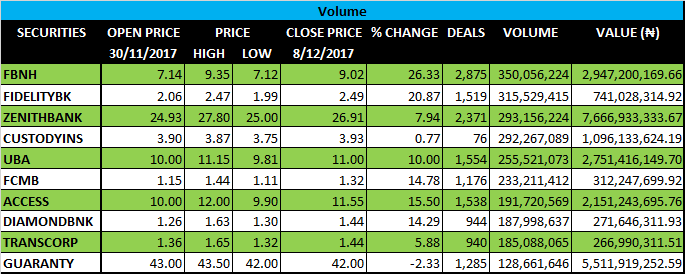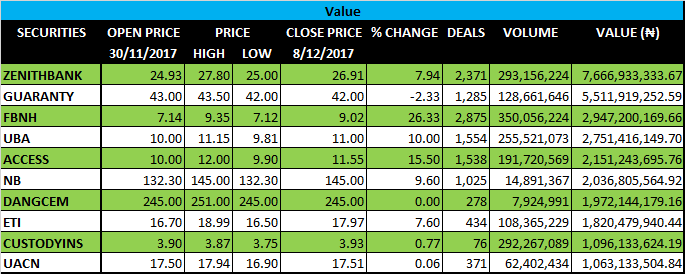 BONDS:
A total of 5,240 units of Federal Government Bonds valued at N4.406 million were traded last week in 23 deals, compared with a total of 21,670 units valued at N23.125 million transacted previous week in 17 deals.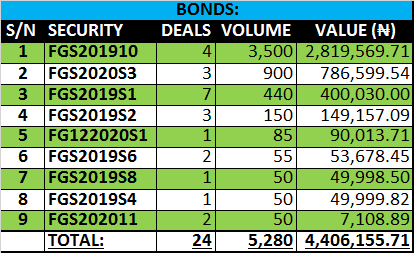 ETPs:
Also traded during the week were a total of 1.189 million units of Exchange Traded Products (ETPs) valued at N11.662 million executed in 30 deals, compared with a total of 1,090 units valued at N14,708.50 that was transacted last week in 10 deals.

DISCLOSURES WITHIN THE WEEK
Nigerian Stock Exchange launched a state of the art data centre. The Data Center which was commissioned by the Honourable Minister of Science and Technology, Dr. Ogbonnaya Onu, has been built to Uptime Institute's TIER III design standards.
Oando Plc formally informed the general public of the relocation of its head office effective from Monday December 4th 2017. The Company's new head office address is: 9th – 12th Floor, The Wings Office Complex, 17a Ozumba Mbadiwe, Victoria Island, Lagos. The Company's telephone numbers and email address remains unchanged.
Equity Assurance Plc announced the appointment of EDC Registrars Limited as its registrar. The firm in a statement signed by John Akujieze, Company Secretary, stated that the appointment takes effect from Januray 2nd, 2018.
Medview Airline announced flight operations to Dubai on Thursday 7th December, 2017, from Lagos via a statement it sent to the Nigerian stock Exchange last week.
Access Bank Plc announced the appointment of Ms.  Hadiza Ambursa, as its Executive Director, Commercial Banking, North.
Unity Bank announced the appointment of Alhaji Hafiz Mohammed Bashir as Non-Executive Director.
Transcorp Hotels Plc announced changes on its board. Baba Mohammed ceases to be a member of the Board following his recall by BPE effective August 2017.
Vitafoam Nigeria Plc announced that a meeting of its Board of Directors of Vitafoam Nigeria Plc is scheduled to take place on Tuesday 19th December, 2017. The meeting will amongst others, consider and approve the Audited Financial Statements for the year ended 30th September, 2017 and recommend dividend, if considered appropriate.
In compliance with the listing rules of the Nigerian Stock Exchange, the closed period for trading in the company's securities will be from 5th December, 2017 until 24hours after the announcement of the audited results.
Neimeth International Pharmaceuticals Plc announced the appointment of Mrs. Roseline Oputa as an Executive Director.
The firm in a statement signed by LPC SOLICITORS, Company Secretary, stated that the appointment takes effect from 20th October, 2017.
Julius Berger Nigeria has announced the resignation of its finance director, Wolfgang Kollermann from December 15, 2017. The company says Kollermann will be replaced by Martin Brack who assumes office from December 16, 2017.
SevenUp Bottling Company Plc announced in compliance with the directive of the Federal High court seated in Lagos, it will have a meeting of the holders of the fully paid-up ordinary for the purpose of considering and if thought fit, approving a Scheme of Arrangement between SevenUp Bottling Company Plc and the holders of its fully paid ordinary shares.
The Meeting will be held on the 11th day of January 2018 at the Grand Ball Room, Eko Hotel & Suites, 1415 Adetokunbo Ademola Street, Victoria Island, Lagos at 10.00am, at which place and time all the aforesaid shareholders are requested to attend.
UAC Nigeria Plc announced changes in its board. Mr Abdul Akhor Bello, the incumbent ED/ Chief Financial officer has being appointed at the Group with effect from 1 January, 2018. Also Mrs Adeniun Folasade Taiwo has been appointed as Chief Financial Officer (a non-board position) with effect from 1 January 2018. Following the retirement of Mr Joseph Ibrahim Dada the Executive Director, Corporate Services, Mrs Omolara Elemide has been appointed as Executive director, Corporate Services with effect from January 1, 2018.
Portland Paints and Products Nigeria Plc announced the appointment of Mr Adedamiola Olusunmade Managing Director. He is to take over from Mukhtar Yakasai with effect from 1 January, 2018. Mr Yakasai has been assigned another Executive responsibility within the UACN Group, however, Yakasai remains on the board of Portland Paints and Products Nigeria Plc as a non-executive director.
Livestock Feeds Plc announced the appointment of a new Managing director. Mr Solomon Aighavboa was appointed as its Managing Director at the company's board meeting that was held on December 7, 2017, and the appointment takes effect from January 1, 2018.
Flourmills of Nigeria Plc announced its proposed Right issue of 1.476 million shares. The company in a statement through the stated that dealing Members are hereby notified that Flour Mills of Nigeria Plc has through its Stockbrokers; Stanbic IBTC Stockbrokers Limited submitted an application to The Nigerian Stock Exchange for approval and listing of a Rights Issue of 1,476,142,418 ordinary shares of 50 Kobo each at N27.00 kobo per share on the basis of 9 new ordinary share for every 16 ordinary shares held. The Qualification Date for the Rights Issue is today, Friday, 08 December 2017.
THE NIGERIAN STOCK MARKET DATA FOR WEEK ENDED 8 DECEMBER, 2017