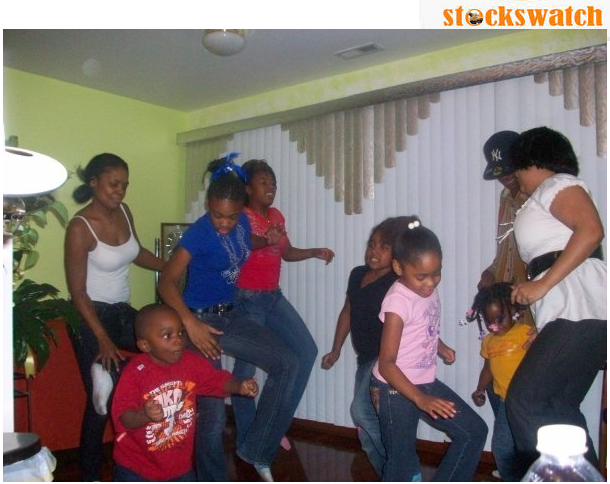 Good day, and once again, it is FamilyMatics with DAB. Two weeks ago, I started a series on The Family Dance. I did expound that "Dance is the psychotherapeutic use of movement as a process which furthers the emotional, social, cognitive, and physical integration of the individual." Dance impacts on our feelings, interactions, thinking and our acceptance into certain groups. Every move we make in our family life, consciously or unconsciously, is a dance step. This may be organized (bringing harmony in the home) or disorganized (creating an atmosphere of rancour, disorder, hatred, and general disregard for the wellbeing of another.)
This leads to the four (4) major dance styles viz. Unconscious Organized, Unconscious Disorganized, Conscious Disorganized, and Conscious Organized. This can be represented in a quadrant format as shown below: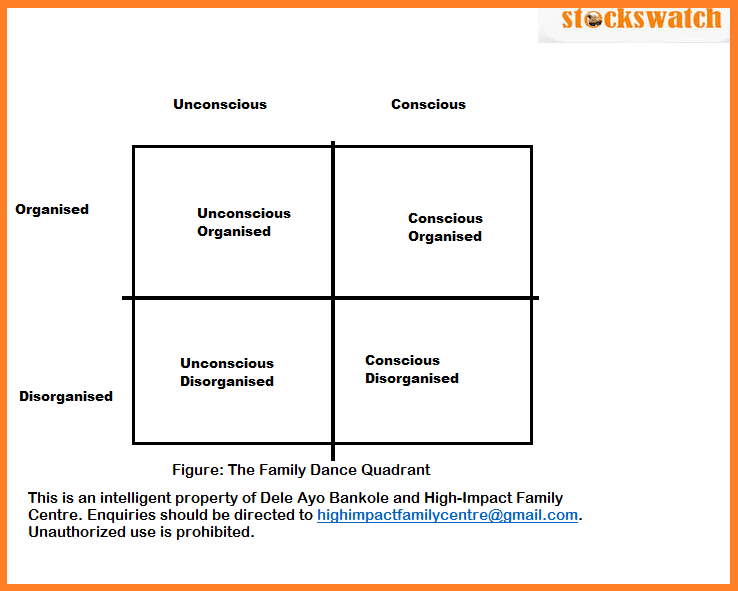 Unconscious Organized: This is the first and earliest phase of the relationship. It is commonly said here, "Love is blind." You are not aware of your partner's intimate strengths and weaknesses, or the threat they could pose to your relationship. Even when you are aware, you may tend to convince yourself that he/she will improve over time. You are so much concerned about the relationship that you may make an enemy out of anyone that tries to point out the dangers to you. For you, everything will be fine. It is just a matter of time!
Unconscious Disorganized: At this stage, there seems to be some disconnection, especially in your thoughts. You begin to doubt the genuineness of your partner or even query your own foolishness for choosing or allowing such a person into your life. You may start to blame yourself or wish you had married someone else. Expressions or outbursts of displeasure may come in many forms, and you may find yourself reporting your spouse to a third party, with the hope that they can "fix" him/her. You believe that your spouse is the problem and if only he/she can change, then things will improve for the better. The weaknesses and threats you once ignored now become so magnified that you begin to seek means of justifying yourself against your spouse. It is at this point that many marriages go into separation or divorce. "Nothing your spouse does make any sense."
Conscious Disorganized: You enter into a phase of awareness, knowing fully well that without intervention, things may get completely out of control. Then you accept the stark reality that you two are imperfect, and that you both have roles to play in how bad things have got. You begin to notice your own actions and how they might have triggered and created negative reactions in your partner. Yes, things may not really be perfect yet, but you are no longer bitter towards your partner. Then you seek help, not to fix your spouse, but to fix you and your marriage.
Conscious Organized: This is the point where every step you take becomes deliberate. You come to the realization that love is an action word, and not necessarily a feeling. That is, you are willing to do what is necessary to win your marriage back, even when you do not feel like it. You both admit faults for why the relationship is not working, and you are taking deliberate steps to make it work. Here, you both have mutually agreed that there is no other way but that the marriage must work.
So, what stage are you right now in the quadrant? What steps are you taking to iron out your differences and make things work? How important is a smooth, effortless, relieving, and interesting "dance" to you? How can you make this all-important transition possible? I will be looking more into this come next week.
Do have a productive week.
I value you.
Dele Ayo Bankole
He is an Associate Family Systems Engineering (FSE) Practitioner, a family and behavioral change therapist. He is the Principal Family Strategist at the High-Impact Family Centre. He helps to design unique strategies for wholesome family and organizational experience. He can be reached on Phone/WhatsApp (08064980357) and Email, highimpactfamilycentre@gmail.com. If you have any comments, feedback, questions, or suggestions, he will love to hear from you.
"Together, we can make an emotionally healthy Africa possible!"