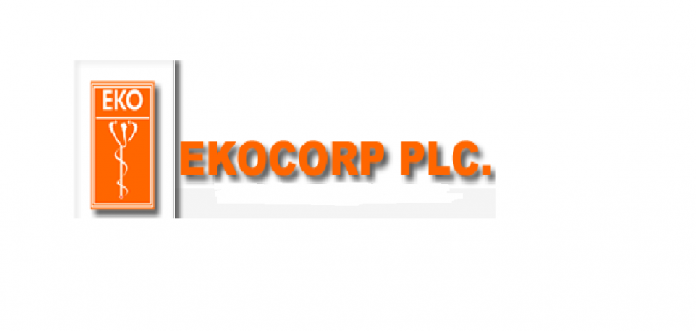 The management of Ekocorp plc recorded 45.84 percent drop in profit to NGN79.6 million for the financial year 2016 compared to NGN146.9 million made in year 2015.
The listed company which was one of the 17 companies suspended by the Nigerian Stock Exchange (NSE) for failing to file its financial papers as at when due, ended the year with NGN1.352 billion turn-over against NGN1.371 billion posted in the year before. Meanwhile, gross profit fell to NGN395.3 million from NGN456.2 million in the year before.
Total operating expenses for the period under review increased to NGN292.8 million from NGN269.5 million recorded in the fiscal year 2015.
Ekocorp plc acquired total assets of NGN3.8 billion in the year 2016 compared to NGN3.6 billion acquired in the year 2015 while total liabilities was NGN2.0 billion versus NGN1.9 billion in the year 2015. Profit before Tax (PBT) declined by 45.07 percent to amount to N 0.097 billion from N0.176 billion.
The firm which main activity is provision of direct health and medical Insurance carriers had its Earnings Per Share (EPS) declined by 45.84 percent to amount to 0.15kobo from 0.29 kobo it recorded in 2015.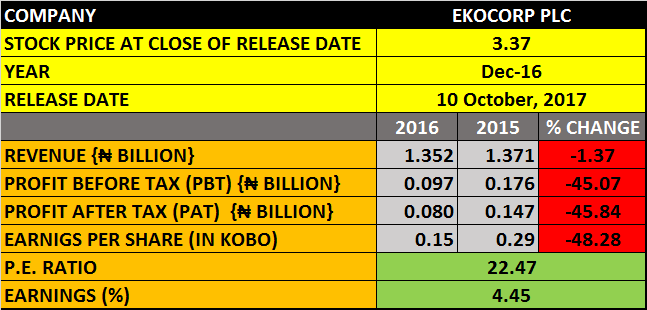 It would be recall that Ekocorp Plc is an International public company in Nigeria. The company provides hospital and medical service plans. The main activity of the company is to provide direct health and medical insurance carriers. The company provides also medical coverage protection from complications as well as life insurance coverage