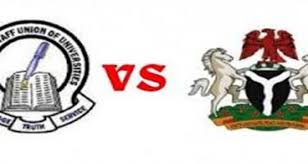 Stakeholders bemoan another miser allocation for education sector
2018 allocation is 26% above 2017 allocation.
75% lower than UNESCO recommendations.
Irrespective of the import of education as the bedrock of development of any nation, the sector had consistently taken a lethal hit in the Nigerian milieu especially in respect to the meager allocations being yearly put aside to see to the rot in the system thus leaving experts and stakeholders to continue the lamentation of their ill-luck. President Muhammadu Buhari' 2018 Federal budget proposal offers little hopes just as several appropriations before this.
Of the N8.6 trillion proposed budget for 2018 fiscal year, only 7.04% is allocated to the education sector as against the 26% of national budget recommended by the United Nations Educational Scientific and Cultural Organization (UNESCO),
The global organization recommended the budgetary benchmark to enable developing nations to adequately cater for rising education demands of its citizens. This is a benchmark that according to reports, smaller nations such as Ivory Coast and Senegal have met and even surpassed.
It is therefore, disheartening that the most populated black nation, the acclaimed Big brother of Africa, the biggest economy and the largest exporter of crude-oil in Africa is yet crawling at the bottom of the ladder of UNESCO recommendations.
Prof. Peter Okebukola, the former executive secretary of National Universities Commission (NUC) had vehemently questioned the 26% figure and described the UNESCO benchmark as mythical He however suggested that for Nigeria to make a headway in the sector, the country should strive for a minimum of 30% for the next 20 years in order to clear the Augean stables inherent in the sector.
Speaking with Stockswatch on phone on the matter, Dr. Olajide Felix Talabi of the department of Mass Communication, Olabisi Onabanjo University, Ogun State said, "The 7% budgeted for education is too mean to lift the standard of education in Nigeria. The UNESCO benchmark is 26% of a country's' budget: then how come that Nigeria government continually fails to attain the benchmark but expects the best? 'Laboratories are simply not there, lecture theatres are dilapidated while education workers are owed salaries up to eight months in some states. University lecturers are not available while the few available ones are recycled among the old and the new universities, and then do you expect effectiveness? We are not yet there in this clime, the 7% is a joke. In fact the 7% is meant to malnourish the education sector.' For instance, given the shortage in physical infrastructures like libraries, classrooms, laboratories and even staff rooms in public primary and secondary schools across the country today, how far can this meager allocation go, after other matters may have been settled? He questioned.
The ignominious stories
Olusegun Adeniyi, the former Chief Press Secretary to late President Yar'adua recounted an experience. According to him, of the hundreds of entries received by the panel of six judges; made up mostly of university professors, who were elected to oversee the process of selecting winners for the 2015 edition of the Maltina Teacher of the Year Awards, 275 valid application forms were shortlisted for the final process. His take away, marking the essay scripts of these teachers, in his words, was very revealing. Many of the teachers did not understand the questions they were asked and thus wrote, for want of a better description, utter nonsense! What makes that a serious issue is that this was a form each filled without any supervision and at their pleasure. Adeniyi subsequently concluded that many of our educational institutions have what he called certificated illiterates as teachers at primary, secondary and tertiary levels, who then go on to produce unemployable graduates
A recent report quoted Governor Nasiru El-Rufai of Kaduna, while receiving a World Bank delegation in his office as saying that 'We tested over 33,000 primary school teachers, we gave them primary four exams and required they must get at least 75 per cent, but I'm sad to announce that 66 per cent of them failed to get the requirements, We started training them, but we discovered that no amount of training will improve them.' The governor therefore, decided to have the 22,000 teachers sacked on account they are unqualified, having failed the test.
Again, sometime in 2013, when Adams Oshiomole was governor of Edo state, a video went viral on the social media of one Mrs. Augusta Odenwingie, a school teacher at Asologun Primary School, Ikpoba Okha in the State who couldn't read a sworn affidavit she tendered as part of her credentials when the governor, paid an unscheduled visit to the Staff Training Centre venue where the verification of certificates of Primary School Teachers in Edo was taking place. Oshiomole who was shocked that a teacher could not read said "If you can't read, what do you teach the pupils? What do you write on the board?"
Then, the Senate president, Senator Olusola Saraki, sometime in July this year came out to lament the lowest low which the country's education has sunk and the products it continues to run off the mill. The Senate President who made the statement in Abuja said, this situation requires the urgent intervention of all stakeholders in the education sector. What we have on our hands is an influx into the workforce of many graduates who are unable to meet the demands of both the public and the private sectors.
Stories similar to the Edo and Kaduna abound and are certainly a reflection of what would be obtainable in schools across the federation, especially public institutions where teachers lacked the necessary motivation for effective teaching and grooming – no thanks to government's lukewarm attitude to education, both at state and federal levels.
Education in Nigeria… Flogging a dead Horse
Nigeria presently has 296 tertiary institutions. Among this list are 40 Federal Universities, 44 State Universities and 68 private Universities. The rest on queue are colleges of education, polytechnics, allied and other degree and diploma awarding institutions. In addition to the above are 104 federal unity schools and several state government secondary schools, technical colleges which offer certificate courses and a mountain of primary and nursery schools (public and private) scattered around the country.
It is obvious the Federal budget only take into account federal institutions. The 36 states, on the other hand, make separate budgetary allocations which cater for education matters under their purview. Speaking of the local government areas would be a different ball game.
Consistently, the education sector had continued to be allocated miser fund in the Federal budget. It was N306.3 billion allocated in 2011, N400.15billion in 2012, N426.53billion in 2013, and N493billion in 2014; there was a decline to N492 billion in 2015 and a further decline N369billion before a slight improvement to N398.01billion in 2017. While there seems a little increment in the 2018 proposed expenditure to N605.8billion – inclusive capital projects (N61.73b), overheads (N435.1b) and Universal Basic Education programme (N109.6b), it is still a far cry from what is required to make the needed change and engender essential growth Nigeria needs in the sector seeing that this funds are meant for 40 federal universities, 21 federal polytechnics, 22 federal colleges of education and 104 unity colleges, summing up to 187 institutions. This is in addition to other sundry matters affecting the sector.
ASUU/ASUP: the ending dead end
Again, stakeholders have anticipated a higher allocation to the sector to cater challenges that had been hitherto rolled over especially the outstanding debt from the 2009 ASUU/FG Agreement and that of ASUP; a matter which came to a head this year as the University teachers were forced, out of government insincerity and unwillingness to honor its agreements, to embark on industrial action, so as to drive home it's point.
A key component of the agreement reached by both ASUU and the Federal Government was that government would inject N1.2trillion into public Universities. The government subsequently acceded to the agreement and pledged that the N1.2trillion would be domiciled at the Central Bank of Nigeria to show its commitment to the MoU signed in 2009 and 2013 respectively.
This debt burden is in addition to what government owes the Academic Staff Union of Polytechnics (ASUP), which is to the tone of over N208 billion.
To begin with, the figure above is more than twice the proposed Federal budget for 2018 for education and far above expenditure for 2017/2018 fiscal years. How for example, will ASUU request be acceded to? Is the amount allocated part of government pledged to lodge quarterly with CBN parts of the 1.2trillion it's being owed?
Dr. Shamsudeen Tarfa, a lecturer of the University of Ilorin, Kwarra State, who spoke in a chat with Stockswatch, shares his opinion; 'I have skimmed through that budget proposal and have seen what government allocated to other sectors. For instance, Interior, Niger Delta, special intervention (whatever and how many interventions are there), Agriculture, North East and such have higher allocations than education. Can you imagine that? For agriculture, we understand the nation has to feed itself but after clothes and shelter plus security which is a challenge, what should be more important than the education of its citizenry to a government? Sometimes, I don't understand those who make our policies. Are they saying ASUU will be left stranded again in 2018 fiscal year? How can government allocate 605billion to education as a sector, when it is indebted to ASUU twice the amount?" And the questions rage on with barely clear-cut answers?'
Compounding the crisis in the education sector is ASUP's threat in the passing week to commence what it called a total and comprehensive indefinite strike" due to the federal government's failure to fulfill the outstanding agreement made with the body.
ASUP National President, Usman Dutse, according to reports said there was a meeting between the Union and Ministry of Labour on October 16, 2017 with an agreement to develop a memorandum of understanding to resolve the issues.
Between ASUP and the Federal government, several agreements were signed in 2012 and are yet to be implemented. Matters on list include, non-implementation of CONTISS, poor state of polytechnics, under-funding of the sector and non-implementation of NEEDS assessment report on polytechnics.
Usman said, we were told by the Federal Ministry of Labour that a memorandum of understanding will be given, but we've not got one till date and that is why our members say there is no seriousness on the side of the government.' He noted that having given the present administration more than one year to settle down and address their demands, it seemed that the government is not serious in addressing the matter.' The teachers said, what government owed their members are in categories. These are in respect to short fall in salaries; earn academic allowances and intervention fund that they have agitated for since 2013. Approximately, these obviously are in billions of naira. The bottom line is, with government making no headway with ASUU and ASUP now picking up the gauntlet to acerbate an already volatile and desperate situation; the Nigeria tertiary institution, like others in the sector is in dire need of saving.
Expressing her dissatisfaction with government lip service and lackadaisical attention towards education in Nigeria, Dr. Bukola Ayoola of the department of History and International Studies, Bowen University, Iwo, Osun state, thundered; 'Definitely nothing significant will happen in the sector next year, even if it's going to make impact at all. The truth is, there is no commitment of any sort on the part of this administration to educational sector. Students are made to pay more regarding fee which has been increased beyond the reach of the common man. Yet, there isn't adequate facility in all our institutions. There is shortfall in allocation to the institutions; some are paying percentages of actual salaries. Most time the salaries are delayed!' Speaking further she stated that, "the government does not see education as a priority at all and that's because all government officials could afford to send their children abroad. As such, the decay of the institutions occasioned by low funding meant nothing to the policy makers. It's such a sorry case! And the situations get worse as the year progressed." she sadly concluded.
Nigerian Universities… Where art thou?
Consequent upon some of these retrogressive government policies, Nigeria's best university has always taken a back position in Africa's university ranking, let alone world ranking. The University of Cape Town, South-Africa, is ranked the best university in Africa. South Africa has about six of its universities in that ranking. No Nigerian University made it to the first best ten in Africa. While Egyptian and Ghanaian universities occupy top positions; the best Nigerian university, the University of Ibadan came from a distant 12th position. The metropolitan University of Lagos do not measure the standard of first 15 universities in Africa. This is how low funding for education has slumped the country's ranking among its peers.
Pre-college: what's the deal?
And down to secondary education sub-sector, in the 2017/2018 May/June West African Examination Council (WAEC) released in July, out of over 1.6 million that sat for the school certificate examination, about 830,000 were male, while around 730,000 were female. Of these numbers, 69% had six credits and above, while around 59% had credits in five subjects including English and mathematics. As bright as these figures may seem; there remains the issue with examination malpractice and the ultimate question, if these glowing laurel in credits can be confidently ascribed to the names on papers these results are awarded. Most of these student with bright results are most times ultimately exposed when opportunity to pursue further education arises as most could not cope with rigorous academic work, thereby resulting to other villainous and unwholesome means, such as cultism, prostitution and academic malpractices just to stay on the programme and on campus.
Meanwhile, in 2017, over one million, eight hundred thousand (1,800,000) students sat for UTME, for a total of 800,000 admission spaces available in tertiary institutions. Going by the huge number of candidates and limited admission spaces, various institutions have since 2016, resolved to admit students by screening and awarding marks to their WASSCE results and JAMB scores. Even at that, JAMB Registrar, Prof. Ishaq Oloyede recently came out to say that majority of candidates angling to pursue further studies after secondary school are only adventurers and are not ready to proceed. Prof. Oloyede spoke at a one-day public hearing on the regulatory conflict between JAMB and universities in offering admission in Nigeria. His word, 'it is not true that we have 1.7 million candidates that are ready to go into the Nigerian university system. Of the 1.7 million that took the exam, I can say conveniently that not more than 30 per cent of these are not prepared for admission; they are just trying. They do not have the five O'Level credits required to go into the university.
Education: for nation building, for human development
Away from teaching and learning; with Nigeria just exiting recession and the nation's quest to revive the economy, the country needs to fund the education sector in order to provide human resources to develop other sectors of the Nigerian economy.
In the words of Hon. Vincent Adoyi, a former special adviser to Dr. Olusegun Mimiko, former governor of Ondo State, 'it isn't enough for this government to focus on agriculture as the major mean to revive the economy. Agriculture is good, we need to eat. And I think I must tell you I am a farmer. But huge potentials are lodged in the human resources of this nation. The Asian tigers are far ahead of us on account that they groomed their huge population, then leverage on that for development. See where they are today. Where is my country?' How can Nigeria claim a spot as one of the best 20 economies in the world by 2020, if the best her university system could aspire for five years running is the 2004th in the world and 25th in Africa?
Education has to be free, accessible and qualitative to revive the economy. The 1999 Federal constitution chapter two Educational Objectives section(18), states as follows; Government shall direct its policy towards ensuring that there are equal and adequate educational opportunities at all levels; Government shall promote science and technology; Government shall strive to eradicate illiteracy ; and to this end Government shall as and when practicable provide; free, compulsory and universal primary education; free secondary education; free university education ; and free adult literacy programme.
But how can the country achieve these lofty ideals and groom, galvanize and rally its citizens toward economy and technological boom by training their minds; when year in year out, successive government keep throwing pittance in its fight to conquer illiteracy?
According to Jeremiah Aniah, General Manager, Splint Technologies, Lagos, 'the Nigerian government doesn't encourage the development of invention and technology? How much of the locally produced technology does our government patronize? Innoson motors, how many do you see on the streets with government license plates? In our universities and polytechnics, how much is government grant allocated to encourage research and development in science and technology? So, you see, our policy and decision makers are totally unserious about having this country joined the technological train.'
Trained experts are required in several sectors of our economy as we strive for growth. The power sector, works, the ICT, health etc – all needs these trained hands if Nigeria will surmount it's economic mess and stand shoulder high in the committee of nations.
However, that can be barely accomplished when in the 2018 budget proposal Key capital spending allocations, items such as; Transportation takes N263.10 billion; Special Intervention Programmes, N150.00 billion; Water Resources -N95.11 billion; Industry, Trade and Investment – N82.92 billion; Interior: N63.26 billion and Niger Delta Development Commission taking N71.20 billion. In all of these, allocation for capital projects for Education garners a paltry N61.73 billion.
Speaking on the meager budget allocation, Yusuf Olalere a seasoned school administrator has this to say, 'how can government think it can solve the problems in the education sector when it give so little financial attention? The ASUU matter is there, so is ASUP and their agitations and don't forget the SSANU guys are also on government neck. So, in my opinion, the about N600b proposed budget will only create more problems in the sector come next year.'
Concerned citizens lend their voices
A lawmaker in the Lagos State House of Assembly, Mr. Olusola Sokunle, also called for more budgetary allocation to education sector to position the nation rightly in the path of development. Sokunle, who represents Oshodi-Isolo Constituency said that only qualitative investment in education sector can bring lasting economic development in the country. The budgetary allocation of 7.04 per cent to education sector in the 2018 budget should be increased to bring meaningful change to the sector. 'Standardizing the education system of the country is, however, not only the responsibility of government, but also of the parents and professional teachers. Our parents and teachers should see themselves as development agents in changing the face of our education system.'''
In the previous week, some concerned citizens also reacted to the inadequacies inherent in the skewed allocation. Mr. Dennis Aghanya, Executive Secretary of Anti-Corruption and Research Data Based Initiative (ARDI), said that he desires that education sector be given more allocation. I wish education and agriculture got more than were allocated to them. Education is the bedrock of development while agriculture is very important for self-sustenance. However, the budget, as Mr. President said, is budget of consolidation; it captures capital projects more. Efforts of the administration are gradually manifesting; by the end of its four-year tenure, a lot of success would have been recorded.' He added also stating that 'with more revenue coming from non-oil sources, the 2018 Budget will be well implemented, even if there are fluctuations in oil price.'
Prof. Lai Olurode, a former National Commissioner of the Independent National Electoral Commission, told newsmen that allocation to education was not adequate, he said. It is a far cry from the UNESCO- recommended 27 per cent. The allocation does not give room for comfort about the future of knowledge industry. However, early presentation of the budget is commendable; it is a sign of seriousness and commitment on the part of the executive arm of the government."
Dr Joe Okei-Odumakin, President of Women Arise for Change Initiative, called for more allocation to capital projects, said; "Various governments have not taken education very serious. It has been a sort of policy summersault. Today is 6-5-4; tomorrow 6-3-3-4; day after, talking of scrapping of UTME and so and so forth. For me education should be seen as a vehicle of survival. Anything that is done toward education that is not good, you and I, and as nation, we are postponing our doomsday. It is on that note that we want to call on all State Governments, Federal and indeed Local Governments to allocate better resources in line with the declaration of UNESCO, which 26 per cent of a total income of a state, should be allocated to education."