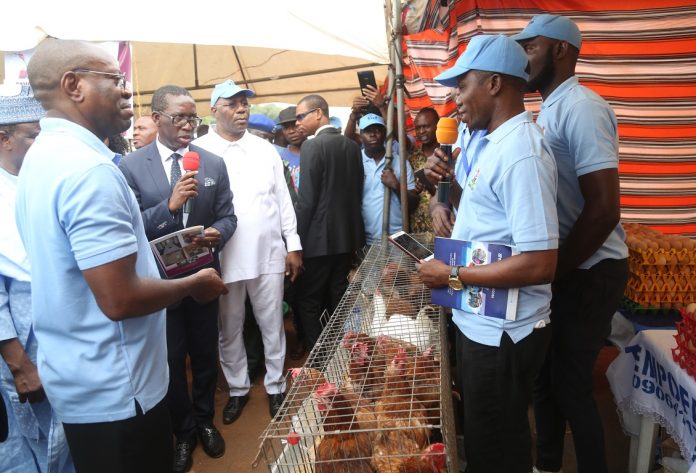 BY OYE CHUKWUJEKWU.
Delta state government of Senator Ifeanyi Okowa had conducted a trade fair for the graduating skill training and entrepreneurship programme and youth agricultural entrepreneurs programme to showcase their various products which they had over the time manufactured both in agricultural sector,the event showcased over 8000 unemployed youths who qued into the governors strategy to reduce unemployment ravaging the state and Nigeria in general.
The job creation scheme was part of the Okowa's smart agenda and prosperity for all deltans,the structure,design and implementation is focused on equipping the trainees with life skills developing their leadership qualities,increasing their personal effectiveness,harnessing their productive potentials and enabling them to become entrepreneurs,managers and leaders.
In line with the smart agenda,the job and wealth creation is tagged at creating jobs,diversifying the economy through the development of non-oil sector,engaging youths in productive enterprises,nurturing entrepreneurs and leaders and promoting communal peace and security,the directorate is designed for the mainstreaming of job creation in all programmes and projects of this administration.
The exhibition programme which took place in Asaba was witnessed by the Governor of Sokoto State, Alhaji Aminu Tambuwal, wife of the Governor of Delta State, Dame Edith Okowa, Deputy Governor of Delta State, Barr. Kingsley Otuaro and his wife, Ebi; former Governor of Delta State, Chief James Ibori, among numerous others.
"Globally, it has been established that certain economic sectors and activities hold the highest potentials for job and wealth creation for the economy; these are agriculture, agribusiness, agro-based industries, vocational skills-based micro enterprises, cottage enterprises, small and medium scale enterprises as well as public works such as environmental sanitation, housing and road construction; in fact, interventions in these sectors are generally cost-effective and go a long way to reduce youth unemployment and poverty, while ensuring social inclusion, positive economic growth and sustainable development as has been observed in many countries in South Asia, South East Asia and Latin America," the Governor said.
He continued, "through our flagship Skill Training and Entrepreneurship Programme (STEP) and Youth Agricultural Entrepreneurs Programme (YAGEP), we have achieved what many thought was unthinkable; after two programme cycles, two thousand, three hundred and twenty four (2,324) previously unemployed youths are now small business owners and employers of labor."
The Governor who lauded the products exhibition and business fair organized by the beneficiaries of Job Creation Scheme of his administration, disclosed that the beneficiaries were "trained and established in various enterprises including but not limited to ICT, hair dressing and makeover, catering and confectionery, cosmetology, craft/home care products, decoration and event management, electrical installation and repairs, fashion design and tailoring, shoe making, upholstery, welding and fabrication and auto-mechanic while the agricultural enterprises covered aquaculture, poultry, crop production, agro-processing and piggery."
Chief Ibori at the event, said, " people of Delta State did not make mistake by choosing you, Senator Okowa as their Governor, they believe you will deliver and you are delivering, thank you for remembering our youths because, at the end of the day, they will be the one to take over from you and I."
"I am indeed a Deltan and I have an opinion bothering on issues in Delta State, I want to make it very clear, you have done very well, at the end of your  eight years (Governor Okowa's eight years as Governor), Deltans will be proud of you, continue with your good work, we are solidly behind you and I want to call on all Deltans to continue to maintain the peace and security in the state so that this present level of development will continue," Chief Ibori said.
Commissioner for Economic Planning in the state who is the Chairman, Steering Committee on Job Creation, Dr Kingsley Emu and the Chief Job Creation Officer, Prof. Eric Eboh said the exhibition would provide the beneficiaries of the skill acquisition programmes the opportunity to make vital business contacts, create business relationship with investors and communicate their business vision to financial institutions.
Reacting on the venture and empowerment of the youths through this magnificient democratic dividends brought by the state governor,Comrade Kenneth Okolie delta state youth Chairman commended the state governor Dr.Ifeanyi Okowa for this laudable project that had removed over 8000 youths from the street and made them employers of labour,he said that the form for the next turn is already on and he adviced youths who have not benefitted to hurridly go and get registered for this if it is continued for the next term of the Okowa's administration will make the state a haven for productivity and will increase the revenue of the state for Okowa had actually provided enabling environment for investments.
Reacting further Hon.Mrs.Abulu Rachel rated Okowa's administration 90% for perfection and provision of enabling environment for investors and empowering the unemployed teeming youths who would have been in the street committing crimes,she said that Patani local government was trained and empowered in rice production which had reduced the cost of rice in that area as people now appreciate the importance of local production of rice,despite the flood damaged rice farms,the government provided succor to help the farmers and alleviate poverty among the people.
Hon.Johnson Agbeyogbe Chairman PDP Warri south local government noted that this venture will help deltans look beyond oil production and reduced umployment among the youths of the state,adding that deltans will continue to support the government of Okowa.
Again the Chairman of Warri north Dr.Wilkie Isaac also commended the state government for putting in place avenues to alleviate poverty among the people,saying that its true that Okowa is really disturbed on the increasing rate of poverty in delta state despite the oil,he pleads with the youths to embrace this project for that is the way forward for a greater height.
Others who spoke to stockwatch Asaba correspondent noted that the project is impressive and this had not been seen in the state for over a long time,they prayed for the sustainability of the programme.