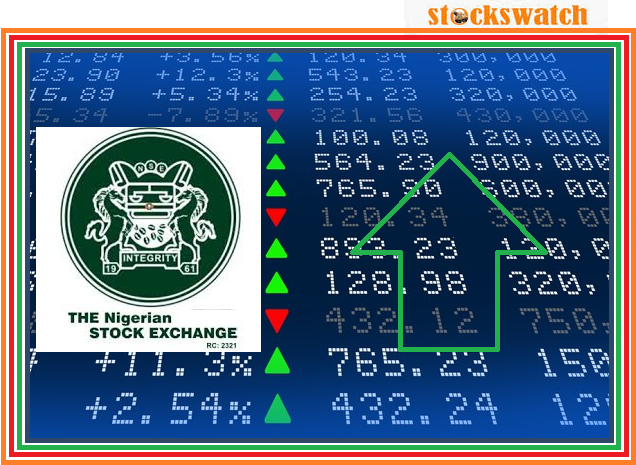 Afuwape Gbolabo
Market breadth closed positive Tuesday with the emergence of twenty five stocks on the gainers' chart and eleven on the losers' list. NSEASI gained 0.68% after it closed at 37,503.73 Tuesday as against Monday's 0.31% decline. The Performance Tuesday brought NSEASI' YTD to 39.55% growth while the MTD is 2.88% growth. If Tuesday's feat is achieved Wednesday and Thursday this week, November of 2017 would be emerging as the best since 2013 when NSEASI last grew in the month of November. Market capitalisation at the close of trading Tuesday stood at N13.061 trillion
Other market indexes equally looked-up though except the Exchange Traded Funds (ETFs) Capitalization which closed flat for the day. Government Bonds (BOND CAP) grew by marginal 0.08%, Total Deals grew by 5.71%, aggregate Volume grew by 16.90% while Aggregate Value grew by marginal 0.54%
Dangote Cement gained N1.00 or 0.42% to close at N241 Tuesday. The stock had resisted prices lower than N240 for six straight trading sessions earlier than Tuesday. First Bank of Nigeria Holdings (FBNH) and Zenith Bank also advanced by 0.87% and 0.12% respectively Tuesday.
Market Snapshot:
The Nigerian Stock Exchange All Share Index (NSEASI) for Tuesday 28 November, 2017 closed at 37.503.73 points which is 0.68 percent higher than the previous session's 37,250.78 points.
Market Capitalization closed at ₦13.061 trillion against previous session of ₦12.973 trillion, representing 0.68 percent increase.
4,089 deals recorded in the day represent an increase of 5.71 percent against previous session's 3,868 deals.
The 1.102 billion units of equities traded for the day was 16.90 percent higher than previous session's 942.717 billion.
Value of equities traded for the day increased by 0.54 percent less than previous session's ₦4.779 billion to ₦4.805 billion which was recorded for the day
Gainers for the day (25):
ETERNA, GSPECPLC and NB led other Twenty-two percentage price gainers for the day.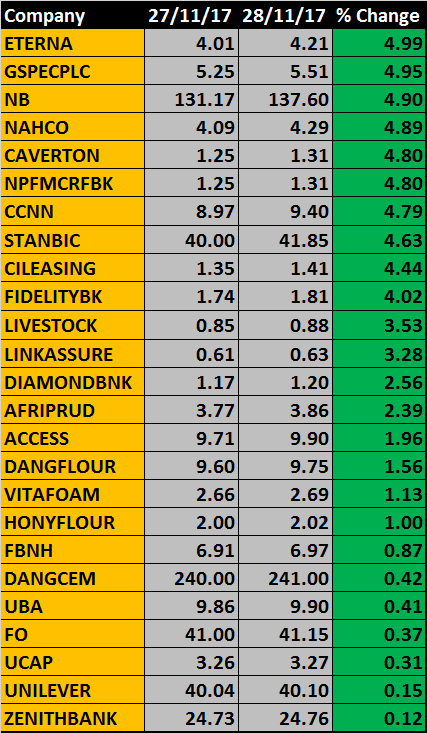 Losers for the day (11):
PZ, AIICO and MOBIL led other eight percentage price losers for the day.
Ten Best Stocks:
ZENITHBANK, FBNH and NB recorded the most deals of the day.
WAPIC, DIAMONDBNK and ZENITHBANK recorded the most volume in the day.
ZENITHBANK, NB and UNILEVER recorded the most value in the day.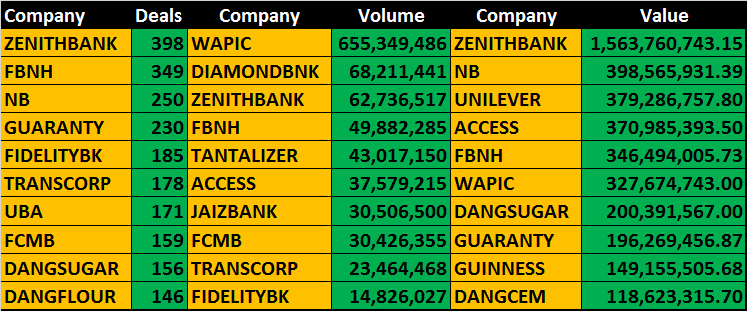 Other Indexes:
Financial services industry was the most active industry for the day with 984.553 million shares exchanged for ₦3.119 billion Tuesday.
Services industry was next with 48.012 million shares traded for ₦0.034 billion.
Consumer Goods Industry, Conglomerates Industry and Oil and Gas industry followed respectively.
Market Breadth:
Market breadth closed Positive as number of price gainers outweighed number of price loser with 25 gainers against 11 losers.
After 129% one year price growth, Dangote flour is set to add more. Fidelity, Access, NB Plc are other stocks to watch Wednesday:
The last two trading days of November had not followed a straight pattern in the last five years however; technical indicators are more in favour of positive performances Wednesday.
You may want to watch these hot stocks for Wednesday. Please note that the market and stock prices are autonomous and might choose their paths independent of predictions.
Dangote Cement: 
The stock had gained 38.5% so far in 2017, 7.6% in November but currently selling at N241 which is few points below its year's highest price of N245.17 touched in July. Keep tab on its movements as there are possibilities of touching and slightly moving slightly higher though slowly.
Access Bank: 
The stock price gained 19 kobo or 1.96% to close at N9.90 Tuesday and yet closed with excess bid of 2.5million units without an offer. Early trading is bound to be favourable though anything is possible intraday.
In 2017 alone, holders to Access have gained 68.7% and in November, marginal 1%. The price will sure consolidate at around N10 after which it is bound to approach the 10.89 price level Always keep in mind its 2017 Q3 EPS and current P.E. Ratio of 3.98.
Fidelity Bank: 
The stock closed Tuesday at N1.81 or a growth of 4.02 percent. With 1.58 P.E. Ratio, how low does the price of a stock needs get to be attractive?
115.5% has been the growth in Fidelity so far in 2017 while 19.15 is the growth so far in November. What else should an investor desire? The bid size of about 430,000 against an offer size of 270,000 Tuesday suggests a mixed open. Keep tab on this stock as indicators are looking up.
Dangote Flour: 
This is a stock to hold at least for the medium term. Products, brand and ownership are all going on well with the company.
Its stock price went as high as N9.90 but closed Tuesday at N9.75. The 642,000 units bid size and 590,000 offer size at close of trading Tuesday suggests a mixed open Wednesday. Keep in mind the fact that the company's P.E. Ratio at 3.15 is good enough. Technically, a doji was formed at the close of trading Tuesday suggesting that price could move either way.
Dangote flour had fetched 129.4% in 2017 and in November, 2.3%.
UBA:
Conveniently, UBA had returned 120% to holders of its stock in 2017 of which 3.1% was added in November and 0.4% Tuesday. Losing with offer size above the bid size Tuesday suggests a turbulent open on Wednesday. UBA is good enough with N1.74 2017 Q3 EPS. Keep your gaze on the stock.
NB PLC:
Closing with bid size of 191,000 without a single offer suggests that holders are not willing to sell at N133. Will interested party shift? NB open most likely will be possible though anything is possible intraday.
Technically, indicators are looking up as it sells around its six month's lowest point.
So far in 2017, NB had recorded a loss to its holders.
ETERNA OIL:

Indicators are looking up. Earnings are positive. It also closed with over 640,000 bid size without any offer Tuesday. Consequently, Wednesday looks bright.
35.85 is the price growth so far in 2017. In November, the stock price recorded 13.8% price growth out of which 5% was added Tuesday.
AFRIPRUD:

15.257 million units excess bid and just 34, 370 units offer size to close trading session on Tuesday is a clear indication that Afriprud is hot. It gained 2.4% Tuesday.  Guess what? Indicators are yet looking up.
Afriprud has only returned 26.6% in 2017 and in November, negative 0.5%.
The Nigeria Stock Exchange Market data for Tuesday 28thNovember, 2017: