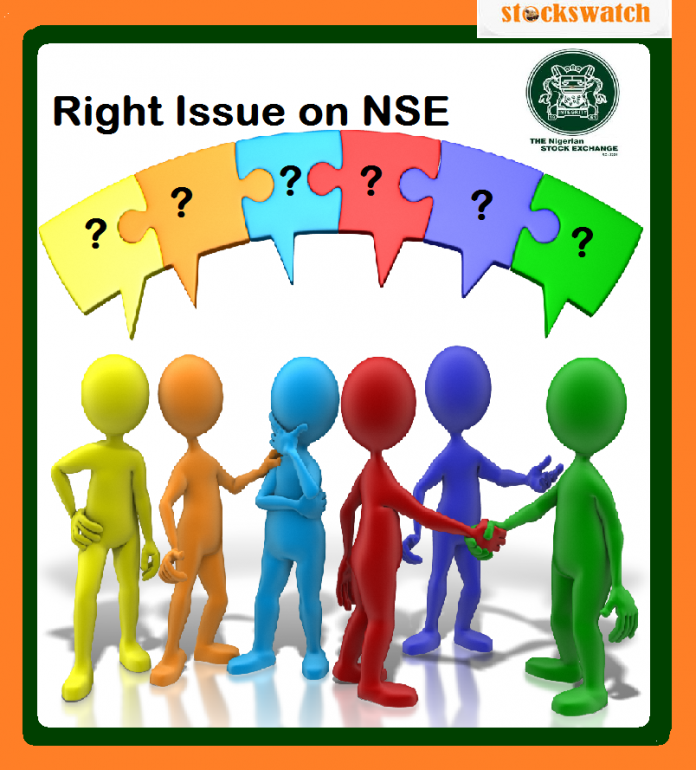 By Felix Akintunde and Niyi Jacobs
Financial analysts hold divergent views on the right issues planned by some quoted companies on the Nigerian Stock Exchange (NSE). While some experts believed the planned right issues by Union Bank Plc; Oando Plc, Unilever Nigeria Plc; Lafarge and others would be a success, because of the rebounding bourse, which signals growing confidence in the equity market, others think otherwise.
Mr Ayodele Akinwunmi, an analyst with Focus Bank to Stockwatch in a telephone chat in Lagos that investors would be skeptical on Oando's Right Issue, because it fond of coming to the market to raise capital. He explained that investors with long-term horizon would go for Lafarge Africa's Right Issues, because there are a lot of opportunities in the company in the long-term, though it faces a lot of competition from Dangote Cement, which is the market leader in the country's cement industry.
"Unilever is a tricky one," the Focus Bank analyst said. The claimed the success of the conglomerate's Right Issues is dependent on the country's economic recovery.
Unilever Nigeria's shareholders have already approved the company's plan to raise N63 billion through right issues. Lafarge Africa is also hoping that its shareholders would give their nods to proposed plan to raise N140 billion at its forthcoming AGM on June 7, 2017 in Lagos. Similarly, Union Bank is already putting finishing touches on its N50 billion Right Issues having gotten the approval of its shareholders to raise from funds during the bank 2016 AGM.
The Unilever's Corporate Affairs Director, Mrs 'Soromidayo George told our correspondent in an email message that the company decided to raise fresh capital in order to pay down some of its trade liabilities and reduce "outstanding finance obligations in order to reduce finance costs which have increased significantly in recent times, thereby reducing profit and loss risk and reshaping the Company's balance sheet."
The Right Issue would in "Providing additional US$ liquidity for Unilever Nigeria, through the US$ proceeds expected from foreign shareholders participating in the Rights Issue and insulate the business from exchange losses as a result of outstanding Forex debts."
Mr Robert Omotunde, analyst, Afrinvest West Africa Limited opined that the positive sentiment which the equity market is currently enjoying would spur these Right Issues to succeed.
The NSE's All Share Index has appreciated 6.5 percent year-to-date to 28,101.63 on May 18 from 26,393.85 on January 2 when the market opened for trading this year. Experts believed CBN's aggressive injection of foreign exchange into the economy and the opening of investors' and exporters' forex window, which has helped ease liquidity challenge in the FX market, was responsible for the current rally in the bourse.
This Omotunde said has helped boost the confidence of foreign portfolio investors, who are beginning to return to the Nigerian equity market.
Other economy indicators are also improving signposting that the economy is beginning to pick up as inflation slowed further to 17.24 percent in April from 17.26 percent in March, which was the third consecutive drop in inflation rate in 2017. The country crude oil production output has also improved significantly to 2.2 million barrel per day (bpd), though OPEC argued that Nigeria currently produces 1.9 million bpd, from 900,000 bpd in 2015 when militants were ravaging the oil-rich Niger-Delta. Also, oil prices have risen to over $51 per barrel after falling to $27 per barrel in 2015.
Unilever is currently facing working capital challenge, which stands at –N12 billion at the end of 2016, improved on it profit after tax (PAT) by a whopping 157.6 percent to N3.1 billion in 2016 despite the tough operating environment. Lafarge is in the same canoe with Unilever in terms working capital challenge as it has working capital deficit of –N77.6 billion.
Union Bank which is planning to raise N50 billion, is battling higher Non-performing loan ratio, which stood at 7.65 percent in Q1 2017 and liquidity ratio which is just 7 percent higher than the 30 percent regulatory minimum. Although the lender's gross earnings grew 24 percent to N33.8 billion during this period, its PAT declined 4 percent to N4.5 billion.
Mr Teslim Shittabey, a financial expert postulate that the companies planning right issues that have lesser free float shareholdings are likely to succeed, because the majority shareholders would easily pick their right issues, which bulk of the offer.
In Union Bank, only Atlas Mara Limited and Union Global Partners Limited own 85.89 percent of its total shares. Three institutional investors: Unilever Overseas Holdings B.V. Holland, Unilever Overseas Holdings BV and Stanbic Nominees Nigeria Ltd own 50.04 percent, 10.02 percent and 10.49 percent respectively of the conglomerate's total equities.
Lafarge explained in a stated sent to the NSE recently that the proposed right issue will strengthen the company's balance sheet and capital structure o by reducing foreign currency exposure and optimizing the Lafarge Africa organization, adding it would also aim its expansion drive.
"Unicem, a 100% owned subsidiary of the Company, has FX loan of approximately USD600m which was incurred for the completion of line 1 (2,5mtpa) and the commissioning of line 2 (2,5mtpa).
"Between Q4 2016 and April 2017 50% of the outstanding loan was hedged using the Non Deliverable Futures window of the Central Bank of Nigeria," Lafarge Africa further enunciated.
The Chief Financial Officer, Union Bank, Mrs Oyinkan Adewale explained in a video message posted on Youtube that the right issue would be used to fund the bank's growth. "We would lend part of the fund to selected group sectors of the economy," she said. According to her, the bank's lending process would be very strict, ensuring that it meet risk acceptance criteria.