Afuwape Gbolabo
After three sessions of profit taking, a breather came for the market Thursday as investors took positions in various stocks. Consequently, the All Share Index (NSEASI) gained 79.99 points or 0.22 percent to close at 36,688.75.  Market Capitalization closed at N12.773 trillion.
All the main market indexes closed in the green save the Exchange Traded Funds (ETF) that closed flat. Bond Capitalization (BOND CAP) grew marginally by 0.05 percent, Aggregate value turnover grew by 15.94 percent, Aggregate volume turnover grew by 55.11 percent while Total Deals grew by 31.32 percent.
Financial services stocks dominated the day's trading with Custodian and Allied leading the percent gainers chat with 4.99 percent gain.
Insurance industry index grew by 0.18 percent while banking index grew by 0.77 percent in the day
Market breadth was positive with the thirty stocks emerging as price gainers while only eleven appeared on the losers' chart.
Market Snapshot:
The Nigerian Stock Exchange All Share Index (NSEASI) for Thursday 23 November, 2017 closed at 36,688.75 points which is 0.22 percent higher than the previous session's 36,608.76 points.
Market Capitalization closed at ₦12.773 trillion against previous session of ₦12.745 trillion, representing 0.22 percent increase.
4,243 deals recorded in the day represent an increase of 31.32 percent against previous session's 3,231 deals.
The 513.801 million units of equities traded for the day was 55.11 percent higher than previous session's 331.241 billion.
Value of equities traded for the day increased by 15.94 percent more than previous session's ₦5.562 billion to ₦6.449 billion which was recorded for the day

Gainers for the day (29):
CUSTODYINS, INTBREW and NAHCO led other twenty-six percentage price gainers for the day.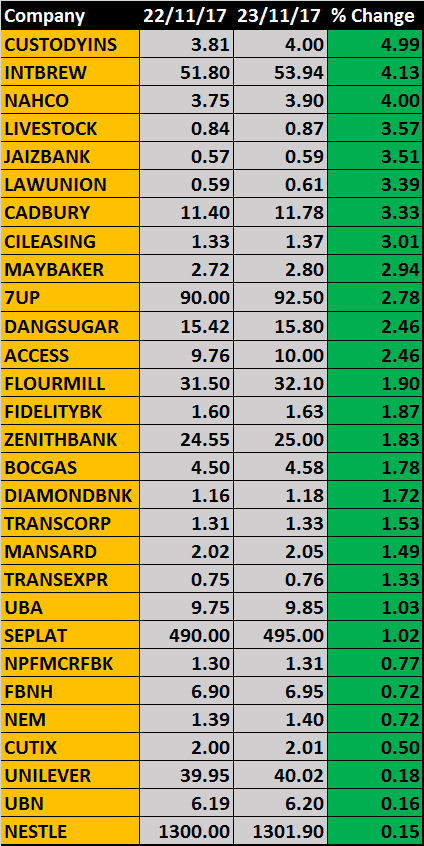 Losers for the day (11):
PZ, CHAMPION and WAPIC led other Eight percentage price losers for the day.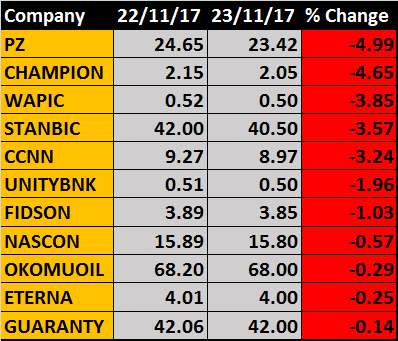 Ten Best Stocks:
ZENITHBANK, FBNH and NB recorded the most deals of the day.
UBA, ACCESS and ZENITHBANK recorded the most volume in the day.
ZENITHBANK, UBA and ACCESS recorded the most value in the day.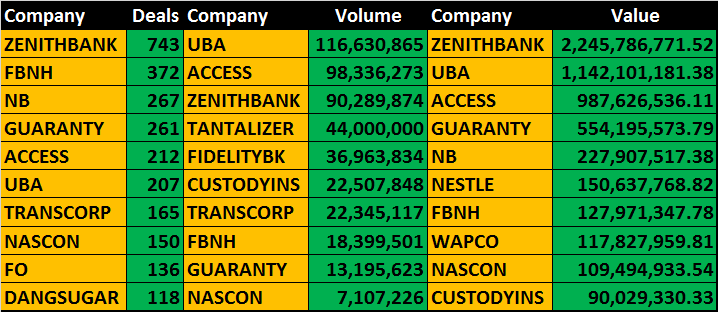 Other Indexes:
The Financial Services sector led the activity chart with 417.789 million shares exchanged for ₦5.322 billion. Services came next with 45.432 million shares traded for ₦0.025 billion, Conglomerates, Consumer Goods, Industrial Goods sectors followed in that order on the activity chart.
Financial services industry was the most active industry for the day with 417.789 million shares exchanged for ₦5.322 billion Thursday.
Services industry was next with 45.432 million shares traded for ₦0.025 billion.
Conglomerates Industry, Consumer Goods Industry and Industrial Goods industry followed respectively.
Market Breadth:
Market breadth closed positive as number of price gainers outweighed number of price loser with 29 gainers against 11 losers.
5 stocks to watch as the week rounds off
The stormy week picked up on Thursday with possibility of positive move today. The following stocks are worth your considerations.
Stanbic IBTC:  Started the week at N42.60 but closed Thursday at N40.50. Most likely, it might push towards how it started the week intraday today.
Forte Oil:  Beaten and battered so far in 2017 and moving from its N142.32 12 months' high after a decline of 17.73 percent, it is expected to come up in price today in an attempt to cover grounds it has lost within the week.
Nigerian Breweries:  was flat Thursday.  Possibility of covering lost grounds is higher today.
C&I Leasing:  is expected to recover at least a portion of its earlier losses today. Let's see how it ends.
Guaranty Trust Bank:  closed at N42 Thursday after it shed 2.33%. Come Friday, the stock is expected to attempt attaining the N43.00 mark with which it started the week.
The Nigeria Stock Exchange Market data for Thursday 23nd November, 2017: