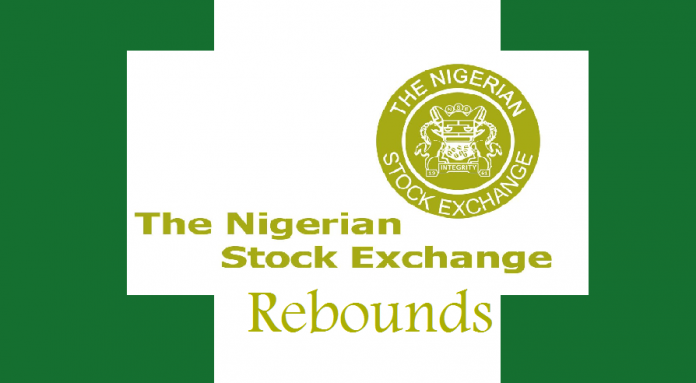 Afuwape Gbolabo
As at the end of the midweek trading session, some blue-chip stocks helped the Nigerian equities market stay afloat gaining 0.40%, pushing market capitalization and All Share Index to a higher close of N13.499 trillion and 37,933.86 points respectively, as against the previous day's N13.446 trillion and 37,783.76.
The market had for two straight sessions being beaten by a visibly strategic profit hunting by some investor who probably are making preparations for the festive period, or reshuffling and rebalancing their portfolio for better positioning for the New Year and of course the year-end results.
Performance in some sectors, which was largely driven by gains recorded by blue-chip stocks, was led by: Seplat Oil, which grew by 5 percent, Nestle Nigeria, which grew by 2.11 percent and Dangote Cement, which grew by 0.22 percent, helped the market end the lost streak which initially at the week open signaled a bleak prospect.
Other market indices closed thus:
Government bond (BOND CAP) closed flat while Exchange Traded Funds Capitalization (ETFs) declined by 0.47 percent.
As it has being all week long, cautious trading by market players subsist, which saw the market breadth closed fair with 24 stocks on the gaining side and 23 stocks on the flip side.
Market Snapshot:
The Nigerian Stock Exchange All Share Index (NSEASI) for Wednesday 20 December, 2017 closed at 37,933.86 points which is 0.40 percent lower than the previous session's 37,783.76 points.
Market Capitalization closed at ₦13.499 trillion against previous session of ₦13.4446 trillion, representing 0.39 percent increase.
4,873 deals recorded in the day represent an increase of 25.33 percent against previous session's 3,888 deals.
The 207.887 million units of equities traded for the day was 68 percent lower than previous session's 649.632 million.
Value of equities traded for the day decreased by 37.58 percent less than previous session's ₦5.425 billion to ₦3.386 billion which was recorded for the day

Gainers for the day (23):
CHAMPION, LINKASSURE and SEPLAT led other Twenty percentage price gainers for the day.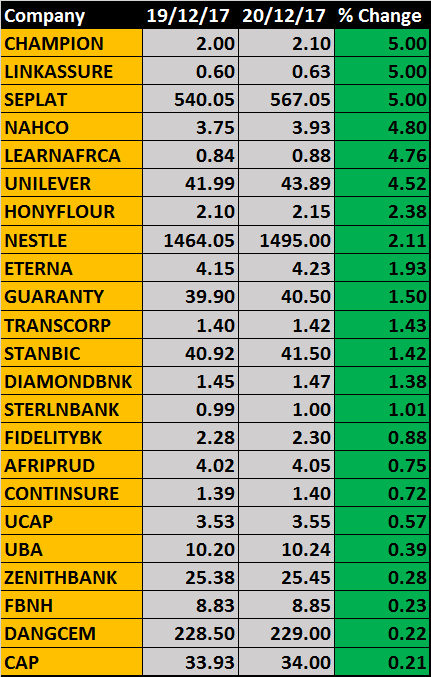 Losers for the day (22):
FLOURMILL, PZ and GLOXOSMITH led other nineteen percentage price losers for the day.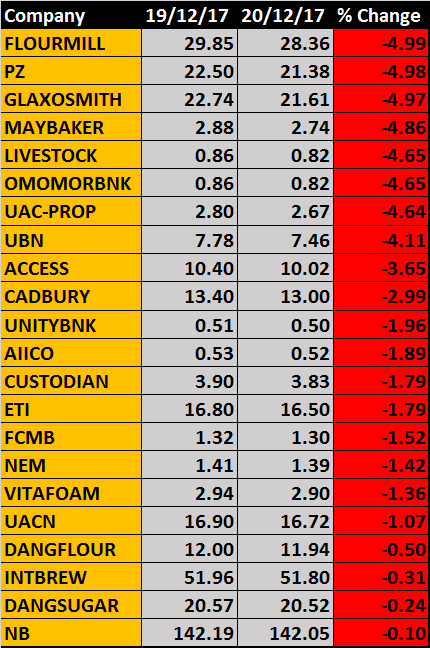 Ten Best Stocks:
STERLNBANK, FBNH and ACCESS recorded the most deals of the day.
STERLNBANK, GUARANTY and DIAMONDBNK recorded the most volume in the day.
GUARANTY, DANGCEM and NESTLE recorded the most value in the day.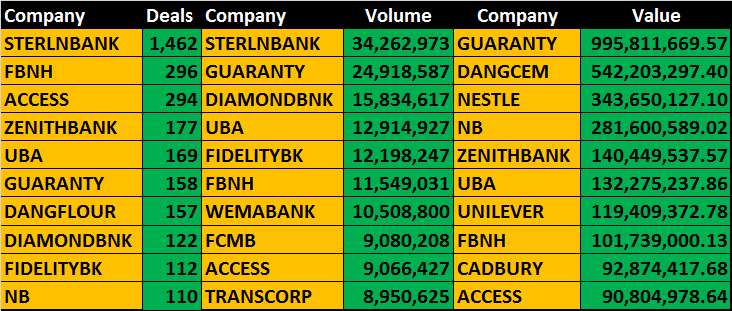 Other Indexes:
Financial services industry was the most active industry for the day with 169.708 million shares exchanged for ₦1.724 billion Wednesday.
Consumer Goods industry was next with 17.639 million shares traded for ₦0.947 billion.
Conglomerates Industry, Healthcare Industry and Industrial Goods industry followed respectively.
Market Breadth:
Market breadth closed fair as number of price gainers largely equaled the number of price losers with 23 gainers against 33 losers.
The Nigeria Stock Exchange Market data for Wednesday 20th November, 2017: