Afuwape Gbolabo
…investors avoid Government securities
Banking index recorded the most price growths of 1.03 percent with a converse by Industrial Goods sector led by Dangote cement's 2.77 percent decline saw the index relapse by 1.49 percent.
For the second straight session in the week, the Nigerian Equities market declined on Wednesday after relapsing by 0.96 percent on Tuesday for what investors attributed to profit taking and realignment of portfolio.
The bourse lost 335.96 points equating to N12 billion in the day to have the All Share Index (NSEASI) close at 36,617.45 points and the Market Capitalization (MKT CAP) close at N12.673 trillion.
Also for the second straight trading session, investors avoided trading any government security as no Federal Government bond nor was Exchange Traded Products (ETPs) bought nor sold on the floor of the Exchange.
Inspite of the positive inflation report for October 2017 that the National Bureau of Statistics (NBS) released in the day, investors and traders in the day largely picked up profits on various stocks which included heavy weighted stocks like Dangote Cement which declined by 2.77 percent, Nigerian Breweries which declined by 0.54 percent as well as First Bank of Nigeria Holdings which declined by 2.54 percent.
Market Snapshot:
The Nigerian Stock Exchange All Share Index (NSEASI) for Wednesday 15 October, 2017 closed at 36,617.45 points which is 0.91% lower than the previous session's 36,953.41 points.
Market Capitalization closed at ₦12.673 trillion against previous session of ₦12.790 trillion, representing 0.91 percent decrease.
3,590 deals recorded in the day represent an increase of 15.29 percent against previous session's 4,238 deals.
The 184.248 million units of equities traded for the day was 22.70 percent less than the previous session's 238.364 million units.
Value of equities traded for the day decreased by 2.72 percent less than previous session's ₦3.417 billion to ₦3.324 billion which was recorded for the day.

Gainers for the day (15):
AGLEVENT, REDSTAREX and LEARNAFRCA led other twelve percentage price gainers for the day.
Losers for the day (26):
CILEASING, PZ and NASCON led other Twenty-three percentage price losers for the day.
Ten Best Stocks:
FBNH, ZENITHBANK and GUARANTY recorded the most deals of the day.
FBNH, ZENITHBANK and FIDELITYBK recorded the most volume in the day.
NB, ZENITHBANK and 7UP recorded the most value in the day.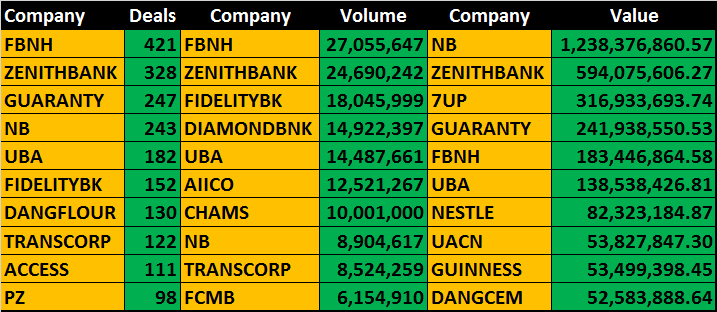 Other Indexes:
The Financial Services sector led the activity chart with 134.222 million shares exchanged for ₦1.28 billion.
Consumer Goods came next with 21.173 million shares traded for ₦1.82 billion, Conglomerates Industry, Services Industry and Industrial Goods industry followed respectively on the activity chart.
Market Breadth:
Market breadth closed negative as number of price losers outweighed number of price gainer with 15 gainers against 26 losers.
The Nigeria Stock Exchange Market data for Wednesday 15th October, 2017: