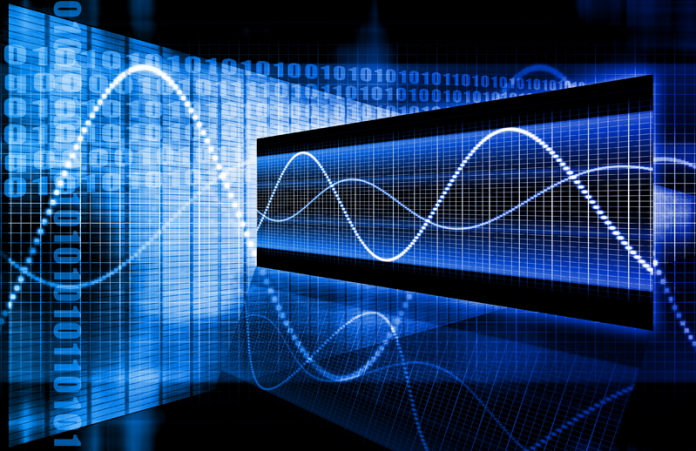 The Nigerian bourse lost 41.17 points as All Share Index and market capitalization closed at 38,102.85 points and N13.133 trillion respectively.
The main market indexes closed negative as only Total deals declined recording 18.62% decline while Aggregate volume grew by 10.35 percent and aggregate value also declined by 8.28%, Thursday.
NSE Premium board stocks which usually have high influence on the turnout of the market closed negative in the day as FBNH shed 1.33 percent to close at N6.10 while ZENITHBANK and DANGCEM retained their prices.
Although Investors' optimism when measured by market breadth was marginally negative as stocks that declined in prices outnumbered those that grew in prices. The recent growing optimism of investors is driven by the potential recovery of the economy supported by the positive macro-economic indices.
Market Snapshot:
The Nigerian Stock Exchange' All Share Index (NSEASI) for Thursday, August 10, 2017 closed at 38,102.85 which is 0.11% lower than the previous session's 38,144.02.
Market Capitalization closed at ₦13.133 trillion against previous session of ₦13.147trillion, representing 0.11% decrease.
4,055 deals recorded in the day represent a decrease of 18.62% against previous session's 4,983 deals.
The 362.671 million units of equities traded for the day was 10.35% more than the previous session's 328.654 million units.
Value of equities traded for the day decreased by 8.28% less than previous session's ₦6.102 billion to ₦5.597 billion which was recorded for the day.

Gainers for the day (20):
UNILEVER, BOCGAS and CONOIL led other seventeen price gainers for the day.
Losers for the day (27):
FO, OANDO and NASCON led other twenty-four percentage price losers for the day.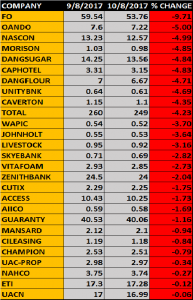 Ten Best Stocks:
DANGFLOUR, ZENITHBANK and FBNH recorded the most deals of the day.
ACCESS, ZENITHBANK and FCMB recorded the most volume in the day.
ZENITHBANK, GUARANTY and NESTLE recorded the most value in the day.

Other Indexes:
Financial services industry was the most active industry for the day with 143.59 million shares exchanged for ₦1.83 billion Wednesday.
Consumer Goods industry was next with 51.391 million shares traded for ₦4.056 billion.
Conglomerates Industry, Services Industry and Oil and Gas industry followed respectively.
Market Breadth:
Market breadth closed negative as with 20 gainers against 27 losers.