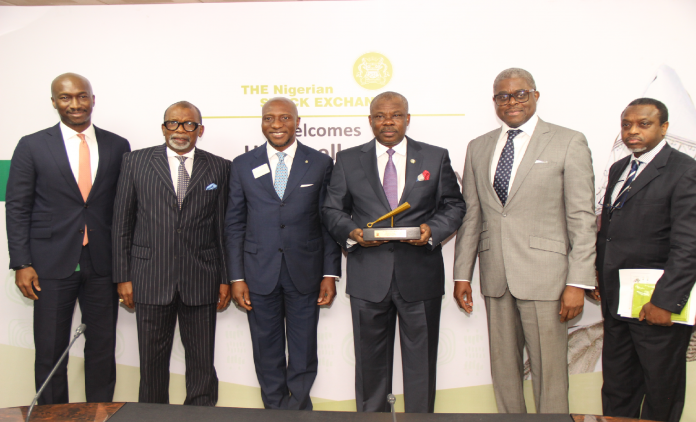 Ogun State Governor, Ibikunle Amosun led a high-powered delegation of his administration to the Nigerian Stock Exchange (NSE) on Thursday, in what he said was to begin initial discussions for possible bond issuance that would correct the current funds mismatch, a situation where short-term borrowing is being used for long-term projects.
Amosun said the bond, which he expects would receive favourable response from the market would ultimately save the government the huge amount spent to service bank borrowings.
Addressing capital market correspondents on the size of the bond and why the government chose to issue the bond in the twilight of its administration, he said government is a continuum and that the past six years have been spent on improving the fundamentals of state.
These factors, he stressed, would determine how much Ogun can borrow from the market, at what rate and how it would be receive whether the offer would be successful at all.
One of such fundamentals, he noted was the state's internally generated revenue (IGR), which was just N700 million monthly when he assumed office in his first term (2011-2015), among other determinants of the bond size, which is also dependent on ability to repay.
According to him, "I came here to see the opportunities that abound in the Nigerian capital market and I know that there is always opportunities in the capital market but you don't jump into it, you need to prepare yourself.
"There are some responsibilities that go with coming to borrow money, so when you are in position not to fulfill those obligations, there is a crisis. We have taken time to address certain things, because we need to operate from a position of strength before we begin to say we are coming to the market.
He said his government has successfully raised IGR tenfold to N7bn, partnering with many companies operating within the state's industrial hubs, by up scaling security.
Another area the administration concentrated on, he said, is the ease of doing business, a count Ogun has performed excellent, moving from 35th position in the list of 36 states of the federation to top 10, expressing optimism that the state would emerge first position when the next ranking is announced.
"Now I think we can come… Relatively we can come to the capital market and say this is who we are and this is what we have done and people will support us and we are here for the support," he stressed.
"If I come here to take money, I know I must take it back. But the crises we have found ourselves now is that we are borrowing short and spending on long-term projects," a situation he described as financial chaos.
There is no productive activities one can engage in with funds borrowed from Nigerian deposit money banks at between 27 and 30%. With such prohibitive "bank rates, I wonder what business you can do and make money."
Now, he said, is the time for Ogun State to issue a bond, because "people believe in us, you look at the numbers all those boxes will be straight in our favour". "Now we are there and we are ready, don't forget that I have less than a year to go but we are Ogun state and the government is not going to end with me".
"People have been there before me but I think that with where we are now, we can now take advantage of the several benefits the market offers and that is why I am here.
"We need more of capacity because I want to leave a lasting legacy, I want to be remembered that I lived in an environment where you need not to know the governor and that is how it should be and for any government to survive and do well," Amosun added.