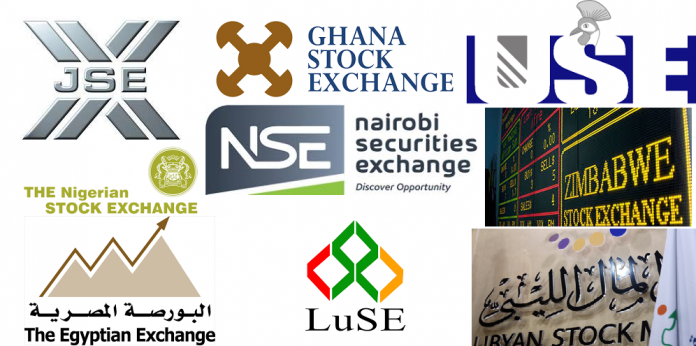 Zambian, Kenyan and Ugandan stock markets inched up as Zimbabwean market shed weight to reflect uncertainty in government.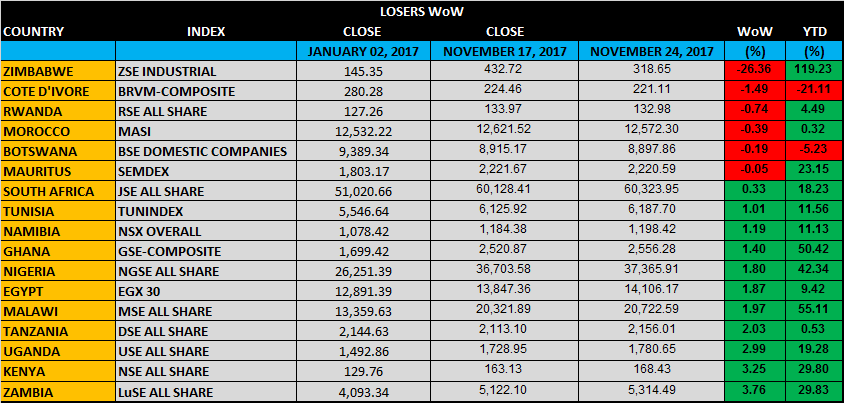 Though the coast is cleared and a new government is set to take over in Zimbabwe, investors were still largely wary as the country's ZSE Industrial shed another 26.36% last week to close at 318.65. It should be recalled that the index lost 18.59% in the wake of the military incursion into governance in the East African country. Consequently, ZSE Industrial emerged for the second week in roll the worst market in Africa. Measuring year-to-date performance, ZSE Industrial however remains the best in Africa with a YTD growth of 119.23%.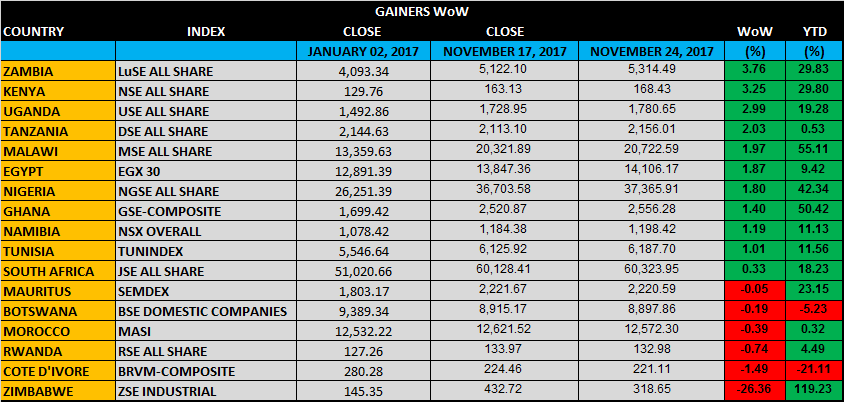 Markets across the African continent last week generally showed a measure of resilience amidst rates adjustments and retentions by apex banks as only five markets recorded mild losses. These include Cote D'ivore' BRVM Composite with 1.49% WoW, Rwanda's RSE All share with a loss of 0.74% and Morocco's MASI with a weekly loss of 0.39%. Two others, Botswana's BSE domestic was down 0.19% while Mauritius' SEMDEX lost marginal 0.05%.
Zambia led in Africa last week with a growth of 3.76%. Year to date, the market in Zambia had returned a total of 29.83%. Kenya, despite the botched electioneering processes and the threats of ethnic war, had so far in 2017 recorded 29.80% growth. For last week, the country's NSE All Share was up 3.25% to close at 168.43. In the previous week, the Kenyan market was up 1.34%. From a loss of 0.71% in the previous week, Ugandan' USE All Share recovered with a growth of 2.99% last week. Year to date, USE All Share had recorded a growth of 29.80%.
Ghana and Nigeria, being one of the best markets so far in 2017 recorded mild growth for the week. While Ghanaian GSE Composite was up 1.40% added to the 4.69% growth in the previous week and year to date performance of 50.42%, Nigeria' NSE All Share was up last week by 1.80% recovering from the loss of 1.12% it recorded in the previous week. YTD, it was a growth of 42.34% for the Nigerian market.
Egyptian's EGX 30 grew by 1.87% last week. In the previous week, it was a decline of 2.97%. YTD, EGX 30 had recorded a growth of marginal 9.42%. And for South African's JSE All Share, last week' growth was marginal 0.33% growth in addition to the 0.55% growth it recorded in the previous week. year to date, JSE All Share had recorded a growth of 18.23%.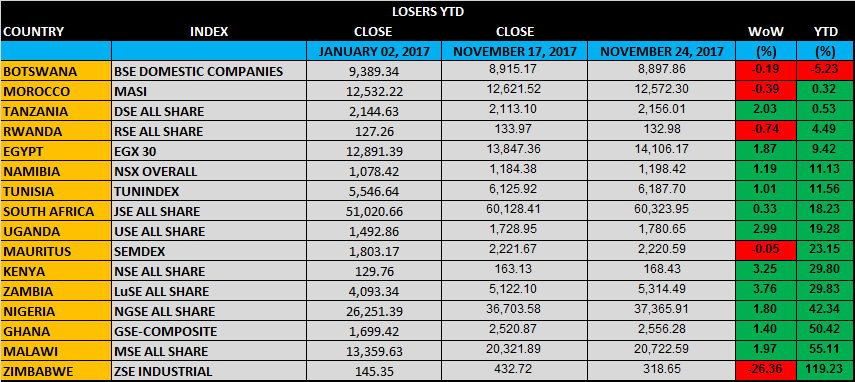 Rates remain unchanged in Kenya by Central Bank on muted inflation pressures:
Kenya's central bank retained its Central Bank Rate (CBR) at 10.0 percent, as expected, saying its monetary policy committee had "concluded that inflationary pressures in the economy were muted, and inflation was expected to continue to decline in the short term. "The Central Bank of Kenya (CBK), which has kept its rate steady since cutting it in September 2016, added that it was continuing to monitor the impact of the government's interest rate caps on the effective transmission of monetary policy, with the committee meeting against a backdrop of favorable weather conditions, sustained macroeconomic stability, the conclusion of a prolonged election period, and improved outlook for the global economy.
Rate cuts by Zambia's central bank propelled by inflation seen in target range
For the fourth consecutive time in 2017, the Zambia's central bank cut its policy rate, though at a slower pace than in the past, as inflation continues to decline and is expected to remain within the bank's target range over the next two years. The Bank of Zambia (BOZ) cut its policy rate by 75 basis points to 10.25 percent, half the size of the earlier cuts of 150 basis points, and has now cut the rate by 525 points this year following cuts in February, May and August. The BOZ also continued its policy of lowering the statutory reserve ratio along with cutting the policy rate and cut the ratio by 150 basis points to 8.0 percent. Previously the ratio was cut by 300 basis points in February, May and August so it has been cut by 10.50 percentage points this year.
South Africa:
South Africa's sole power utility company stated on Monday last week that it was facing cash flow challenges and that it would be in trouble should the issues continue. According to local press, the utility's liquidity reserves are expected to fall to 1.2 bn rand ($82 mn) by the end of November compared to a target of 20 bn rand. Meanwhile, the Statistics office reported that South African retail sales rose by 5.4% year-on-year in September, after increasing by a revised 5.4% in August. This is higher than the 4.5% expected by consensus.
Egypt:
The Central Bank of Egypt (CBE) kept the key interest rates unchanged due to the decline of annual headline and core inflation to 30.8% and 30.5%, respectively, during October 2017. According to the CBE, monthly core inflation recorded 0.7% in October (versus 0.19% in September) due to the seasonal increase in the prices of education services. Retail prices however remained unchanged as food inflation continued to decrease, supported by the continued decline of core food prices for the second consecutive month. The country's GDP continues to improve growing 5% in the fourth quarter of 2016/17. The CBE reiterated its confidence in achieving its inflation targets of 13% (+/- 3 %) in 4Q18 and single digits thereafter.