Africa Prudential Plc in its Unaudited Financial Statements of Africa Prudential Plc for the period ended September 30th 2020 declared a Gross Earnings of N2.63 billion, Profit after tax of N1.41 billion, Profit before Tax of N1.569 billion and Earnings per Share of 71Kobo.
The Q3'20 result revealed the following:
Gross Earnings declined by 9.17% year on year to N2.63 billion from N2.9 billion.
Profit before Tax declined by 10.79% to N1.569 billion from N1.759 billion.
Profit after Tax dropped by 6.12% to N1.41 billion from N1.50 billion in Q3 2019
Earnings per Share dropped by 6.12% to 71 kobo from 75 kobo in Q3 2019.
Commenting on the result, The Managing Director/CEO of Africa Prudential, Obong Idiong, stated thus:
"While the negative economic impact of the Covid-19 continue to reflect on our traditional income lines, the transition of the company from a traditional Registrar Business to a technology business deploying technology to transform the Registrar, Cooperative, E-Commerce, and Digital Technology play could not have come at a better time. We are confident that as the Company's new businesses continue to gather momentum, we will continue to deliver sustainable value to our investors."
"Among the gradual result of the transformation process is the 264% year-on-year growth in Digital Technology Consultancy income. We also grew our investment income by 6% year-on-year through an efficient allocation of investment fund despite the prevailing low interest rate regime."
"We will continue to consolidate on our gains in the digital technology space to deliver great value and exceptional experience to clients across all our touch points."
• Revenue from contracts with customers: AFRIPRUD reported N860.79 million, as Revenue from contracts with customers. Compared to N1.22 billion in Q3 2019, this translates to 30% year on year decline. During the third quarter of the year 2020, the company's fees from corporate actions grew by 25.79%, register maintenance grew by 47.49% and revenue from digital technology consultancy significantly increased by 264.63% year-on year. The decline in fee from contracts is due to the impact of covid19 on the firms key clients which resulted in renegotiation and repricing.
Interest income: The Company reported Interest Income of N1.77 billion, up by 6% year on year compared to N1.67 billion reported in Q3 2019. This increase was fueled by 19.83% increase in interest income on loans and advances, and 780% increase in interest income on bonds. The total increase in intesest income was achieved despite 45.94% reduction in interest income on treasury bills and 87.95% reduction in interest income on short-term deposits.
• Profit after Tax: Overall, the profit after tax of Africa Prudential declined by 6% in Q3 2020 as the firm declared a profit of N1.41 Billion as against N1.50 billion reported the previous year.
This result was on the back of the 29.61% reduction in revenue from contracts with customers, 5.4% reduction in other income, 3.4% increase in personnel expenses, and 17.2% increase in amortization of intangible assets.
• Total Assets: Africa Prudential's total assets during the period under review grew by 3.9% year to-date on the account of 7.3% rise in its debt instruments assets computed at amortized cost, 141.0% rise in trade and other receivables and 13.6% surge in intangible assets during the year.
Total Liabilities: The Company's total liabilities increased by 7.2% year-to-date, owing to 5.3% increase in its customer's deposits and 2,106.8% rise in creditors and accruals owing to withholding tax payable on client dividend.
Shareholder's Wealth: Shareholders' Fund stood at N8.27 Billion, marginally declining by 0.2% YoY from N8.28 Billion as at FY 2019. Due to 121.9% increase in fair value reserve, the Shareholder's wealth mildly declined by 0.2% year-to-date.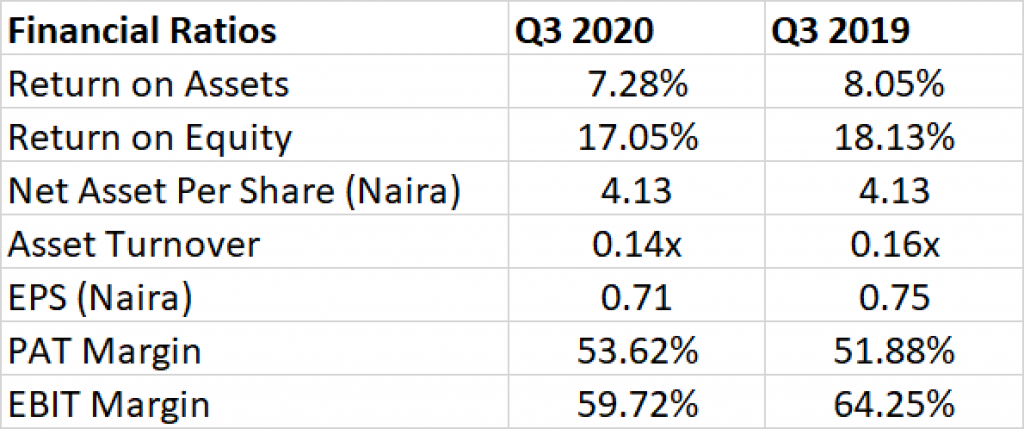 Africa Prudential Plc, formerly UBA Registrars Ltd was incorporated as a private limited liability company on 23rd March 2006 to take over the registrar services formally operated as a department by its former parent – UBA Global Market Limited. The company was listed on 17 January, 2013.
The Company is a leading Registrar, Investor Services and Business Support Solutions (digital technology) provider with close to five decades' of top-class experience in the Nigerian Capital Market, and currently managing over 80 corporate client services to both public and private companies.